Jubilee: Development agenda is on track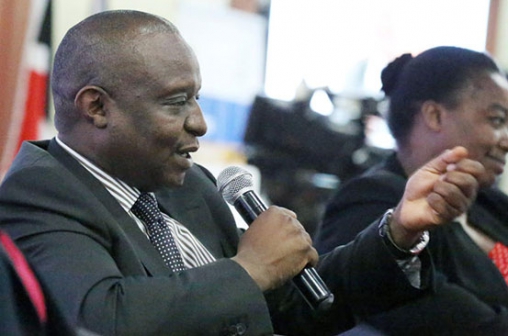 NAIROBI: Jubilee has defended its development record, highlighting economic growth and infrastructure development as some of its achievements.
The Jubilee administration said the economic growth is at six per cent and the Standard Gauge Railway project is about 70 per cent complete.
Jubilee added that it is on target to connecting a million households with electricity.
Free maternal health, street lighting of major towns, ongoing construction of roads across the country are all at the heart of President Uhuru Kenyatta's government.
In the education sector, the Jubilee administration said it has increased funding to public schools.
Additionally, the Government highlighted the scrapping of the national examination fees in both primary and secondary education as some of its major achievements.
Speaking during an inter-ministerial public symposium, which opened yesterday, various Cabinet secretaries said Jubilee was on track to delivering on pre-election pledges.
National Treasury Cabinet Secretary Henry Rotich said the standard of living had improved in the past three years by managing the inflation rate.
More jobs, he said have been generated due to the stable economy, which is as a result of conducive policy environment.
"The economy continues to generate jobs for our youth and women. In 2014, with an economic growth of 5.3 per cent we generated 800,000 new jobs. Last year with a growth of 5.6 per cent, the economy continues to grow and we shall be able to generate on an annual basis one million jobs for our youth," said Mr Rotich.
But as the Government gets into an all-out self-appraisal, several research firms have painted a different picture of a country heading in the wrong direction.
EUROBOND PROCEEDS
Corruption allegations have rocked key ministries, particular that of Devolution and Planning.
How the Sh250 billion Eurobond proceeds was spent has remained a contested issue, with the Government unable to list some of the projects it funded using the money.
But Rotich said the foreign bond was the best in the market, adding that the Government will continue mobilising funding from both the domestic and external sources to fund some of its projects.
The International Monetary Fund has approved Sh150 billion precautionary loan arrangement.
"IMF has noted that Kenya's recent growth performance remains robust and the outlook is positive. This positive outlook will generate the much needed jobs for the youth," he added.
Labour and East Africa Affairs Cabinet Secretary Phyllis Kandie said the Jubilee administration had developed a host of initiatives aimed at assisting disadvantaged groups.
Ms Kandie listed Youth Fund, Women Enterprise Fund and Uwezo Fund as some of the many initiative the Government has started to cushion the youth people from unemployment.
The State is currently implementing four cash transfer programmes as part of the overall social protection intervention to support the most vulnerable citizens.
Energy Cabinet Secretary Charles Keter said the Government was in the last mile in connecting all primary schools to power.