I'll stick with DP William Ruto to the end, says President Uhuru Kenyatta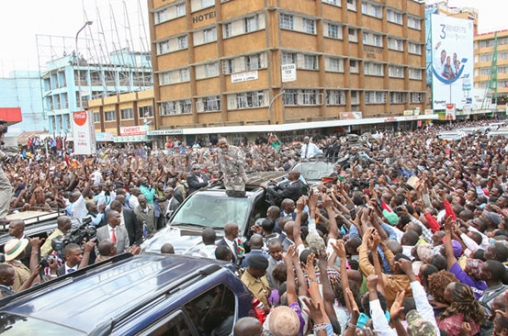 NAKURU: President Uhuru Kenyatta and his deputy William Ruto have declared they are sticking together, contrary to speculation that their alliance will not hold.
On the back of swirling talk of political realignments ahead of 2017 General Election, the President yesterday chose Nakuru County, where in 2012 he and Ruto unveiled the Jubilee Alliance that propelled them to power, to reaffirm his faith in his deputy, who has battled a rebellion in his Rift Valley power base.
President Kenyatta said he had a political agreement with Ruto that he intends to see through even after the elections next year, when he will run for a final term in office as President.
"I will stick with my deputy to the end because our unity that was born here in Nakuru County has brought peace and unity," the President told more than 500 local leaders at State House, Nakuru, rekindling memories of the unveiling of the political union between The National Alliance and Ruto's United Republican Party in December 2012.
The President declared they were 'an indivisible team' and told rivals predicting their downfall - including some within the ruling coalition - that they would be disappointed.
"We are committed 150 per cent to the success of the Jubilee coalition and are not even in the middle of our journey and we are determined to stick together until 2017 and even in 2023. I am very happy with how we work closely with my deputy. But some people are not satisfied if there is no political conflict. Tell them there is a new generation of leaders whose approach is different," added the President.
Ruto, who hopes to succeed President Kenyatta should he be re-elected, said he was contented with the position he holds in the Government and ruled out any possibility of a rift ever developing between him and the President.
"When you voted for us, did you send me to fight with the President as used to happen in the coalition government, which was created through force? We are not fools to form a Government and then start fighting each other instead of working for the people," said Ruto.
FALSE NARRATIVES
The President, who seemed to be reacting to speculations that the Jubilee coalition was about to disintegrate following the rebellion against Ruto by a section of URP leaders in Rift Valley, said those wishing for rifts within Jubilee and constantly trying to create false narratives should realise that they are engaging in futile errands.
Bomet Governor Isaac Ruto and Baringo Senator Gideon Moi have teamed up with some MPs, professionals and businessmen from the vote-rich region in a bid to offer an alternative leadership to that of the DP.
During campaigns for the just-concluded Kericho Senate by-election, the DP was forced to literally camp there to ensure victory for the Jubilee candidate Aaron Cheruiyot, who faced a stiff opposition from Kanu's Paul Sang.
The President, who skipped the by-election campaign, yesterday said he was aware of the propaganda being perpetrated by some leaders in the county.
"I am here to assure Jubilee supporters that Ruto and I are together and keen to ensure that all Jubilee affiliate parties merge," the President said.
He reiterated the importance of Nakuru County, terming it the political heartbeat of the country and asked leaders to ensure peace and cohesion among the many communities residing there.
"Nakuru is a micro-environment of the whole republic and leaders must work together because if Nakuru sneezes, the entire country catches the cold," he said.
The President and his deputy held a leaders' meeting on the second day of their tour of five counties that kicked off in Baringo on Wednesday and ended in Laikipia County yesterday evening.
Addressing local leaders, Ruto urged them to ensure peace and unity among communities living in the county, adding the merger of Jubilee affiliate parties would go on as planned. "The Jubilee government has no problem with governors, MPs and MCAs. We want to work together as leaders under one party, which will be unveiled soon," he said on the anticipated merger between TNA and URP.
He urged local politicians to desist from persistent party leadership wrangles, saying those eyeing political seats should be patient until the next General Election and must not undermine elected leaders.