Like father like son: Inside Jubilee's political dynasty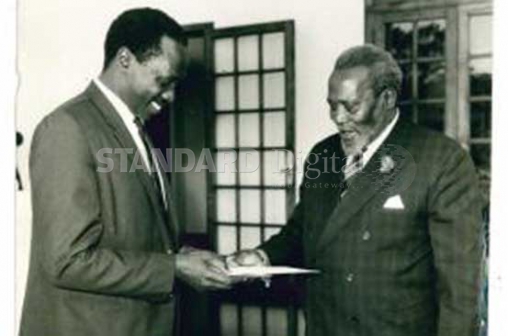 NAIROBI: Plans to collapse the Jubilee coalition parties into one outfit marks phase one of the re-construction of Kikuyu-Kalenjin dynasty arrangement that ensured Kanu ruled Kenya for 36 years.
The consolidation of the Mt Kenya and Kalenjin voting blocs under the newly-launched Jubilee Party marks a major milestone in the re-enactment of unusual parallels between Mzee Jomo and Uhuru Kenyatta in acquisition and retention of political power.
Although more than 50 years apart, Jomo and Uhuru took separate, convoluted journeys to the top, but which mirror each other in near Biblical prototype proportions.
Most significant in terms of ramifications for Kenya, and which has sent many a tongue wagging, is the prospects of President Uhuru playing his father's son to endorse his Deputy William Ruto as his preferred successor, as Jomo did with former President Moi.
The launch of the Jubilee Party left little to the imagination that Uhuru is betting on leaning on the Kalenjin vote bloc to prop up a 10-year stretch in power (2013-2022), just like his father did with Moi for 12 years (1966-1978).
According to Meru Senator and veteran coalition cobbler Kiraitu Murungi, the logic of formation of Jubilee Party of Kenya (JPK) is premised on Ruto succeeding Uhuru by collapsing TNA and URP and their affiliates into one party.
HORSE TRADING
Were the JPK plot to fly, Ruto would succeed where Jaramogi Oginga Odinga failed with Jomo in the 1960s, and both Raila Odinga and Kalonzo Musyoka missed with retired President Kibaki. It would also mark a return of the dynasty-like Kikuyu-Kalenjin alliance that ruled Kenya in turns for 36 years, with Jomo doing 15 years (1963-78) and Moi doing 24 years (1978-2002).
JPK proponents have made it public that the strategy is to do 10-year cycles in turns, were Uhuru to follow his father's footsteps and persuade his Gema support base to cast its lot with Ruto in 2022.
The assumption is no major hostile player emerges to split the Central Kenya bloc, or the Opposition CORD coalition disintegrated to remove the Raila-phobia fear factor, the glue that sticks the Jubilee troops together.
Without Moi and the Kalenjin bloc support to prop up his government, Jomo would not have lasted as long as he did, after losing Luo support in Kanu following an acrimonious fallout with Jaramogi, in 1966.
Analysts say the new Constitution and political imperatives have forced political innovations and horse trading unthinkable under the old constitution. In an interview, political activist, Mr Tony Gachoka, who has worked with both Uhuru and Ruto, says he would not be surprised if Uhuru played a true son of his father and endorsed Ruto as successor.
"Historical factors and constitutional imperatives have conspired to join the two at the hip. Like his father, Uhuru is an extremely popular leader of the biggest voting bloc, the Mt Kenya region. The historic burden to reconcile the country after the aftermath of 2007-08 post-election violence (PEV) falls on his shoulders . Few innovations offer better prospects for lasting healing than if he used his moral appeal as a Kenyatta to persuade Mt Kenya to vote a non-Kikuyu for President," Gachoka says.
Jomo set a precedent that worked for 36 years, and on whose footsteps Uhuru seemed keen to re-invent through JPK.
"Kenyan historians have overplayed how the fallout between Jomo and Jaramogi in 1966 shaped Kikuyu-Luo political rivalry. They have overlooked how this birthed the most enduring political alliance which would rule Kenya for a combined 36 years, only rivaled by the colonial administration that stayed 70 years," Gachoka says.
The second factor is the constitutional advantage inherent in Uhuru's incumbency, and the prospects of retaining the high winning threshold that a solid Central Kenya-Kalenjin coalition offers in 2017 and 2022.
The winning threshold imposed by the constitution — a winning candidate must win 50 plus one of all votes cast, and 25 per cent of votes cast in at least half of the counties (24 out 47counties) — compels politicians to seek and craft the broadest possible alliances .
Constitutional drafters framed the winning threshold that way to compel politicians to unite the country and not bulkanise it.
Gachoka has closely worked with Uhuru and Ruto from opposite sides — first with Ruto as a senior member of the ODM's Pentagon in 2007 and in 2013 when they converged in Jubilee coalition. He says the new Constitution has altered for good the way politics is done in Kenya.
Among intractable hurdles to surmount is for Uhuru to groom someone who socialises his home region to both the logic and prospects of backing Ruto, when his time to leave comes.
"Politics being what it is in a democracy, Mt Kenya needs the most intense civic education, to disabuse people of prevailing fallacy that the so called tyranny of numbers could escort anybody to State House. The fallacy may massage the egos of some, but the region is awfully short on the counties count, with only 10 or 11 out of the requisite 24," Gachoka says.
Currently, the bedrock of TNA political support is the 12 predominantly Gema-leaning counties, the bulk of the rest topped up by URP-leaning counties among the so called Kamatusa (Kalenjin, Maasai, Turkana and Saburu communities).
POST-UHURU PLAYERS
In 2013, delicate and painful decisions of withdrawing, cancelling and denying nomination certificates at the 11th hour broke the hearts of many aspiring candidates in both TNA and URP after the two formations zoned out the country into regions each felt had a better fighting chance than the other to avoid friendly fire and splitting the vote.
The same difficult decision making process went into deciding if to run a TNA or URP candidate in the Kajiado Central by-election early in the year. It is suspected the ongoing preparations to organise and roll out the Jubilee Party proper may yet throw up early indicators of who the post-Uhuru players in the Gema strongholds are likely to be.
"It is true, no other two Kenyan communities share deep-seated bitter and bloody histories as Kikuyus and Kalenjins. It is also true no two voting blocs have co-operated longer and steered stable governments than the two blocs under Jomo and Moi," said Gachoka.