Governors from Nyanza gang up as aspirants spoil for a fight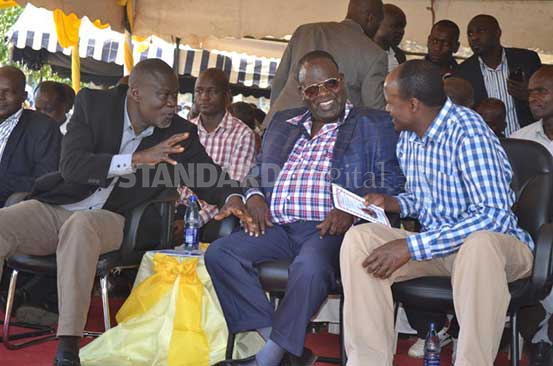 KISUMU: Governors from the Nyanza region are beginning to feel the heat as prospective candidates single out those they want to replace.
But they have put on a brave face and used every opportunity they get to highlight their development record. Governors Cornel Rasanga (Siaya), Cyprian Awiti (Homa Bay), Zachary Obado (Migori) and Jack Ranguma (Kisumu) have indicated in various forums that they are ready to fight to retain their seats.
To fend off the potential challenge, the governors met last weekend at Mawego Catholic Church in Homa Bay County and extolled their development record.
Speaking to journalists during the funds drive at the church, Kisumu's Ranguma said much has been done since their election.
"We are just settling down for serious work and some people are already eyeing our seats. We have big plans. We want to start a commercial bank for the Western Kenya block. The first ever to be owned by locals," said Ranguma.
Reports indicate that Rarieda legislator Nicholas Gumbo could have an interest in the Siaya seat. Other who may seek various seats include Siaya Senator James Orengo and Jakoyo Midiwo who lost to Rasanga.
Although he has not stated it, Kisumu Senator Anyang' Nyong'o is listed as among those who may challenge Ranguma. Others who may also go for the Kisumu governship are Kisumu East MP Shakeel Shabbir, businessman Dr Hezron Mc'Obewa and Asaka Nyangara, who works with the World Health Organisation. Mc'Obewa has emerged as a fierce Ranguma critic.
"Governors cannot impose moral imperialism on the electorate due to failure to meet the residents' targets. If they are out of touch with the electorate, they must prepare for appraisal come 2017 and those who have not delivered like Ranguma should prepare for hard questions," said Mc'Obewa.
CAMPAIGN PROPAGANDA
Nyong'o has been more moderate, but has said competition should be expected.
"The governors' activities are mere campaign propaganda, elections are held after every five years and not ten," said Nyong'o.
Ranguma, who is the Chairman of the Governors' Western Kenya economic block, has been quick to highlight their development record. One of the grand plans involves importing ferries and a floating five-star hotel on Lake Victoria to be managed by counties bordering the lake.
"Some of these projects will take more time, but come 2016, you will see wonders. An airplane must race on the runway for some time before taking off. Our development plan is still on the runway and will take off in 2016. This is why those eyeing our seats must wait," said Ranguma.
The governors are also pooling a revolving funds to undertake development projects in their counties.
Last Sunday's meeting was the second by the governors and Awiti is pleased with some of the proposals tabled. "This is just the beginning. Watch this space," warned Awiti.
Two weeks ago, Awiti and Nyamira governor John Nyangarama were in Migori to help Obado raise funds for a women's empowerment project. Obado later accompanied Awiti for the official opening of Homa Bay County Agricultural show at Kendu Bay.
The governors are also using the Western region trading bloc comprising 13 counties to drive a common development agenda.
They hope that a sound development record would leave them better placed to stave off a challenge from some of the more seasoned politicians who may want to take them on. For instance, in Migori, it is claimed that the incumbent will have to fend off the challenge of former cabinet minister Ochillo Ayako and Nyatike MP Edick Anyanga's.
In Siaya, Rasanga is reported to be facing opposition from Orengo.
Rasanga has laughed off the challenge. "Church leaders should pray for those seeking to oust governors in 2017 so that they can change their minds and wait for 2022," Rasanga joked.
Gumbo also says he is in the fray and has asked nominated MP Dr Oburu Odinga to support his gubernatorial bid because 'he owes him one.' Gumbo says he previously supported the candidature of Oburu in the 2013 Siaya gubernatorial election and it is now time for pay back.
"If Oburu is to be fair, he would now be saying that the leadership of this county be handed over to Gumbo. I campaigned for him when his own cousin, Jakoyo Midiwo publicly opposed him," Gumbo said.
Speaking last Sunday during a church service at Bondo Nomiya Church, Gumbo maintained that he would not settle for anything less than the governor's seat.
However, Oburu retorted that Gumbo was jumping the gun, and said rather than start early campaigns, he should support the incumbent. But Oburu said there was no bad blood between the two of them and would consider Gumbo's request at the opportune moment.