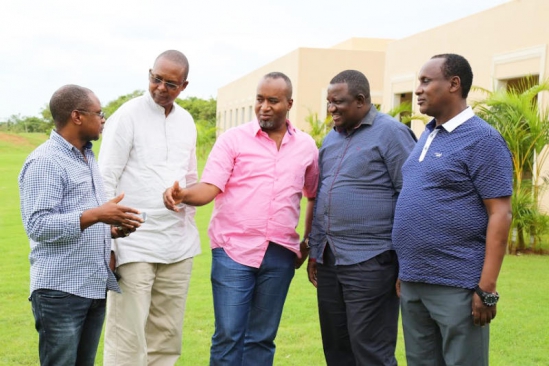 Coast politicians, especially those estranged from the Orange Democratic Movement, are spearheading calls for the formation of a political party founded by local people.
The calls spearheaded by Kilifi North MP Gideon Mung'arohave been inspired by the formation of "Jumuia ya Kaunti za Pwani," an organisation formed by local entrepreneurs and professionals who champion the interests of people from the region.
Like the former Western Province, the Coast is, notoriously, divided and fractious when it comes to fostering political unity. In other words, when it comes to making political choices and voting at national elections, residents in Coast and Western do not always vote as a bloc unlike the Luo, Kalenjin or Gikuyu.
The reasons for this are historic and complex and not easy to understand but this does not stop the push to form a local party from arising every electoral cycle. Not surprisingly therefore, some politicians in Western and Coast have embarked on plans to unite their people to speak with one voice or form political parties for political bargains with other regions.
Coast's case is more complex compared to Western's. Besides tribal differences, Coast's residents are split on class, racial and also religious lines and in recent years, it has become the only region, besides Nairobi, where migrant tribes now out number the indigenous people. The rise of the so-called upcountry vote has become a key factor in areas like Lamu, Taita Taveta, Kwale and Mombasa counties to the extent that it has now redefined discussion on the so-called Coast-based party as advocated by the likes of Mung'aro.
Read More
Most analysts say when leaders talk about "our party", they aspire for a tribal party to mobilise the ethnic vote for political gain and for Coast, this means different things. If there is nothing to unify all people across race and religion, say due to the unequal history of land ownership in the region, many believe agitators of "a Coast party" might just be aspiring to form a political movement for the Miji Kenda.
In the past, such plots have inflamed fear among new migrants; the fear of tribal xenophobia, separatist hysteria and religious bigotry.
Out-numbered
According to 2013 statistics, migrants from other parts of the country account for 62 per cent of Mombasa County, with ethnic Miji Kenda, Swahili and Arab constituting 31 per cent and between 30 and 40 per cent of Kwale.
Ethnic Gikuyu who have settled here since the early 1970s are now thought to outnumber ethnic Bajuni and other original tribes. The role of settlers in Taita Taveta's politics is already established while the migrant vote is rising in Kilifi County, especially in Kilifi South, Malindi Town and Kaloleni where migrant workers and settlers now account for a sizeable slice of the population that cannot be ignored in any political contest.
New migrants from the hinterland tend to be better educated, enterprising and politically aggressive. Expert say their failure to properly integrate, sometimes inflames local sensibilities, especially when they become more affluent.
To that extent, there is still tension between the indigenous and migrant populations. Often, ethnic Miji Kenda fracture along religious lines and sometimes rally to the side of the Swahili but their lack of financial muscle renders them vulnerable to manipulation.
Ngala influence
Former Kaloleni MP Dr Chibule wa Tsuma says the current Coast leadership does not go far enough when compared to Kadu leader Ronald Ngala who often traversed the entire region to canvass for political support.
He galvanised support for his party prior to Kenya's attainment of independence regardless of tribal, racial and religious differences.
The older generation politician recounts how Ngala attempted to rally the people to protect their land and other resources. Former Shirikisho Party of Kenya (SPK) vice-chairman John Mumba fears Coast-based political parties will not win the support of migrant populations residing in Mombasa, Kwale, Kilifi, Taita Taveta, Tana River and Lamu counties.
"It has been difficult for Coast-based parties to win the confidence of the migrant populations from the hinterland which invariably support political parties from their areas of origin," said Mumba.
That, he argues, is because the region has attracted a big number of migrant voters, and yet it is always a challenge wooing them to join a regional political party compared to what happens in Luo Nyanza and Mt Kenya regions.
Referring to the Ngala influence, he said the most revered leader failed to win over Taita Taveta residents to Kadu compared to the Mijikenda owing to the ethnicity factor.
Lamu businessman and politician Rishad Amana noted that in the county, ethnic vote is key to winning the position of governor.
"If you want to be governor in Lamu County, you must win the Kikuyu vote in Mpeketoni. You must strike an ethnic balance to succeed in the cosmopolitan county," he explained.
In the 2013 election, governor Issa Timamy and main rival Fahim Twaha had to choose their running mate from Mpeketoni so as to endear themselves to the Kikuyu and attract their vote. Political analyst Maimuna Mwidau said it has been a tall order to unite Coast residents regardless of tribe, race and religion since independence because they support different political parties.
Elusive unity
"Since independence, political unity for Coast has been elusive because various ethnic groups have had different interest. For instance, majority of the Mijikenda supported Kadu, the Swahili and Arabs supported Coast People's Party and Mwambao United Front. Presently, the upcountry people living at Coast vote for political parties from their areas of origin instead of Coast-based parties and this remains a threat to political unity," she noted.
She said those from the Kenyan hinterland who reside in Mombasa, Kwale, Kilifi, Taita Taveta, Tana River and Lamu back parties and leaders from their places of origin, weakening the Coast region's political strength. She noted that communities such as Kikuyu, Luo, Somali and Kamba usually vote as a different blocs wherever they reside.
Ms Mwidau said although the idea of a Coast-based national party looked attractive, it should come up with a new strategy and strong leaders who would win the support of all Coast residents.
"The challenge at the Coast has been lack of clear leadership to win the bloc vote. We have the numbers but we lack the leader to unite us and deliver a bloc vote," she says.
But Kwale Woman Rep Zainab Chidzuga said the party being fronted by her team had a better approach and negotaited with other political parties and become a key player in the country's politics.
"We are planning to form a party that will bargain for a coalition that will be in the next government," Chidzuga noted, referring to the Dabaso Declaration.