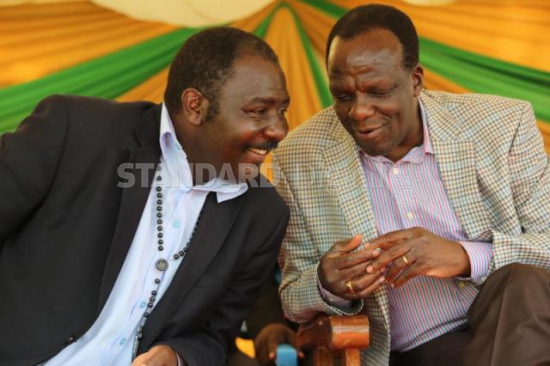 The recent visits to Malava by Kakamega Governor Wycliffe Oparanya have sparked off a heated political battle.
Though Mr Oparanya says he has been visiting the area to inspect development projects, he is said to be targeting his political rival and former Cabinet minister Soita Shitanda.
In the latest visit, Oparanya rebuked Mr Shitanda for eying the parliamentary seat currently occupied by Malulu Injendi.
"Let us give Mr Injendi a chance to run this constituency and stop criticising him on development issues as he is hardly three years in office. He cannot satisfy everyone's demands, " said Oparanya.
Mr Shitanda dismissed Oparanya saying he should focus on development issues and challenges facing the county rather than insulting other leaders. Shitanda was recently appointed by President Uhuru Kenyatta as chairman of Agricultural Development Corporation.
"Oparanya should focus on addressing challenges facing residents. Insulting other leaders will not develop the county. My appointment by the President should not steer any political wrangles. Leaders should deliver according to the aspirations of the Kenyans rather than engaging in politics," said Shitanda.
Meanwhile, Oparanya's bid to vouch for Injendi who is a first time MP got resistance from residents and elected MCAs who said he does not deserve any credit because he has no development track record worth credit.
GAIN MILEAGE
"Injendi should stop riding on other people's backs to gain mileage. He should strive to improve the lives of the people who elected him," said Chemuche Ward Rep Steve Ambulwa.
His South Kabras counterpart Bryson Sikolia challenged Injendi to declare his allegiance to CORD if he was to seek the governor's support.
"The MP should ditch his Maendeleo Party of Kenya and join ODM if he is supporting the governor and also if he wants the governor to campaign for him in the next elections," said Mr Sikolia.
But Injendi said he is ready to work with the county government and politics should not be used as a tool of killing devolution.
"People want to see development. Petty politics will not take us anywhere and is high time we support the current government. Malava has received more than Sh300 million for development projects and politics should not be used to mislead citizens," said Injendi.
Some of the residents in the constituency are not comfortable with Oparanya traversing the constituency initiating little funded projects and using them as a campaign tool.
"The recent visit by the governor was more like a campaign for the MP rather than development which should be his main agenda," said a resident.