CORD faces unity test as principals eye presidential ticket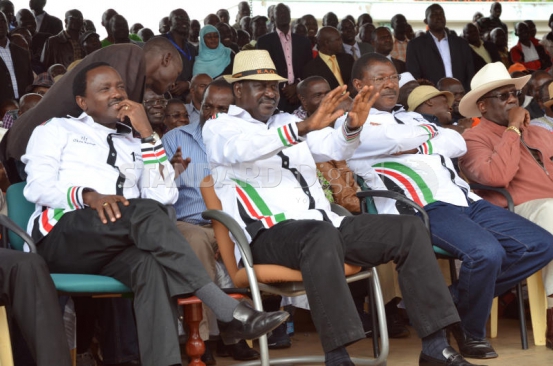 Last week's call by former Vice-President Kalonzo Musyoka urging CORD co-principals Raila Odinga and Moses Wetang'ula to endorse him for the 2017 presidential race has sparked fears of a possible fallout.
If past events are anything to go by where key opposition allies have fallen out on the eve of an election contest due to an unbridled desire by each candidate to occupy State House, then the formidable Coalition for Reforms and Democracy (CORD) could be reduced to a weak and fragmented outfit.
Despite a sustained public display of unity by the coalition's three CORD co-principals, the question of who will carry the presidential ticket remains thorny because early this year, Wetang'ula also announced he would vie for the presidency.
More worrying for the Opposition are admissions by Kalonzo that President Uhuru Kenyatta's Jubilee government has attempted to lure him to ditch CORD.
Kalonzo is the leader of Wiper party, which was formed after members wound up ODM-Kenya, the party he used to contest the 2007 presidential elections.
The battle for the control of ODM-Kenya between Kalonzo and Raila in 2007 saw the two leaders part ways, with the latter hurriedly joining the Orange Democratic Movement.
Political observers say depending on how the opposition leaders navigate around this issue, it could make or break CORD. Westlands MP Tim Wanyonyi (ODM) cautions that while no candidate should get automatic nomination, efforts should be made to contain a post-nomination fallout. "We do not want to see our opponents rushing to dangle carrots to those who may be aggrieved after the nominations," said Wanyonyi.
Political strategy
Political scientist Amukowa Anangwe believes either there is anxiety within the CORD parties on how to reposition themselves for 2017, or the principals are announcing their candidature as a strategy to galvanise support.
"Whichever way, hard feelings will arise when it dawns on them that Raila is the candidate. Luhyas and Kambas could be disappointed leading to a backlash from which Jubilee could benefit," Prof Anangwe, a lecturer at the University of Dodoma in Tanzania, predicted.
Political analyst David Makali, however, argues that although Raila is a front runner in CORD, his supporters should conduct themselves with humility if the coalition is to survive.
"Raila is the first among equals in CORD, but it is a fact that must be handled with humility by his ardent supporters. The aspirations of the other two co-principals are equally valid and there should never be presumptions of an automatic candidate. Democracy should be given a chance," Makali said.
Already, ODM supporters have dismissed Kalonzo's call for support from Raila and Wetang'ula in 2017.
ODM's Director of Political Affairs and Ugunja MP Opiyo Wandayi reacted to Kalonzo's comments by declaring Raila was the coalition's automatic presidential candidate for 2017.
The Wiper leader had reminded his co-principals that he had shelved his presidential ambitions in the past in favour of other politicians, and that Raila and Wetang'ula should return the favour in 2017. But Wandayi, a close Raila ally, said: "For the clearance of any doubt, Raila will be the automatic CORD presidential candidate in 2017."
Similar sentiments have in the past been made by ODM MPs, among them Raila's elder brother Oburu Oginga, who recently said the ODM party leader would be on the presidential ballot.
National Assembly Leader of Minority Francis Nyenze, who is a key Kalonzo ally, cautioned that jostling for the ticket three years to the ballot could be a CORD strategy to "spread likely risk" for its potential candidates.
"We do not want to settle on one person early enough due to known risk factors. What is happening could be a strategy, but we have elaborate internal mechanisms to ensure we settle on one person as our candidate. The jostling is no threat to coalition unity at all," said Nyenze. He advised that the candidate nominated by the coalition be supported by the other two co-principals. This will reduce the chances of a major fallout.However, neutral MPs like Butere's Andrew Toboso (ODM) have warned that it is premature for the three principal to focus on who among them should be supported in 2017.
"For me, its premature to debate the flag-bearer issue. There are more urgent issues to be addressed by the coalition such as pushing ahead the 'Okoa-Kenya' referendum which will redefine the political landscape if it is successful," said Toboso. Mombasa County Senator and Wiper Secretary General Hassan Omar said the issue of nominations should not trigger anxiety.
Right time
"CORD is a democratic coalition and by our co-principals expressing their willingness to contest, they are only showing their visions are alive and well. Deciding on who will win the ticket is an internal process with mechanisms in place to ensure it happens," he said.
George Aladwa, the Nairobi ODM chairman and close Raila ally, also pointed out that critics should not expect the three principals to remain inactive. "Each of the principals is busy strengthening his party, but when the right time comes, the coalition will settle on a candidate it knows will floor Jubilee," said Aladwa.
Wiper national chairman and Kitui County Senator David Musila said the CORD leadership will ensure it remains united to the end. "When time comes, joint primaries will be held or we may go the consensus way. What I assure Kenyans is that the coalition will remain united," said Musila.
Musila added: "I want to make it clear there is no automatic presidential candidate in CORD because every coalition partner has the right to contest in 2017. Each of the three parties is fronting a candidate and that is a democratic right," he said.
ODM Secretary General Ababu Namwamba, who is currently on a private visit to Europe, dismissed Wetang'ula's presidential ambitions as inconsequential. However, others offered varied views. "Raila's allies seem to know their man will go for the final stab at the presidency given his age. If Kalonzo and Wetang'ula push their bids hard, there is a chance of a recurrence of 2007 when Raila and Kalonzo went separate ways," says Prof Munene Macharia of the United States International University-Africa. Raila is 70 years old.
Responding to claims by CORD critics on the alleged headache the princiipals are faced with ahead of the 2017 presidential elections, Wetangula dimissed them as prophets of doom who will not divide the coalition.
"We are driven by unity of purpose and not greed for power and those claiming I skipped the launch of Raila's website because of division among us are prophets of doom," said Wetangula.
The Senator asked CORD supporters to ignore the claims because he had informed Raila and Kalonzo on Friday that he was in Bungoma with others leaders from the region attending the burial of a Ford Kenya youth leader at Kabuchai.
Wetangula reads mischief in claims that together with Raila, they skipped the Wiper NDC last year. He says he was the chief guest at the meeting while the ODM leader was away in China at the time. "It is wishful thinking by wicked minds opposed to CORD who want us to split but they will get nowhere," said Wetangula.
CORD's Deputy Minority Whip Chris Wamalwa said: "No one should ever dream that there will be an automatic candidate in CORD," said Wamalwa.