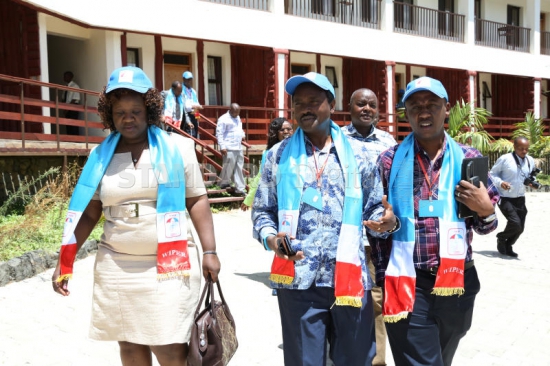 Wiper Democratic Movement leader Kalonzo Musyoka will be in the race for the presidency during the 2017 General Election, the party's top organ has said.
National chairman David Musila said the party would field a presidential candidate and seek for a running mate from other parties in CORD during the elections.
Speaking during the start of a two-day party retreat at Elementaita in Nakuru County, Kalonzo said he would traverse all parts of the country seeking votes.
"We want to go everywhere and I am asking you to allow me to move out of Ukambani as I look for votes. I will visit each of your constituency as we begin this journey," the CORD co–principal said.
The former vice president told the meeting attended by members of the party's national executive committee that political parties are formed with the aim of winning power through a democratic process.
Read More
He said a meeting at his Yatta home early this year where supporters urged him to go for the top seat was aimed at laying the ground for his 2017 campaign strategy. "The invitation to Yatta was meant to put us together and those who came have realised the political climate setting was done," he added.
During the retreat, the party also read the Riot Act to rebels.
"We recently expelled a few MCAs and the exercise is not yet over. We better have a few members committed to the ideals of the party than have a whole battalion of people who have do not have the interest of the party," Musila stated.
He said some MPs had forgotten the role the party had played in their election and were shunning key party activities and instead prioritising parliamentary committees.
"They do not understand that the party takes precedence over other issues and we should commit ourselves to its ideals," a tough talking Musila said.
The retreat will also discuss how the party will align its constitution to the national one and is expected to come up with a way forward on the pending party elections.
More than 30 Senators and Members of Parliament are attending the retreat including Machakos Governor Alfred Mutua, who is perceived as a rebel.
The Governor's presence received a boost during the meeting after Machakos was named the best among Wiper-run counties.
MPs were asked to be vigilant during the vetting of the nominee for the Inspector General of Police Joseph Boinett.
Musila said the party would not dissolve but would instead popularise itself so that it can negotiate from a position of strength when it enters into an alliance.
"I am for a coalition but from a point of strength. We must strengthen the party to enable us bargain from a strong position," he added.