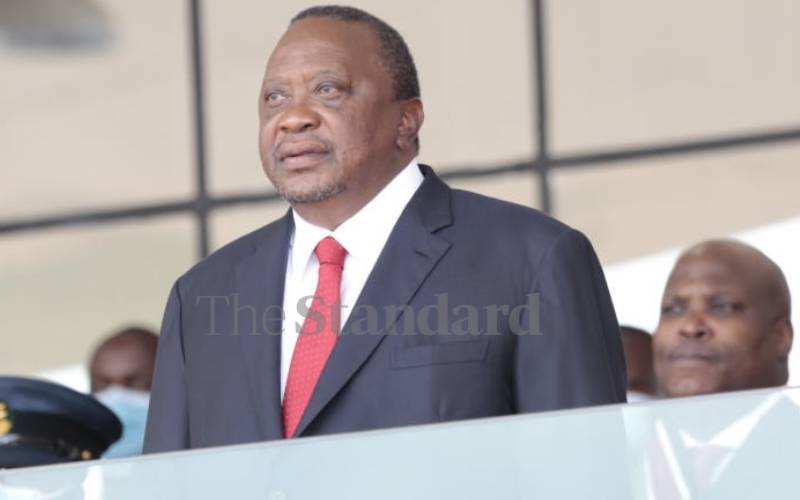 Prezzo UK was in buoyant spirits, dancing his way in and out of the Uhuru Gardens, the venue of his last stand in a national celebration.
When the site of his swansong is a garden bearing his name, and whose history invokes his own father's name, that was bound to be a complex manoeuvre.
After all, this is the season of politics and slogans such as "dynasty" and "hustlers" have become embedded in the daily lexicon. But things were more complex than that. It was Prezzo UK's last chance to defend his track record, after blistering attacks from his estranged deputy, Bill Ruto, while offering a subtle nudge to the electorate about the sort of successor he hopes can build on his legacy. And having received what the online activists call "shade" from DP Ruto in recent weeks, as when he declared the departed Prezzo Kibaki as the best that the country has ever produced, implicitly disparaging his boss in his presence, Prezzo UK knew better, this time round.
So, DP Ruto was left on ice, elsewhere in the park as Prezzo UK honoured his Cabinet, the only national duty for the Veep being to tie the sash on his wife's back. Then Prezzo took to the stage and recognised the dignitaries present. Even then, he skipped his deputy and his sash-making antics, so Man Ruto squirmed in his seat and his face scowled, perhaps recalling their joint inauguration, nine years earlier, a signpost that Prezzo UK referenced time and again to recall the progress achieved under his watch.
To be fair to both of them, DP Ruto has been specific about taking only credits for successes in the Jubilee administration, while all the failures go to Prezzo UK. In some instances, DP Ruto has turned Prezzo UK's successes into failures, so it was opportune for Prezzo UK to set the record straight, directly referencing Ruto's quip that people "can't eat roads and they can't eat bridges."
I expected him to go further and clarify that indeed, some greedy folks can eat dams, as happened to the two projects in the Rift Valley. But he didn't.
He was busy ploughing through a speech that he complained: hii sasa imekuwa ndefu (it has become too long), and had to growl for a glass of water when his throat got parched.
He was there, he reminded, in the hallowed grounds of the Uhuru Gardens, to re-enact the spirit of freedom that was secured through blood and sacrifice of our forebears, unveiling a flag lifted, not by wind, but by the breath of gallant, dying soldiers. He recalled the Uhuru Gardens some 60 years ago, as a site of pain as some 10,000 detainees were held there by the British colonial authorities, a "camp of martyrs" that ultimately transformed the garden into "a place of healing and renewal."
But there was no healing or renewal in his relations with his deputy. Not even a glance in his direction. The more eloquent exposition was conveyed, not in the written speech that he delivered in halting speech, missing words and occasional retakes, but with his unscripted interjections. "Wale hawapigi kelele ndio wanajenga Kenya (the quiet are the ones building Kenya), he said, hailing a technocrat who has transformed the lands registry, while his accomplishments in building roads, achieving in nine years what all his predecessors combined, including the Brits, had not in 123 years.
"Wapende wasipende, huo ndio ukweli wa mambo," he added, while the expansion in the digital media landscape was explained by the incessant diatribe against him. "Ndio unaona wengine wananitusi kila siku! Ni sawa tu… waendelee! Ni haki yao…"
He forgot to add the persistence of those producing meat wrappers, like this one, hurling insults and chronicling our history, one day at a time.