Facing Mount Kenya, Prezzo UK picks 'elder' over 'young man'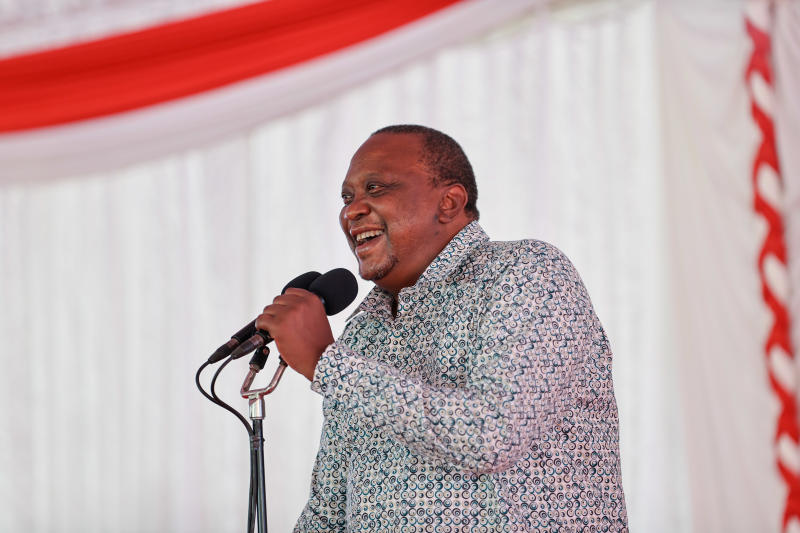 Prezzo UK (Uhuru Kenyatta) made his much-anticipated tour of the Mt Kenya region where he delivered a solo performance that was at once gripping and electrifying, alternately comic and solemn.
Gesticulating wildly, at times wagging a finger in warning, or raising arms in supplication, Prezzo UK's performance was punctuated by calls-and-response and invocations of God (ma ya Ngai!)
The hustler-dynasty discourse, which has been promoted by Deputy President William Ruto, alleging schism between rich and poor Kenyans, was dealt a severe body-blow as roiling swirls of villagers descended on the Sagana State Lodge, to what was an invite-only event. "This is a palace coup," one of the villagers exclaimed, only a few feet from the presidential dais. "A hustler like me finally at the table of dynasty (sic) is a revolutionary act." A counter argument could be made, however, as Prezzo UK, the son of the founding Prezzo Kenyatta and the embodiment of privilege addressed the gathering in flawless Gikuyu, his mother tongue, and invoked idioms that displayed his facility for the language and connection with his cultural heritage.
Using deep codes from the language, Prezzo UK said his erstwhile political opponent, Raila Odinga, had graduated from kimundu (nasty man) to muthuri (elder) who deserves his support for cultivating peaceful coexistence. He castigated his deputy as kimwana (young man), calling to mind the demeaning term kamwana (inexperienced, young man), that was used on him by his detractors 20 years ago.
Using a well-worn adage that an old man on a stool sees further than a young man atop a tree, Prezzo UK inferred his choice of successor was grounded in a rationale and well-considered analysis of who had the wisdom to steer the nation ahead.
Prezzo UK spared no effort, however, to illustrate that his deputy was spectacularly disqualified to lead, given his alleged, unspecified misadventures that led to the collapse of coffee, tea and dairy sectors, while he served as Agriculture minister.
Similarly, Prezzo UK did not substantiate his claim that Ruto pocketed some Sh3 billion meant for construction of dams in Elgeyo Marakwet, and which he dished out to churches to win support.
It was not clear if this was in reference to the Arror and Kimwarer dams' scams, whose value ran into tens of billions of shillings. Prezzo UK is renowned for preparing a Budget ridden with "typographical errors" during his stint at the Treasury. But his calculator was legendary for adding zeroes, not reducing them.
A probe into the dams' scam absolved the deputy Prezzo, although he, too, disputed that Sh21 billion had been lost in the grand heist. He placed the loss at Sh7 billion, which is more than the Sh3 billion stated by Prezzo UK. The overall cost was in excess of Sh60 billion.
In a radical departure from the past, Uhuru arrived armed with PowerPoint presentations that catalogued his development projects. He claimed the roads paved in the Mt Kenya region had tripled since his Handshake with Raila. He did not clarify if the two had been paving roads with their bare hands, and if joining hands made the work lighter.
But it will be affirming to Bill Ruto that all's not lost between him and his boss. He publicly declared, yet again, that he will support him in the years ahead, perhaps when he graduates from kimwana to muthuri.