One-man guitarist Mike Rua, known for his lewd lyrics and guitar skills, tells DAVID ODONGO about his musical experience
It was March 1995 on a Wednesday, just after midnight. Mike Rua lay awake, waiting for his mother to fall asleep. When he was sure everybody was sleeping, he stealthily sneaked out of the house, walking close to 3km to the church. His mother was the church custodian, and Rua had 'borrowed' the keys from her bag.
"Scared out of my wits, but still determined, I groped in the dark, using the benches and walls to make my way into the church's music room. I fumbled with the keys and opened the door to the room. When I held and finally strung the church guitar in my back, I felt a whole new sense of beginning," he adds. The controversial singer had just started a new life. He had managed to get what he always wanted.
And early the next morning, Rua says that he sneaked out before anybody woke up and carried along his prized box guitar. "I walked all the way from Mangu to my uncle's home in Githurai.
Upon reaching his uncle's house he asked him whose guitar he was carrying.
The big lie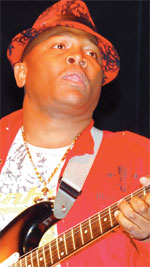 One-man guitarist Mike Rua

"I told him I had 'borrowed' it from the church back home," Rua lied and was given a bicycle to hawk eggs in Githurai. After busy day of selling eggs he could retreat and practice playing his guitar.

"I was soon strumming the guitar in churches around Githurai. Soon church leaders insisted I had to get saved before they allowed me to play anymore," he explains.

Undettered, Rua says that went into a corner and prayed to God asking Him to forgive him as he was about to sin. "And, voila, I was born again," he adds with a chuckle.

"The first money I made from playing the guitar was Sh200. I went to Gikomba and bought a turtle neck sweater, which I wore to church the following Sunday, complete with a bow tie," he says.

Rua went into clubs and watched Ulinzi Stars, a popular band, playing to learn a few tricks of the game. "I went and stayed close to the band, watching how they did it all night. The following day I was in church practicing what I had seen. This went on every Saturday until I become close friends with some of the band members," he enthuses. Today one of Rua's back instrumentalits is from Ulinzi Stars. His drummer, Mohammed, has been part of his group for a long time.

One day in Githurai, he bumped into the late Queen Jane and convinced her that he could play her songs. "I had stretched the truth. I knew her songs, but I was not sure if I could play the lead guitar as she sang. She looked at me a young man with nothing, hawking eggs and claiming to be the greatest guitarist."

Break through

But Rua believes she must have seen something in him. Queen Jane agreed and took him under her tutelage. Soon he could play rhythm, lead and bass guitars. He was also good at the drums and was earning Sh600 a show. "My life as a paid musician had just begun. I moved out of my uncle's house and got my own house in Githurai. It cost a princely Sh300 per month. I had close to three shows every week," he says.

For a young man, barely out of his teens, he lived like a king.

Birds of a feather flock together, or so the saying goes. Soon he met Salim Junior and Mike Muirimi and started performing together.

This was short-lived as work became scarce. The trio parted ways and everybody decided to chart their own course.

So one day, in one of the prominent entertainment spots in the Zimmerman, a band was performing. When they took a break, Rua asked if he could entertain patrons without pay.

"I took to the stage, sang a few mugithii songs and seeing that most of the audience was drunk sneaked in some dirty words. They went wild.

The more obscene the lyrics were, the more they roared," he adds. It happened till morning and the next day, the proprietor called him to add more lewd lyrics.

From there, Rua never looked back as controversial Mike Rua was born and he has never changed his style since then.

It has been a long 15 years in the music industry.

"Music pays and I cannot complain. I have a nice home, several cars and a few businesses. My favourite car is an old Volkswagen," he says.

The biggest mistake I have ever done in my relationship is leaving my phone unattended as I took a shower. You know what happens when your woman goes through your phone.

The singer has released three albums and they sold well locally and abroad. "People say I am the King of Mugithii, I appreciate that. I didn't give myself the title. I was crowned by the fans and I always thank God for his kindness towards me," he concludes.