By Caroline Nyanga
For Lingala music lovers the place to be on New Year's Eve was Club Afrique where Wenge Musica 4x4, Adolphe Dominguez, thrilled revellers with some of their best songs.
Congolese musician Adolphe Dominguez, who last performed in Kenya in 2008, brought back nostalgic memories of original the original Wenge Musica 4x4 formed way back in the early 1980s.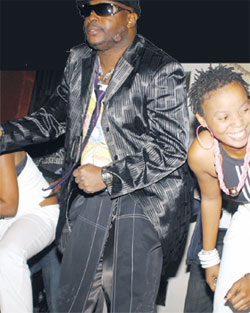 Adolphe Dominguez. [PHOTO: JOHN MATUA/STANDARD]
Even though his fellow musicians Alain Mpela and Aime Lia did not make it for the show after missing their flights, he rocked the show. Adolphe, backed by Kinsasha's Palian Royal — comprising lead bassist Neck, soloist Fils Manzaka, rhythmist Paris Dakar, drummist Michigan, tumba expert Komudor, keyboardist Idris, and dancers Adelle and Laurette — got on stage at about 11pm and performed for more than five hours non-stop.
Read More
His lead singers Geko and Chic and animator Washington belted out verses of their evergreen hits like Voyage, Solola-Bien Generic, Roco-Martinie, La Vie, Verces-Oublues, Papasone, and Pentagon Generic, among others.
Fans were not only treated to the best of Lingala music but also sensational dance styles such as Mama Port Moi/Mama unibebe (Carry me mum), Ndombolo, Lopele and Seben.
"I am glad that my fans enjoyed my music and dancing styles which I believe are unique and different from what other Congolese musicians have performed in Kenya before. Unlike my counterparts, I have mastered the art of good music having been one of the early members of Wenge Musica," he said. The musician credited for being the backbone of Wenge Musica 4x4 says he hopes to stage more concerts in the near future.
Considered one of the best-dressed Congolese musicians, Adolphe displayed his skills as he belted songs from his seventh album, Suspension. He said this was the first time he was performing some of the songs on stage since the album's release.
Adolphe has worked with a number of popular musicians, including Werrason, Seleo, Bill Clinton, Babi Ndombe, JB Mpiana, Alain Mpela, and Didier Masela.
"The fact that I easily adapt to one's style and the credible voice made most of them interested in working with me," he says.
"I have been working on my eighth album which I finished late last year. I believe it will be a force to reckon with."
Adolphe describes music as a process. He says that is the reason he believes in taking time to compose a quality product.
History
To most fans of the original Wenge Musica 4x4, Adolphe was the man to watch, particularly for his dance moves and fashion. After performing alongside big names, he continues to play in the big league even after the break up of Wenge. His energetic stage performances and bewitching vocals have endeared him to many fans.
The musician, the leader of Le Sape (a movement of Congolese fashion aficionados that literally worship designer clothes, shoes and trendy hairstyles), says his mission is to stay at the top.
Adolphe hints his flamboyant dressing has earned him the nickname Le Chouchou (ladies' choice).
And although fans more often refer to his group as Wenge Tonya Tonya, he attempts to set the record straight, saying his band is Wenge Musica Adolphe Dominguez. Tonya Tonya, he says, is the title of one of his bands, adding that he runs two other bands, one based in Paris, France, and made up of people of different nationalities, and another in Cape Town mostly comprising South Africans. This, he says, is to cater for fans of different tastes.
Asked why he has kept a low profile compared to JB Mpiana and Werrason, even eliciting suggestions that his fortunes had dwindled, Adolphe says most of his shows have been in France, Belgium, UK, and south African countries like Mozambique, Malawi, Namibia, Zimbabwe, Botswana and South Africa.
"I operate between Paris and Cape Town," he says.
His heart is, however, in Congo where he has been working hard to promote peace, alongside Monuc, the UN mission. The musician, who staged a concert to promote a United States of Africa in Libya in 2008 at the invitation of President Muammar Gaddafi, says he has composed a peace song titled Fardc. "In the video we are dressed like soldiers promoting peace.
Music distribution
As for why his music is not available locally, he blames piracy and lack of reliable distributors for his reluctance to venture into the Kenyan market.
"However, my music is available in DRC, Europe and South Africa. I hope to soon get a distributor in Kenya," he says.
Having worked with many international artistes, he believes that he, JB Mpiana and Werrason are the best Congolese musicians.
"The rest like Kofi Olomide and Papa Wemba lag behind. As for Ferre Gola and Fally Ipupa, they are my students in music and I'm glad they are doing well," he says.
He denies claims that Congolese musicians use witchcraft to succeed. "Success depends on talent, discipline, and practice."