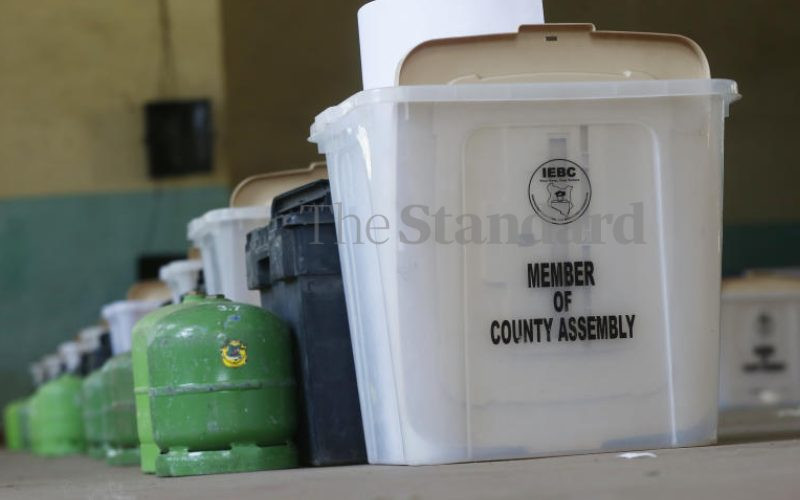 In his element, Interior Cabinet Secretary Fred Okeng'o Matiang'i loves shooting from the hip.
Hardened by the demands of his high office, the 'super' CS can stir the hornet's nest even if it means telling off Deputy President William Ruto.
Known for his gritty performance, the CS has jealously protected public interest, save for the dark days of 2017 when he shut down mainstream TV stations despite a court order.
The farsighted CS is now warning that Kenya faces a shortage of Sh100 and Sh200 notes supposedly because politicians have 'raided' banks to get the lower denominations for use to bribe voters ahead of the August polls.
Dr Matiang'i fears the heavy spending on the campaign trail could be a money laundering ploy. Indeed, a Central Bank of Kenya report has suggested there is an increase of Sh18.5 billion of cash outside of banks for what-not reasons.
He further warns that we could end up laundering criminals of unprecedented standards into plum elective positions.
In his words, we may end up with more tainted leaders if we allow the 'wash wash' gangs to bribe their way into leadership.
As an ordinary citizen, I have no reason to doubt the Interior CS. Many candidates are on a bribery spree and sadly, many voters are receptive to these weird ways.
A recent Transparency International Kenya report showed that 59 per cent of voters would willingly accept a bribe from the men and women contesting.
It's happening at a terrific rate. Those who dread fair competition are hell-bent on buying your support.
It is a crisis of unimaginable proportions when the nation's basic democratic ideals are defiled right before our very eyes. It did not start today. Allies of President Uhuru Kenyatta now say money was spent to secure support from some quarters in 2013.
They claim to have proof of dirty games in corridors of power that saw Uhuru blame the 'devil' when he nearly gave up his bid.
In this election, there's no doubt Raila Odinga and William Ruto have massive State assets within their disposal.
Their coalitions are stopping at nothing in mobilising votes. We've seen candidates splashing cash. Some are renting crowds and engaging hirelings to cheer and jeer.
It is shame of monumental proportions that money has triumphed over political decency, ability and capability.
Campaign financing laws have glumly failed to curb the shrewd voter bribery.
The rich have their way and the poor suffer the fate of the proverbial frog that croaks but can't prevent the cow from drinking the river water. The culprits will be all over giving handouts, valuables and sweet promises. Hours to the D-day, they will offer inducements to the poor in exchange for vital documents like IDs so that thousands of these innocent electors won't be eligible to vote. This will influence the vote.
But bad as it may be, Wanjiku can choose to exclude the money factor from her choices on August 9. Voters must respect the sanctity of the ballot by rejecting undue influence on them.
It is an open secret that once bribed, the voters lose the moral authority to demand quality representation.
And the elected man or woman will walk around with a big head that after all I bought them… they ate my money and so they have no authority to question my actions.
This election is a chance to right these wrongs. The consequences of our actions will have sweeping effect on our future. It's not about tribes or 'our person'. Voting is a right and a privilege but also a duty and responsibility we cannot trade for a little bribe.