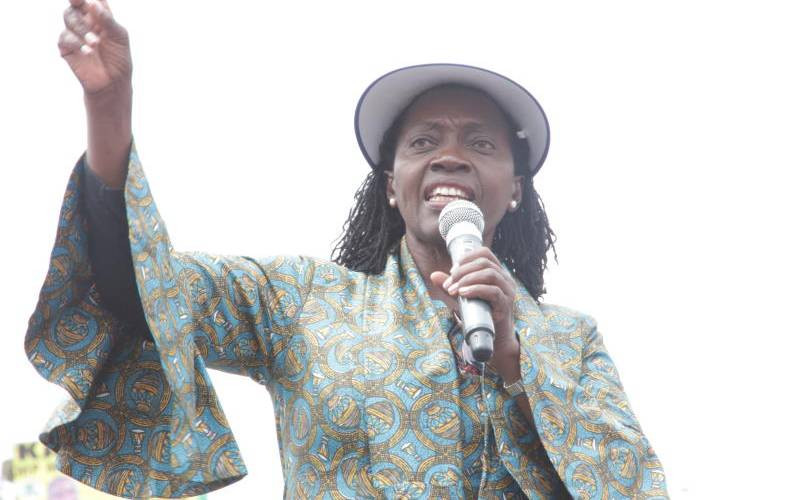 In his column published in The Saturday Standard of July 16th 2022, Barrack Muluka made an unconvincing attempt to paint the Azimio la Umoja coalition running mate Martha Karua, as an angry person.
This was on the back of Karua respectfully cautioning Kenyans on the dangers of electing someone who has publicly demonstrated their anger, even in moments that required restraint.
The specific incident that Karua referred to was the matter of the Kenya Kwanza presidential candidate William Ruto getting angry at President Uhuru Kenyatta to a point of contemplating physically assaulting the Commander-in-Chief, after the 2017 presidential election.
However, this moment of anger is not a one-off occurrence. Even as recently as last week, the Kenya Kwanza presidential candidate lost his cool once again and angrily lashed out at a youth during a rally in Vihiga County.
DP Ruto later blamed his outburst on the harsh economic times facing Kenyans, but this comes off as insincere because he is implying that the economic situation affects him more than the young resident of Vihiga County.
Indeed, the Deputy President has expressed anger towards the President who is his boss, and to a Kenyan who is among the millions who voted for them three times in the last nine years.
This is in sharp contrast to Karua who, after her nomination as the Azimio la Umoja coalition running mate, had to cope with hecklers who had been paid to try and disrupt her rallies in Central Kenya.
Respect for all
Yet, her response in a similar moment was to remind the individuals that they indeed do have right to disagree with her within the confines of our democracy. She went as far as offering them an opportunity to address the crowd and share their agenda, even if it was contrary to hers.
Mr Muluka's article comes off as insecure, and trying to draw inferences by exaggerating events to paint Karua in a manner contrary to the truth.
One of the events mentioned in the article is walking out on President Daniel arap Moi, an event which most politicians in Kenya rightfully respect because it is one of the many bold actions that reminded Kenyans that we were united for a common cause, to change the country's leadership.
Another event the article refers to is Karua's resignation as Minister for Justice, National Cohesion and Constitutional affairs.
If we were to contrast this moment with the recent incident that came to light about DP Ruto's anger with the president that almost resulted in him slapping the president, Karua comes off as someone who has utmost respect for the presidency.
In both cases, they disagreed with their leaders who were at that point the Head of State. While DP Ruto contemplated slapping the president, Karua respectfully resigned from her position and has never tried to gain political mileage from that incident, unlike the former.
The article also claims that Karua "cuts into her hosts questions with caustic remarks…".
However, in most instances, Karua simply goes further to question the narratives that are sometimes being presented. The power to question is the basis of all human progress.
These were the words of Indira Gandhi (the third prime minister of India and was also the first and only female prime minister of India) and these words remain true to date.
In many of the incidents the writer mentioned, Karua was acting on behalf of the people, with zero self-interest, and many of the actions have come at a high cost to herself.
The article made a frail attempt to stereotype Karua as an angry woman, a stereotype that most women in all fields are unfortunately familiar with.
We all occasionally get unsettled, but when it's a woman getting angry, people often attribute the anger to her personality rather than an inciting situation.
Throughout this campaign period, Karua has been the exact opposite of that. Before her nomination, she always stated that she willingly joined the Azimio team and is ready to play her role in the team whether she was selected as running mate or not.
After her nomination, she has remained true to her call for politics that is devoid of insults, with her now familiar clarion call, Heshima si utumwa.