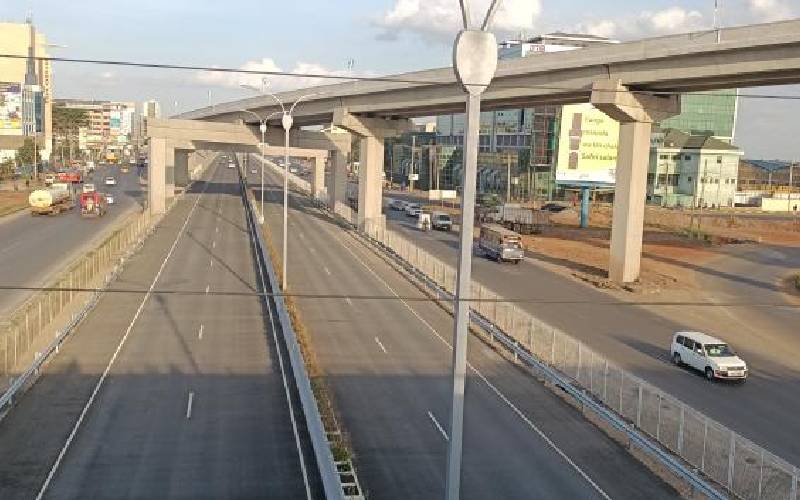 When Americans had built the highways, skyscrapers and railways, they decided to set a more ambitious goal; to conquer space after flying planes.
They had subdued the land from the Atlantic coast to the Pacific Ocean. We can discuss what happened to the indigenous landowners another day.
By the time the country was 193 years old, it had achieved a milestone, landing man on the moon in 1969. The greatest achievement from this landing was not technological, but the extension of human possibilities.
If we can land on the moon, where else can we land? They have now landed spacecraft on other planets, moons and asteroids.
Extending the frontiers of our possibilities defines the human race.
Against this background, we should ask, what next after the Nairobi Expressway?
The temptation to build another concrete marvel, something we can see every day or even from space like the Chinese Great Wall, is high.
We could build another expressway from Ngong Road to Thika Road. Noted that in tandem with the expressway a block of skyscrapers has risen at Chiromo overlooking the University of Nairobi's Chiromo campus?
Our next project should not be made of concrete. Already, I am hearing of the railway city, another concrete.
The next national project should touch the heart and soul of the nation. It should be more like jihad or a crusade, transforming our thinking and shoring up our national confidence, opening up new frontiers of possibility.
If we can recall, the great economic leap forward after the end of the Kanu era was because the majority of Kenyans believed in new possibilities.
It did not matter your socio-economic status. The expressway or Thika highway are a manifestation of that new thinking. How do we reinforce it? How do we make every Kenyan boy or girl believe he or she can drive on the expressway - that it's not for the chosen few? How do we make the next generation extend our frontiers of possibility?
When I drove through the US, Chinese, UK or German expressways, I was less mesmerised by the concrete than how they got there - the software part of the nation.
Putting hardware together is the easiest, there are standards already set by engineers. You can even replicate a design. But there are only so many easy and replicable standards on social or soft issues like marriage, schooling, optimism, entrepreneurship and health.
How do we make the vast majority of Kenyans believe they can become affluent without resorting to graft, lottery or miracles? How can we make them see new possibilities?
Our next project after the expressway should be transforming our thinking to see new possibilities in our homes, villages, hamlets, counties and nation.
Surprisingly, devolution did not make us see the new possibilities in these places. It was framed as a chance to get more money from the State, not generate it in the counties.
Covid-19 reinforced our feelings of vulnerability to nature and its forces, from climate change to new diseases.
Now add Ukraine and the high fuel prices, and even the boldest can be shaken. It's easy for the vast majority of citizens to just give up, and learn to be helpless.
Our next project should be about building national confidence. Remember "Najivunia kuwa Mkenya?" How can we do that?
One, let's be proud of our history. We should be celebrating 127 years since Kenya became a nation, a British protectorate in 1895.
Historical foundation
That will deepen our historical foundation and pride.
How much pride do we derive in forcing Britons to withdraw from Kenya through Mau Mau? How much pride do we derive in having contributed to the defeat of the Nazi in the Second World War? Don't we have veterans of that war in Kenya?
Two, we can showcase our achievements, higher literacy levels, internet connectivity, highways, ports, improved health access, and a vibrant private sector that has made us leapfrog our neighbours. We can debate the subsequent inequality later. Three, we can build on our diversity. The many tribes and races in Kenya make the country more competitive. Why do we see that as a problem?
The US has more tribes and races than we do. We should be proud of our historical encounters with Chinese, Portuguese, Shona, Makonde, Arabs, Persians, Britons, Nubians and other foreigners. They added to our genetics and cultural diversity. Can our next Cabinet be that diverse?
Four, and for the sake of the next generation, our schools should be the seedbeds of our confidence and transformation, windows to new possibilities. In my lifetime, I have been to five schools in Kenya and three abroad. These are new experiences, and challenges that transform your thinking. What percentage of our students leave the comfort of their county?
The State should give students a transport allowance if they leave their counties. Schooling in your county, working and marrying there rarely opens new frontiers.
Five, our leaders must preach optimism. Our media should also add more optimism to the national discourse. The problems we face enrich our lives, and force us to extend the frontiers of possibility.
Let's focus more on solutions and possibilities. Lastly, we must learn from others.
The US, Singapore or others did not develop randomly.
They needed the commitment and collaboration of all citizens. National confidence will lead to more expressways and possibilities - not necessarily made of concrete.
Will our new president ensure our country is overflowing with confidence? Shall he ensure we shall extend our frontiers of possibilities?