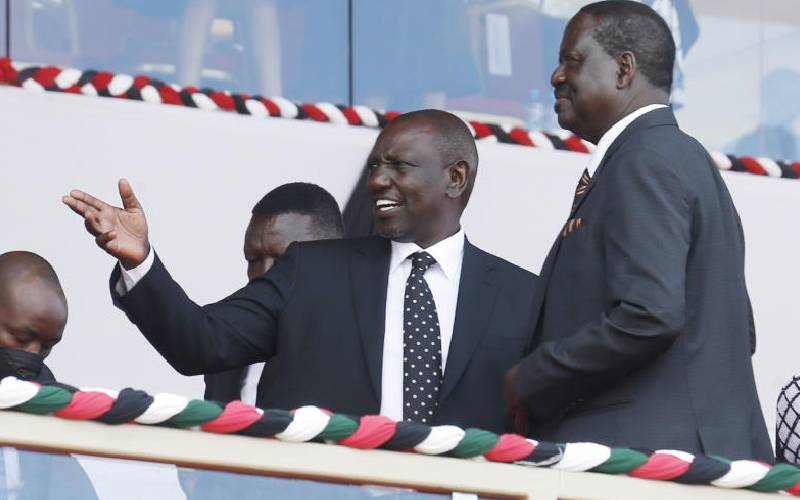 How things change! A Deputy President used to be a spare wheel. Today, a Deputy President is a second bicycle tyre. Because the Constitution 2010 said so, a Kenyan looking to be president must be jointly yoked with another Kenyan for five to ten years.
That is a long time to be politically married to someone with whom you have come together for reasons other than true love.
This is why Raila Odinga and William Ruto, the front-runners in this year's election agonised over their running mates until the eleventh hour. It was, after all, a hurried wedding without the benefit of pre-marital counselling.
It is an artificial union with the added pressure to display fierce and unwavering devotion publicly, no matter how you feel. But as fate and fortune would have it, the two front running tickets are matches made in political heaven.
Ruto and Gachagua have matching histories as mentees of former President the late Daniel arap Moi. At the start of their careers, they emerged as political hatchlings incubated in the Kanu Jogoo's roost. As political siblings, they are in perfect sync.
Raila and Karua also share a political heritage. Their kinship is in their reformist history, resisting the same regime Ruto and Gachagua represented. So, based on this, at least both camps are so far, equally and happily yoked.
Raila allocated a definite portfolio to his Deputy President designate. He named Martha Karua his running mate, and future Cabinet Secretary for Justice and Constitutional Affairs. Ruto promised to issue an executive order and give Rigathi Gachagua specific roles in addition to the job description the Constitution gives a DP.
But as we know in politics, a vague promise is a lie deferred for suitable adjustment in future. Especially, when it is a promise from one politician to another. A concrete promise on the other hand is harder to evade. But that is not the point.
What is of great significance in my view, is not so much Raila's allocation of a ministry to Karua. The significance is what the allocation of the Ministry of Justice and Constitutional Affairs represents.
Firstly, it represents 'Executive Coherence'. Workwise, Karua's ministerial portfolio starts the President and the Deputy President off on the right footing. Under the new Constitution, we have learnt that a deputy president with a vague job description can have a catastrophic outcome.
Biblically speaking, idle hands are the devil's workshop and idle lips are his mouthpiece. But this was not the case before 2010. Vice presidents, with or without portfolio served at the pleasure of the president, and had to 'behave' because they could otherwise find out about their dismissal and replacement on lunchtime news.
A portfolio, like Michael Kijana Wamalwa had in 2003, not only engages the second in command constructively, but leverages a national resource in the area where they have the highest competence.
Secondly, Karua as minister for Justice and Constitutional Affairs represents a 'Definition of Intention'. Raila has stated two vital focus points of his presidency as: the war on corruption, and a reform of the criminal justice sector.
Both objectives fall squarely under the Justice and Constitutional Affairs ministry, which covers the entire spectrum of the criminal justice system, and moderates the relationship between the Judiciary and the Executive.
If Raila's intentions are centred around accountability, anti-corruption and economic crimes then Karua is the woman to do it, and the ministerial portfolio becomes the mechanism with which she will do it.
This is an indication of Raila 'putting his money where his mouth is.' When he says he wants to reverse the judicial culture of prioritising the arrest of petty offenders instead of going after high-profile persons facing corruption charges, he has demonstrated his commitment.
Between now and the August polls, Deputy President William Ruto has plenty of chance to explain more of Gachagua's role in his government, whether it is in ideology or specific job description.
But by way of helping him, what portfolio should Ruto consider for Gachagua? How best can he harness Rigathi's history, training, talents and experience?