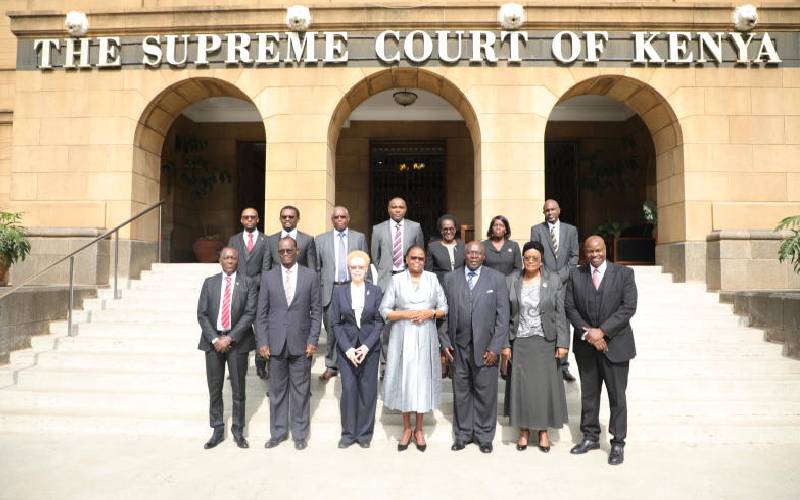 This week, Chief Justice Martha Koome published changes to the Supreme Court presidential election petition rules. The rules made it illegal for litigants, their lawyers and other lawyers to comment on the merits or to speculate on the outcome of presidential petitions. The fear is that such comments may "prejudice or impede" court proceedings.
It comes on the heels of the unprecedented reprimand of two lawyers on record and one Senior Counsel for their tweets during the BBI appeal. The CJ claimed the tweets were designed to intimidate and scandalise the court.
The Law Society of Kenya has criticised the new rule as unconstitutional for violating freedom of expression and bypassing public participation. Participation of the people is a vital constitutional tenet that has been the basis for several High Court and Superior Court findings striking down many legislative and executive actions since 2010. This renders the new rules susceptible to suspension or quashing should someone petition the courts.
One of the transformative features of our constitution is its emphasis on 'the people' as the source of power and authority that all appointed and elected persons hold, including the Judiciary.
Article 10 enshrines participation of the people as a national value and principle of governance binding all State and public organs, offices and officers in the interpretation, enactment, and application of the Constitution. It is curious and ironic that the rules were rushed and unilateral. The Judiciary has often reminded the Executive and Parliament of the importance of public participation. Insisting that Kenyans and stakeholders must be consulted at every governance, law, and policymaking stage.
Kenya has common law restrictions regarding publishing specific details or material relating to court proceedings known as sub judice (Latin for 'under judicial consideration'). Our laws prohibit publications designed to scandalise the legitimacy of courts and judges, to influence outcomes in cases (trial by media) and material that can inappropriately influence the judge. Social media, which now allows any user a potential publisher, has further complicated the policing and application of this rule.
So, do sub judice laws and the new rule comply with the 2010 Constitution? Was it necessary to make provisions specific to presidential petitions?
To determine whether the laws are justifiable, one needs to interrogate whether public participation applies and whether it was done. Furthermore, Article 24 of the Constitution dictates that any law limiting rights must be clear and concise, pursues a legitimate aim or espouse a pressing social need. Moreover, the law must be necessary and proportionate in an open and democratic society.
Are the phrases "prejudice or impede" clear and concise? Regarding legitimate aims, does protecting judges from comments outweigh the need to inform the public about a presidential petition determining who will govern Kenya for five years?
Sub judice should not prevent litigants, lawyers and journalists from commenting on live cases unless expressly prohibited through gag orders. It is noteworthy that our courts and tribunal are open to the public. Their proceedings are matters of public record.
Commentators and publishers tread on a fine line to ensure that they inform the public while not entering the purview of contempt, such as prejudging a case. It is usual for lawyers, litigants and politicians to call press conferences in front of courthouses after filing suits to outline them.
Additionally, media houses employ legal experts to comment on ongoing cases, their significance, and ramifications. Rules should not shield the Judiciary from public scrutiny or comment.