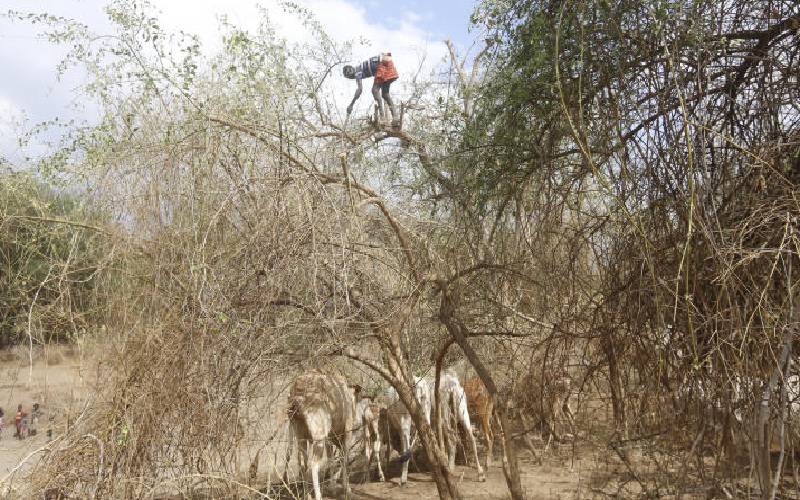 The Economic Survey 2022 released last Thursday by Kenya National Bureau of Statistics brings out the relationship between climate change and economic growth.
The survey brings out the contribution of sectors such as water, forestry, agriculture, fishing, wildlife, manufacturing, education, energy, to the economy. Then it states at the earliest opportunity: "In 2021, all economic activities registered positive growths except agriculture, forestry and fishing."
The poor performance by the above is attributed to the following: "Dry weather conditions that characterised the better part of 2021, adversely affected agricultural production, especially growing of key crops such as maize, beans, vegetables, tea and coffee, leading to a contraction in its growth."
While this may be an overview of the situation in 2021, there is little hope for positive vibe when a similar survey is done next year if things remain the way they are. Several families suffer one calamity after another, in ways that cannot be fixed quick, despite the fact that lives are being lost. Images of people still living in camps somewhere in Nyando, Kisumu years after their homes were marooned cover the untold suffering, including hunger, teenage pregnancy cases, disease and loss of livelihoods.
Today families in Baringo are wondering if it is safe to take their children back to school, amid insecurity in a place that has had a history of devastating weather patterns, discouraging farming and exposing families not only to hunger and poor nutrition, but also to an unending cycle of poverty. And now the pastoralism that is supposed to be their source of livelihood is not sustainable because of banditry and poor climatic conditions. Human and livestock deaths are no longer news.
This may happen in Isiolo and Meru borders, in Baringo, West Pokot and even parts of Turkana. In Marsabit, biting hunger is now stripping humans their dignity. It is also here that the Government has enforced a dusk to dawn curfew over unending insecurity, and hopes to mop up illegally held guns. You may ask which, between climate change and insecurity, should be addressed first, like in the case of Marsabit and Baringo. But the moment climate change will cause any scarcity, be it of water, pasture, food or destabilise social lives and livelihoods, clans and tribes will fight for little available resources.
Deaths occur, people live in fear and there is little economic growth. Meanwhile, while in other places people will be ensuring climate action, for volatile areas even tree planting and smart agriculture will be unheard of. Insecurity and climate change are intertwined, yet each can also worsen the other.
Together, or apart, the two can easily slow an entire county's development and economic growth, lead to extreme poverty, deny children access to school, lead to early marriages, poor nutrition because people will not grow food crops, while children will neither suck their mothers' milk or get any from the livestock.
Efforts to address climate change and insecurity in volatile areas should be increased.