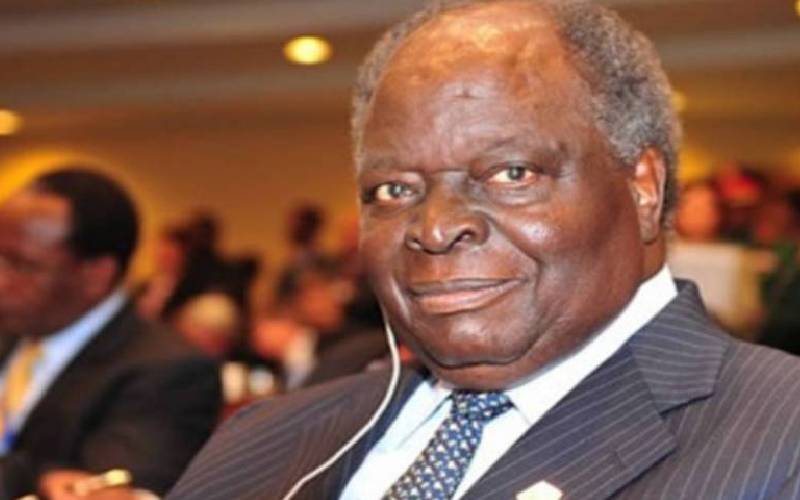 Mwai Kibaki had homes in Muthaiga and Othaya. The two 'homes' symbolise the socio-political complexity of a man who became the 'Third President'. Kibaki enjoyed his own mystery partly because it was self-protective, and baffled pundits who make livelihoods interpreting others. Intellectuals marveled at his big thoughts, ability to argue and almost to make sense, even when he was wrong or backing the wrong tree.
He was, in that sense, close to Jomo Kenyatta and Tom Mboya as men who sounded as if they always made sense. The three had worked closely to produce the 1965 Sessional Paper Number 10 on African Socialism and its Application to Planning in Kenya. In that seminal 'paper' that still guides Kenyan domestic and foreign policies, they tried to convince people that capitalism became 'socialism' when baptised 'African'. All they did, Kibaki declared in 1997, was to reject 'socialism'.
Calculating Kibaki knew which side of the political bread was buttered. As vice president to President Daniel arap Moi, Kibaki teamed up with Charles Njonjo in 1982 to push through Parliament Section 2A constitutional amendment to make Kenya a one party state.
They proved they were 'true Nyayo followers' by disparaging university intellectuals who dared to question Moi's policies. Still, Moi discarded both men in style. Njonjo, labeled msaliti (traitor) after the failed 1982 coup, disappeared into political oblivion. Kibaki was next and his offence was thinking big.
Subsequently in 1984, Moi told Kibaki to stop thinking because thinking was presidential prerogative. As vice president, Moi said, he did not have a mind of his own and he expected Kibaki similarly not to have his own mind. Kibaki's role, therefore, was to sing the tunes that Moi called. Although he tried singing Moi's melodies, Kibaki was still dumped as vice president after the 1988 mlolongo.
When pricked, Kibaki could get out of political jams or fight back. Having barely survived the 1969 election in Bahati, for instance, he switched from Nairobi to Othaya in the 1974 election and stayed put. As the Othaya man stared at defeat in the 1988 mlolongo mischief, he captured attention by declaring that rigging required intelligence.
He accepted demotion to the Ministry of Health and fell out with his political buddy, Kenneth Matiba, by staying out of the multi-party agitation. With the return of multi-party politics, he helped to create Democratic Party and came third in the 1992 presidential campaign.
In a 1997 presidential debate, Benjamin Ndubai chided him for his lukewarm involvement in multi-party agitation and he came out fighting in self-defence. Second to Moi in the 1997 presidential election, he aimed to grab the presidency by cobbling NAK with Charity Ngilu and Michael Wamalwa Kijana. Disgruntled elements in Kanu joined NAK and turned it into Nark to protest Moi's decision to anoint Uhuru Kenyatta.
Kibaki's presidency had problems handling domestic and international sources of trouble which actively sought to bring him down. He had brilliant and efficient functionaries, among them Michael Waweru or MG, the tax collector who helped to reduce reliance on foreign aid so much that Chinese officials came to learn from MG how to collect taxes.
Kibaki's judgment on some other people, the 'buddies', however, was wanting in that some of them did not believe in his vision. They willingly or inadvertently betrayed him and helped to plunge the country into trouble between the 2005 Banana/Orange referendum and the 2007 electoral fiasco.
The referendum had little to do with the constitutional document but everything to do with removing Kibaki from office. Although he had problems keeping the peace which besmirched his big picture and remained a blot, Kibaki left office on a high note.
He narrowly won the 2007 re-election, revived the economy, delivered the 2010 Constitution, transferred power to Uhuru, and retired peaceably to his multiple homes.