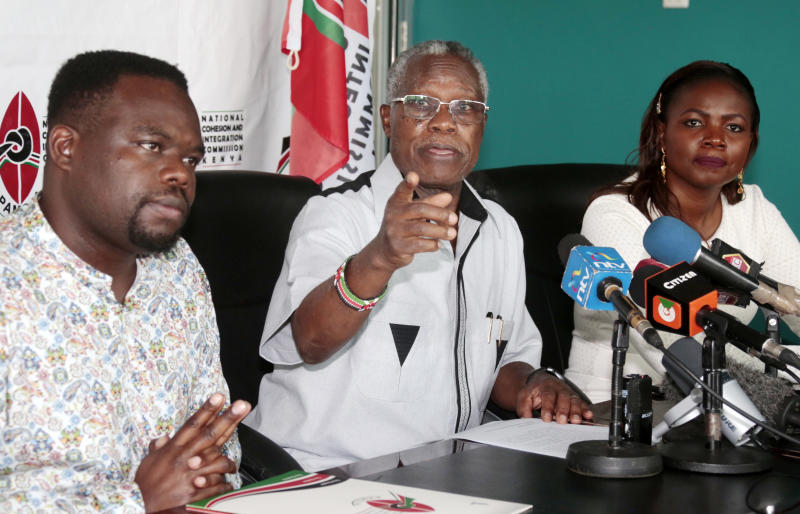 The National Cohesion and Integration Commission (NCIC) released a report designating some words and phrases as hate speech last week. The purpose was to "identify language employed by influential people to incite violence against other groups".
The designated terms were in English, Kiswahili, Sheng (Swahili pidgin), Kikuyu, Kalenjin and Kimeru. They were a mishmash of phrases and words that ranged from outright crimes such as kill and eliminate, to words meaning weeds and cockroaches, connoting things that blemish or contaminate.
In addition, they included tribal stereotypes on masculinity tied to male circumcision as a rite of passage that has been a staple of ugly politics in Kenya. Interestingly, the Commission also designated a Sheng word from a recent pop hit, "hatupangwingwii" (no one can manipulate us), as hate speech for targeting prominent families in power for a long time.
The NCIC also designated 'chunga kura', (protect/secure the vote), as a recipe for violence. It encourages voters to assemble at polling stations to ensure that rigging does not happen.
For any term to rise to the level of hate speech, one must demonstrate a clear intention to incite or advocate hatred, discrimination, contempt or violence against a protected group such as tribe, race, religion, et cetera.
It is not just the words; it is who is saying them, their intentions, the target audience, and the likely consequences of the utterances. Remember, hate speech laws try to prevent dehumanisation and protect dignity on the one hand and prevent violence and protect public order on the other.
The document is more useful as an internal NCIC document meant to sensitise NCIC monitors or investigators on what words to look out for purposes of further investigation and possible prosecution. However, it is useless to the Kenyan public because it is overly theoretical and does not move the needle in tackling hate speech.
For instance, 'hatupangwingwi', a word born out of self-affirming artistic expression, does not reveal any hate, violence, contempt, or dehumanisation projected towards any protected group such as tribe, race, religion or ethnicity. Nevertheless, NCIC cannot do away with its use because of its potential abuse by unknown forces.
Supposing the word has been previously used to target families as alleged - are families a protected group under Article 27 of the Constitution? It is noteworthy that the Constitution identifies protected groups for purposes of non-discrimination as race, sex, pregnancy, marital status, health status, ethnic or social origin, colour, age, disability, religion, conscience, belief, culture, dress, language or birth.
The courts have repeatedly stated that limitations on freedom of expression must be written in law concisely, should pursue a legitimate aim such as public order, and must be necessary and proportionate in an open and democratic society.
If any of the ingredients fail, then the limitation is unjustifiable. In this case, the phrases are not written in the law, nor is it clear how NCIC came up with the classifications. Therefore, this vagueness does not reveal the precise conduct that crosses the line to Kenyans.
In the process, many will be wrongfully arrested and charged. This creates a dangerous dystopian society where free speech, access to information, independent thought, and artistic expression are censored.
Moreover, the NCIC is a statutory body that does not have the power to ban words. Hate speech should be understood as extreme cases of intolerance that can lead to violence directed at protected groups.
Therefore, the user must intentionally use speech to advocate or incite hatred, discrimination, contempt, dehumanisation or violence against the protected group.