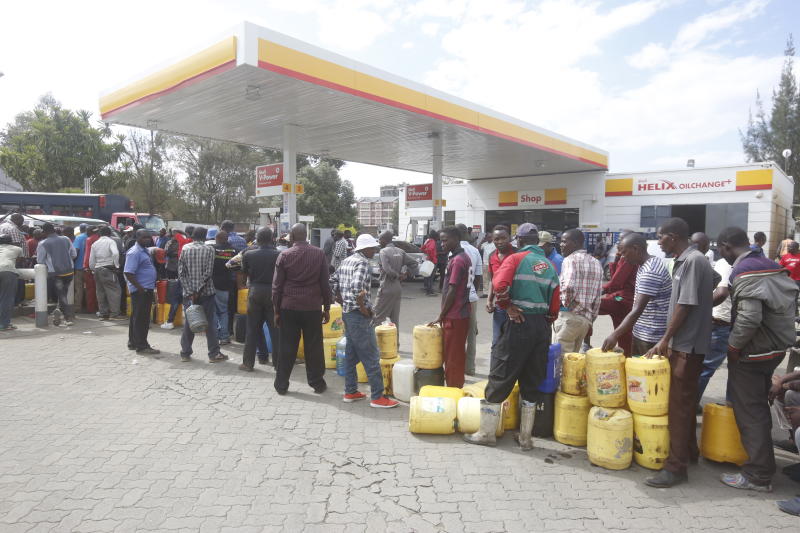 For weeks, the Petroleum Ministry has been sitting pretty, watching as industry players hold Kenyans hostage. It is about time the ministry acted decisively to weed out bad elements and stop enabling rogue players. Reportedly, some oil marketing companies diverted oil meant for Kenya to other regional markets — sending the country into a major fuel shortage. This has affected many sectors of the economy, especially transport, manufacturing and agriculture.
The Energy and Petroleum Regulatory Authority yesterday penalised oil marketers that have been exporting fuel to neighbouring countries while withholding the products from the Kenyan market. The regulator slashed storage space allocated to oil firms that have been denying the market much-needed petroleum products.
Although it has promised to maintain the sanctions for three import cycles, the move is a mere slap on the wrist for rogue industry players whose acts could easily be looked at as amounting to sabotaging the economy.
The Petroleum Act of 2019 gives the regulator and its parent ministry adequate tools to deal with companies that hoard fuel as well as marketers selling fuel above the price caps that Epra publishes on the 14th of every month. Petroleum Ministry Principal Secretary dismissed the crisis as panic buying. Despite his assurances, the problem has persisted, painting a picture of senior government officials out of touch with the situation on the ground.
Prescribed by the law are different modalities that could see Epra revoke licences and prosecute firms engaging in malpractices with the worst form of illicit activities being economic sabotage, that could lead to a fine of up to Sh10 million or a five-year jail term.
The long queues at petrol stations speak, not to just wasted man hours, but of industries that are slowly grinding to a halt because they have to spend hours on end looking for fuel. Other than the transport industry, which has been hard hit by the crisis, there are companies that use fuel for their production processes. For some producers, it could mean wasted raw materials or even finished goods, especially if they are highly perishable.
The audacity by the marketers on the one hand and the indecisiveness of government entities on the other could have far-reaching effects for the ordinary Kenyan, including increases in the cost of basic goods, not to mention illegal increases in fuel prices. This will hurt Kenyans at a time when they are grappling with rising inflation. The cost of many products has gone up, and the situation could worsen after Treasury proposed to slap unga with a 16 per cent Value Added Tax. Worsening drought has also pushed millions of Kenyans into a dire food situation.
Granted, oil marketing companies have a reason to be angry with the government for delaying refunds for their margins that are slashed to cushion Kenyans. They, however, have no reason to act with such impunity especially when it comes to supply of a commodity that is central to nearly all, if not all, economic activities. The government must pull up its socks and bring the biting fuel shortage to an end. Now.