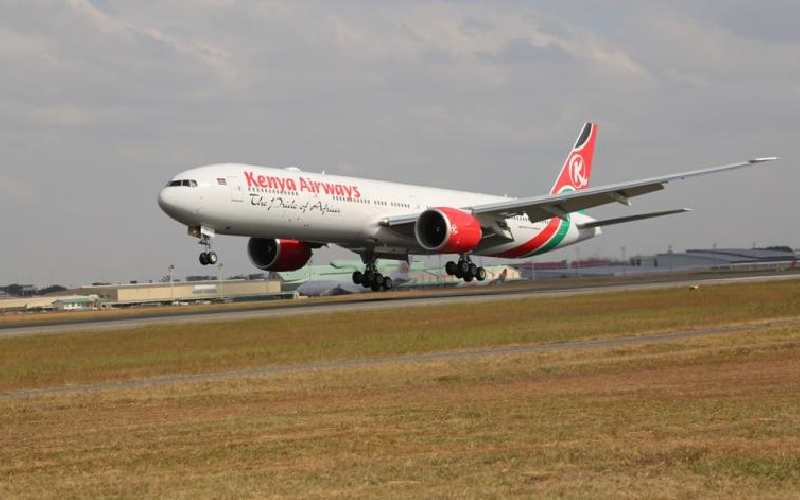 Leaders from across the divide have been questioning why the national carrier Kenya Airways constantly gets government bailouts.
Aviation is quite a sophisticated field, and it can sometimes overwhelm the lay reader as it is an industrial arm that needs more thought if it is to be discussed exhaustively.
A few weeks ago, media reports indicated that the government allocated Sh26.6 billion as the capital injection into the national carrier. As has now become the norm, politicians and social media warriors criticized the move. It is important, therefore, that this matter be put into context.
Emirates of UAE, Lufthansa of Germany, Cathay Pacific of Hong Kong, Air France-KLM of France and Netherlands, Iberia of Spain among many other airlines have received aid from their governments, yet these airlines were in a better competitive state than KQ.
During the Covid-19 pandemic, airlines collectively lost Sh300 trillion globally, an equivalent that is 10 times the national budget of Kenya. KQ does not operate in isolation and is among these casualties.
According to an International Think Tank on Airlines, just to get to the pre-Jan 2020 levels, governments across the world would need to inject an equivalent of Sh200 trillion into aviation, and the rest will be for the industry to seek ways of raising. This is not going to be easy for KQ, noting that there has been a 31 per cent reduction in passenger seats if we assume that this is the only way revenue is generated.
KQ was given an extension of trading suspension at the Nairobi Securities Exchange (NSE). If this route was opened, the airline would have the advantage of raising needed capital by offering shares held to improve cash flow and generate more reserves.
Drop in revenue
Consequently, the group made a loss of Sh36,219 million with passenger revenue having dropped by 17 per cent to Sh20 million. What press reports have not included is that customer behavior for air travel will be suppressed until 2024, according to conservative projections.
Moreover, the bailout money the government plans to invest in the airline will help strengthen cash flow and speed up reforms. The government has stated that the support is conditional on KQ carrying out reforms. KQ had already embarked on a staff rationalisation process and will have to show that other cost reduction measures and initiatives increase productivity.
Was the bailout just unique to KQ? With fewer destinations and flight frequencies, all airlines globally are cash strapped. Two years ago, Cathay Pacific the national carrier of Hong Kong was given Sh5 trillion, twice the national budget of Kenya. The government of Hong Kong justified this by saying it was meant to preserve the jurisdiction as the hub of travel in that region of the world. The governments of Germany, France and the Netherlands proactively started bailing out their related airlines back in 2020. In the Netherlands and France, the governments injected Sh12 trillion.
Spain gave Sh1.1 trillion to carriers related to the country. National Carrier Iberia and low cost carrier Vueling received a combined figure of Sh750 billion. IAG, a private airline based in Spain that has always resisted receiving government money, took Sh260 billion home.
Closer home, Emirates, a competitor of Kenya Airways, received Sh2 tillion in 2020 and immediately started rehiring retrenched staff. These "shots" in the arm allowed the airline to have packages for those who opted to have unpaid leave. Last June, the government of Dubai injected another Sh4.2 trillion into Emirates. Emirates Airline further received Sh750 billion from Emirates NBD Bank, who's subsidiary National General Insurance. In justifying the move, the CEO of the Emirates NBD group, Abdulla Qassem said the effort would go in a long way in making Dubai a major international travel hub.
Real value
What do the various governments see in their airlines that Kenyans don't in ours? The answer lies in our ability to see the bigger picture. In the 1980's, the Pride of Africa was a household name in the region.
Are the politicians who are likening our national carrier to a white elephant sincere? Kenya Airways is there for citizens. Should a crisis arise, the airline's operations never think twice about extending aid to those in need. Our national carrier has been playing defense and rolling with the punches that politicians threw forth.
The time is now for KQ to take part in more international media events. Recall the April 30, 1974 "Rumble in the Jungle" Fight? Zaire was able to have a Sh30 billion cash flow out of this event alone.
Had the country had a national airline; this money would have been spent in Congo DRC. The current national carrier had to wait for 41 years to start her operations.
Therefore, Kenya Airways has been a strategic tool that has helped Kenya and will continue for years to come. It is my view that the taxpayers' money is well spent since the government bailout goes a long way in ensuring that Nairobi remains the hub of choice for connecting to the world.