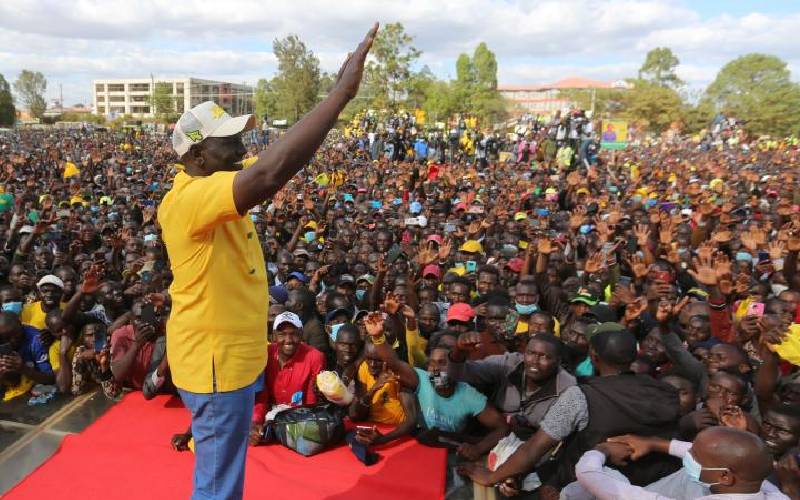 I have a high opinion of countries where elections are held every political cycle without undue fuss.
In those privileged countries, leaders and the led, trust institutions with their lives.
From Nicaragua to Chile, Bulgaria and name it, elections were held in 2021 and there was nothing earth-shaking, only low-key victory parties.
In September last year, Germany hosted four events the same day — the federal elections, the state elections, elections for district councils and the Berlin marathon.
People's lives weren't disrupted, TV stations weren't shut and the railway was not uprooted.
In Kenya, doing anything else not just on Election Day but several months to it, is inconceivable. It's the tragedy of voters and candidates going at it hammer and tongs to protect their heedless egotistic interests.
More than six months to this year's elections, the atmosphere is pregnant with unease and apprehension. This is largely because aspirants are doing their best to zone the country and sow divisions. Some have capped it all with sentiments that seem to prepare the ground for possible rejection of the outcome.
Class wars, dishing out of handouts, the tribal card and overzealous promises are akin to playing with fire. While I hold no brief for anyone, politicians must be held to account for claims they make, which seem treated and reported as statements of fact. Without evidence, we now hear "they are planning to elect a president in a boardroom" and "they are planning to amend the Constitution to create an imperial president…we will not allow the rich to impose a leader."
This is dangerous coming from people who comprehend all too well the sensitivities around elections in Kenya. Who is fooling who?
The Kenyan voter, I fear, has resigned to fate and allowed the politicians to toy with their emotions at every juncture.
A leader worth his salt should make measured statements that inspire confidence in institutions and systems.
Supporters of ODM leader Raila Odinga and UDA's William Ruto need not make this election an 'us versus them' affair. This is our country.
It belongs to us all. In this election year, we must build peace. Don't force anger and bitterness in people. Doom and doom on the campaign trail will only lead to doom. It is a classic case of garbage in garbage out.
Hopefully, a time will come when we will realise that an election is just but a process through which leaders are elected to serve and not to "eat". It is a tragic reality that in Africa, public office is seen in the context of eating hence the pre-election pressures we are witnessing.
In his book 'The State in Africa: The Politics of the Belly', renowned author Jean Francois Bayart captures it. What ails Africa is the thinking that doing the right things is not always right unless there are direct and immediate benefits to the individual.
This year, we should do right. The battle for scarce resources should not always be what defines everything we do.
The writer is an Editor at The Standard. @markoloo