Our leaders should embrace political hygiene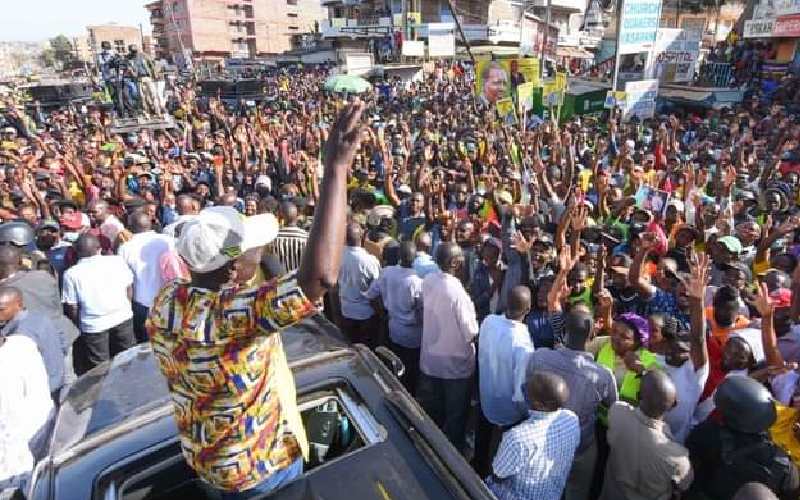 Thinkers have mulled a process by which politics can be kept relatively clean. When adopted by all players both active and tepid, the public need not hold their breath during and after every contest.
At a time when the country has advanced to a level where almost every household has access to a mobile phone, one would have expected that campaigns will largely be about content and therefore free of violent confrontations.
Unfortunately, that is only possible if the contestants have embraced political hygiene. But political hygiene cannot all be legislated. It must be ingested.
No Kenyan wants to be indoctrinated. They just want to understand the message of the contestant. That means intrusive campaigns that require the prospective voters to follow blindly must be outlawed. Nobody wants to worship a candidate.
So, candidates should desist from declaring anyone as belonging to him or her. No one wants the candidate as a housemate. So, candidates must stop calling people's homes their bedrooms. Whose bedroom is the rest of the country?
The reason for outlawing that conduct is simple. Once a candidate claims a prospective voter as property, then that candidate will want to protect that vote.
But all votes are already protected by law. They belong to voters. It is for the voters to decide who to vote for. If there is an intrusion in the name of protecting the vote, that intrusion is unlawful. It should never happen.
Some candidates ensure other contestants or their agents are forcefully prevented from accessing the prospective voter to canvass her vote. This is the usual genesis of violence in estates and villages. Once that is established as the modus operandi, it follows that at various polling stations or en route thereto, violent skirmishes might be witnessed.
However, Kenya has seen a great deal of transformation, mainly as a result of innovation, but not in sanitising national politics.
The main obstacle is our seeming inability to forge durable friendships based on political philosophies. Maybe Kenyans are not good philosophers. It used to be fine during the cold war.
Politicians stuck together and waywardness was severely punished. Not anymore.
We are very pragmatic though, and keep all our political friends on a short leash to avoid getting on the way of our short fuses. We also do not tolerate bureaucratic holdups where money or any financial gain is at play.
In other words, if we do not win at our first attempt, the friendship also loses. It's over. So long as that is understood, we can sing and dance and laugh, for now. We are excellent at that.
It must be the loss itself. We hate losing in East Africa and slightly beyond. We hate it so much that we can never accept it. In Kenya, elections are never lost.
How can you tell your people that you lost? You create a narrative. They were rigged. They were manipulated. Our people were bought openly. The computer was hacked. The officials were intimidated. The chair must go! All of them must go! The count was wrong. The totals do not tally. We go to the Supreme Court. We have all these reasons and more.
But the truth in most cases is that someone has lost squarely. By all means go to the Supreme Court. If you lose there, go home. If you do not appeal, go home.
Let someone else lead the troops to the next general election. That is the dose of political hygiene that political contestants at the presidential level need to take.
The writer is a lawyer