Yes, you can be a millionaire in five years by planting fruit trees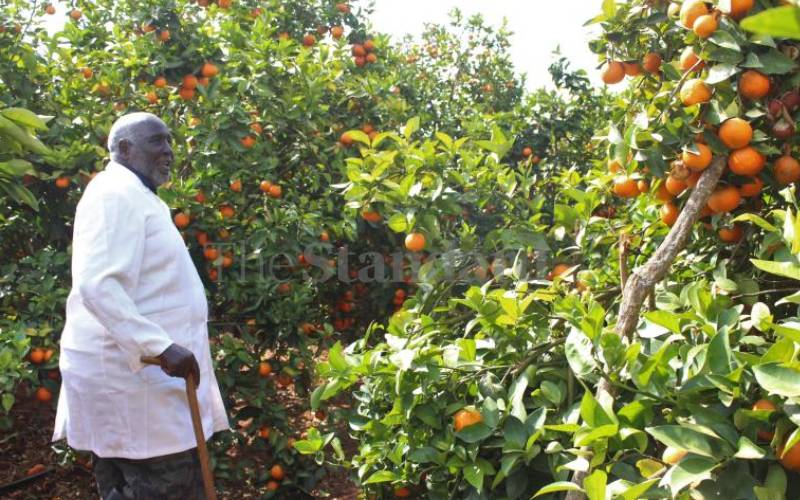 One of the highlights of the just ended seventh devolution conference was a tree-planting session that saw 80 trees planted by county and national leaders. This session was the culmination of a two-million tree planting mission launched in May by the conference's steering committee. The two-million trees target has now been met. All these trees can be accounted for.
I was honoured to assist our leaders plant the 80 trees at the Ugatuzi Park. It was gratifying to watch our leaders join in undertaking one of the most powerful acts a human can take to replenish the earth - plant a tree.
I sensed then that the tree growing environmentalists like myself have been championing for years is gathering unprecedented momentum. As if to prove this point, the Council of Governors together with other national leaders have now resolved to mobilise every Kenyan to plant and grow trees equivalent to their respective ages. As a commitment every leader who planted any of the 80 trees agreed to champion the growing of 625,000 trees which will result to 50 million trees which is an average one tree for every Kenyan.
Taking an average 40 trees per Kenyan, once adopted at the grassroots the resultant effect would be two billion trees planted out of this initiative. This would easily and shortly cover an area of 8 million hectares.
Remember, Gabon and Seychelles each have a Forest cover of almost 90 per cent. This means it is not unrealistic for Kenya to target a forest cover of 40 per cent by 2031 as we fight against effects of climate change.
Our President noted that, 'Climate change poses an existential threat to Kenya.' He also revealed that climate change is already stripping away 3 per cent of our GDP annually. Trees are the surest shield against this climate change threat. For tangible progress we need to take personal responsibility. This was reinforced by Chief Justice Martha Koome as we together planted a tree at the conference when she pledged to plant her age - sixty trees. If she can do it, so can we!
Taking responsibility also means our lifestyles and habits should be in sync with replenishment of nature. You cannot give to the earth with one hand by planting trees and take away from it with another hand through unsustainable habits. I look forward to seeing our national leaders attending the next conference in electric cars.
Taking responsibility also entails investing our individual money into trees. In a recent encounter, I offered to grant trees to Maina a close family friend from Embu. To my pleasant surprise, he told me they didn't have any space for additional trees since their 47-acre farm was already covered with macadamia and avocado trees.
They had invested heavily into trees. It struck me that in doing so, they had also contributed to Kenya's commitment of restoring 5.1 million hectares of land in five years, largely through tree growing. The Kenya Forest Service has already mapped out about 38.7 million hectares in Kenya as potential space for tree growing which includes our farms.
I suggest that you follow the example of Maina's family and set aside a portion of your land and plant fruit trees on it. Not only will you be playing your part in Kenya's afforestation efforts, you will also be investing in your future. Depending on the fruit tree you plant, you will begin to reap economic dividends within as little as three years.
Land in rural Kenya is still affordable. If you buy one acre, you will comfortably plant 800 trees on it. Imagine being the proud owner of 800 orange trees five years from now! According to analysts, an investment of Sh100,000 is sufficient to buy one acre of land in parts of rural Kenya and plant fruit trees. That amount can make you as much as Sh5 million after five years. Even if this figure ends up being lower, those trees are yours and will grant you fruits for decades.
Let us join hands and ensure at least half of the targeted two billion trees will be fruit trees. Hey, think green, act green!
www.kaluagreen.com