Guess what? You are the big problem if you refuse to vote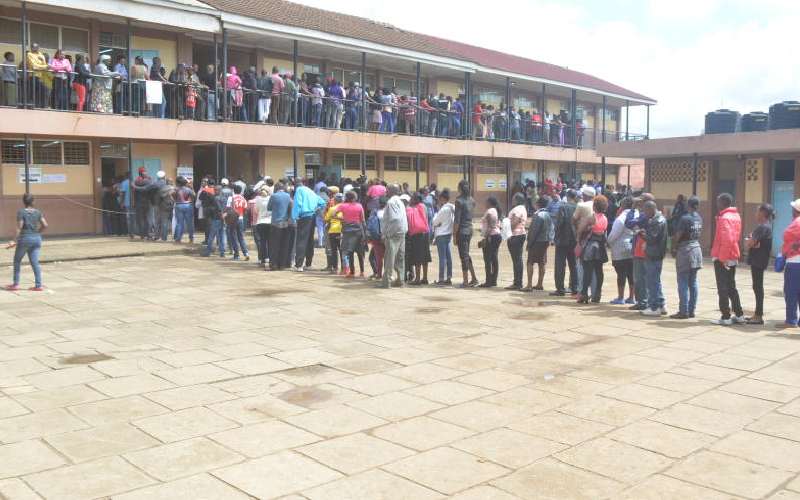 As the African Union (AU) is in Nairobi for the "Third High-Level Debate on Silencing Guns in the New Decade (2021-2030): Transforming the Vision into Reality," their host, the Prime Minister of Ethiopia, where AU is headquartered, is calling on his people to do just the opposite; the irony is unmissable.
Leadership really matters. A lot. When you are a leader, much is expected from you and what you do or say has huge consequences. History is replete with examples.
Think carefully about the leaders you elect. Don't elect leaders who incite, encourage or condone electoral violence, hate speech and other electoral malpractices. As elections campaigns become more heated, so does the electoral environment.
Political discourse must remain issue-based and not on personal attacks and inflated egos. Those aspiring to be elected must set standards for peaceful, credible, free and fair elections. It is not only the responsibility of the Independent Electoral and Boundaries Commission (IEBC) to deliver results. It is the responsibility of aspirants, their supporters and political parties, voters, civil society and religious organisations, the government and other stakeholders.
We must unite to ensure the 2022 transitional elections are peaceful, credible, free and fair. The 1978 transitional presidential elections were peaceful ushering in the late President Moi to power. Both the 2002 and 2013 transition elections were fairly peaceful and credible and although the 2013 presidential election results were contested, the contest was amicably resolved in court.
Our 2010 Constitution and electoral laws provide the best mechanisms to identify and elect great leaders; providing for the criteria and yardsticks to measure the leadership qualities of those vying for elections.
Article 10 stipulates our national values and principles while chapter 6 provides for leadership integrity and other mechanisms to enable us hold our leaders to account. We have commissions that vet and verify qualities of those vying for elections as does the IEBC.
It is a pity that we witnessed such spectacular apathy in the just concluded voter registration. Six million potential voters aged between 18 and 25 did not register for various reasons. This is a big mistake, especially for those who refused to register citing no change in the leaders vying for elections.
Of course, there will be no change if you do not register and vote for different leaders and if you do not offer yourself to be elected as that alternative. It is said, you must be the change you want to see.
You cannot sit pretty and do nothing only to complain about the quality of leaders, others have elected. Evil triumphs when good people do nothing! If you don't like the choices of leaders vying for elections, move out of your comfort zone and present yourself as the alternate leader or mobilise like-minded voters to identify and support the leader you want; no one will do this for you. If you don't like the current political parties, register your own. You can fundraise and mobilise around your preferred candidates.
Measure the content and the character of the leaders you are electing; choose leaders of integrity, honesty, trustworthiness, leaders that inspire and motivate you and address your development needs irrespective of your political leanings.
Leaders who espouse our national values and pass the tests of integrity; leaders who respect the rule of law and human rights; who have capacity to feel shame when they or their people misbehave.
If you elect men and women of integrity, who inspire, motivate, are trustworthy and have your interests at heart, you shall be investing in good governance and democracy for your country and ensuring prudent management of your affairs and resources and sustainable development. If you elect bad leaders, you are perpetuating impunity (the culture of mtado?), tribalism where merits, gender and other diversity don't count, corruption, nepotism, clientelism, bad governance and mismanagement and are undermining democracy.
You are the problem if you refuse to register as a voter or to present yourself for election to offer better choice or you refuse to unite and mobilise around good leaders.