Without responsibility, Glasgow climate summit will be in vain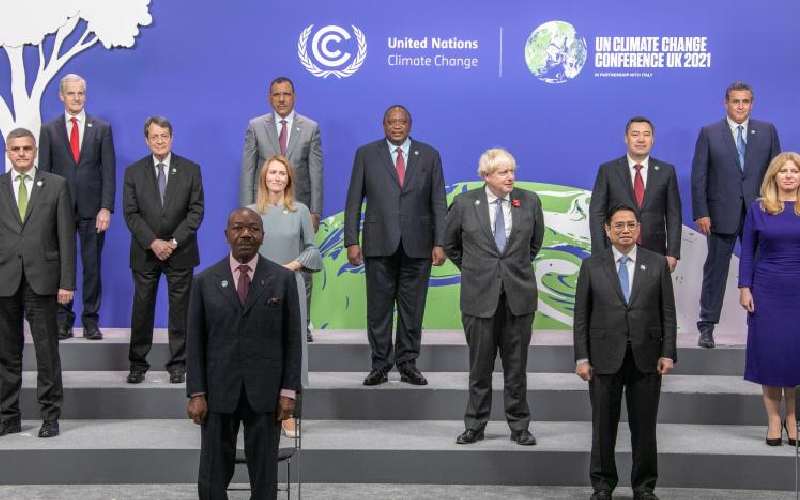 When God created earth, He put in it enough to comfortably sustain every human being. However, we must be faithful stewards and take care of the earth so that it can also take care of us. Unfortunately, in the last several decades, humans have not taken good care of the earth.
A recent United Nations report revealed how our addiction to oil as our main source of energy has devastated the earth. Emissions from these fossil fuels have heated the planet by approximately 2 degrees Fahrenheit or 1.1 degrees Celsius. The consequent global warming is resulting in erratic rainfall, sea level rise and a host of other adverse effects that have left millions poorer, hungrier, and sicker.
The ongoing United Nations global conference is seeking to address climate change and its harmful consequences. This is the 26th time this annual meeting is being held. President Kenyatta was among global leaders at the meeting. He announced that Kenya will join forces with other African countries that make up the 'Giants Club' conservation group to fundraise for climate change mitigation programmes on the continent.
This initiative will enable the private sector invest in the restoration of Africa's carbon sinks, such as forests. Earlier on, the President was among the more than 100 global leaders who pledged to end deforestation by 2030. Towards this end, he revealed that the government will set up a Sh500 billion tree fund and spearhead the planting of two billion trees. I am heartened by this turn of events because I have always been a strong believer in trees. They give us fruits and medicinal herbs even as they anchor our soils and mitigate against climate change. That's why I have teamed up with numerous environmentalists and great Kenyans to champion for a 40 per cent forest cover in Kenya through the widespread Plant Your Age Campaign.
Interestingly, only a few countries are responsible for most global carbon dioxide emissions, with China accounting for 31 per cent, the US for 14 per cent, the European Union for 7 per cent, and India for 7 per cent. As we continue to hold them accountable, we as Kenyans, must take full responsibility of our ecological and economic wellbeing.
Japan is a great case study on leaders who take responsibility. In December 2016, Tadashi Ishii, the president and CEO of Dentsu, Japan's largest advertising company resigned after an overworked employee killed herself. He took responsibility.
Earlier this year, Mizuho Bank President and Group CEO Tatsufumi Sakai also took responsibility for computer glitches that immobilised the bank's system for a short moment. Taking responsibility unlocks efficiency and ensures results. This is exactly what Kenya, and the world needs as we continue adapting to climate change. In the spirit of taking responsibility, I suggest that the President prioritises full implementation of the Kenya Climate Change Act. I urge him to set up the National Climate Change Council that shall, 'provide an overarching national climate change coordination mechanism.'
All the 47 county governments should also take full responsibility especially in addressing the life-threatening effects of erratic rainfall and extended drought.
In this regard, one simple but powerful thing that our 47 governors can do is to lead tree growing campaigns in their counties. I suggest that they target 40 per cent tree cover in their counties. Now that the world is pledging billions to this effort to halt deforestation by 2030, these tree growing campaigns can create green jobs for our youth.
Our tree growing will however be undermined if we don't address the issue of cooking fuel. Currently, a staggering 7 out of 10 Kenyans still use biomass (charcoal and firewood) to cook.
We must transition them to cleaner, greener cooking fuel like LPG, biogas and briquettes. Similarly, energy saving clean cookstoves should be the norm, not the exception. Let us endeavour to think and act green.
www.kaluagreen.com