Government commitment on climate change is lukewarm.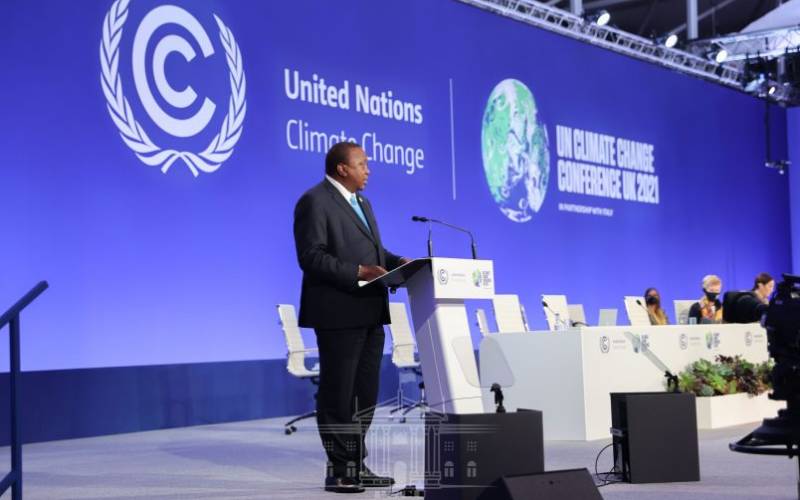 Kenya is participating in the 26th Conference of the Parties (COP26) to negotiate and push the agenda for funding aimed at mitigating the impact of climate change.
For a start, the African continent contributes a negligible percentage of total greenhouse emissions but it remains the greatest recipient of negative climate change impact.
Most African nations continue to perpetuate the following practices which impact negatively on the climate despite clumsy coping mechanisms.
First, African countries continue to depend on rainfed agriculture which only provides subsistence yields that are economically unviable. Little is done on soil conservation whereas extension services are lackadaisical.
Second, these developing countries are relying on thermal facilities to produce electricity for industrial and domestic use. The cost is very high with damage to the environment notwithstanding. Kenya has done well on geothermal and solar energy production but not fully optimal.
Third, most Africans are still using firewood and charcoal for fuel to a large extent, depleting the forest cover each year. The governments in Africa are not giving enough incentives for people to use alternative sources of energy like solar, biogas or wind.
Fourth, well-connected individuals push selfish agendas for the government to excise hundreds of hectares of forests with ulterior motives of settling the landless people. The land acquired is used to develop real estates to be sold for a lucrative income.
Lastly, African countries including Kenya are creating a new disaster in the form of pollution to the environment. Owing to the rapid urbanisation, most towns do not have a functional solid waste management system. As a result, the waste is strewn in open lands or rivers.
The COP26 should serve as a wake-up call for African governments to highlight these problems and seek solutions. These solutions should be followed by a commitment and implementation matrix. Well punctuated speeches that imply all is okay will only lull the problem of climate change.
For example, commitment has not been fully implemented in the Malabo declaration of 2014 where governments agreed to fund agriculture with ten per cent of the national budget. Careful scrutiny of Kenya's budget for 2021/2022 indicates an allocation of a meagre 3.2 per cent.
Africa needs to negotiate for more funding considering that 60% of arable land is uncultivated and underutilised. Paradoxically, the continent is not able to feed itself and remains a net importer of foodstuffs.
Kenya is sitting on an enormous renewable energy potential that can be used to power industries thereby creating thousands of jobs for our youth and providing needed products globally. Geothermal, wind, solar and biogas sources are not fully utilised.
Kenya hosts the largest water aquifer in Turkana which can supply half of the water needs in the country. Such a resource has not been exploited while pastoralists are losing their stock due to lack of water.
In Nairobi, we have the only national park within a city but recent infrastructural development of both rail and road has seen large swathes of this land hived off. The Karura forest has been turned into a token pie for politicians who cut any size according to their political connections.
The Karura Forest and Nairobi national park serve as the lungs of Nairobi which will have a negative impact on communities living in and within the vicinity of the city.
It is amazing that none of the presidential candidates in Kenya is candid enough to talk about the environment or climate change as an important agenda. Surprisingly, proper climate change interventions can help them alleviate some of the problems they seek to solve once in power.
The Kenyan delegation attending the conference should present a true picture of things at the grassroots highlighting existing difficulties. An honest discussion will enable the country to receive real commitment to funding climate change policy.
All the best, team Kenya.