Police service using football to strengthen relations with communities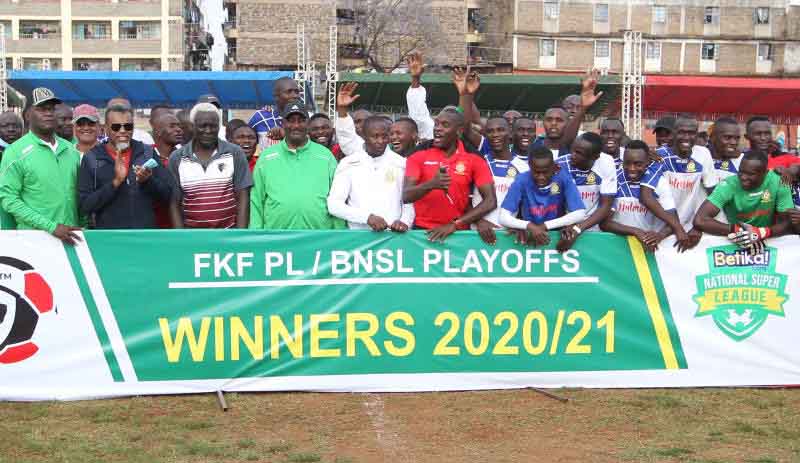 In the past few days, so much has happened in the Kenyan sporting arena. One WhatsApp message I received on Monday from an acquaintance summed it all.
It listed sporting feats; the new 100m African record set by Ferdinand Omanyala, Malkia's qualification for the 2022 World Championship in Holland, Shujaa's second place finish in the Vancouver 7s Rugby Tournament and Tusker FC's qualification for the Africa Champions League first round.
This was great sporting news to me and many others. However, the author missed out some big time news of equal prominence.
As I read the chat, I was already in a celebratory mood, still savouring not only the 1:0 win by the Kenya Police Soccer team's win over their worthy opponents, Vihiga FC, but its ultimate promotion to the enviable top-flight FKF Premier League from the second-tier league level.
This success journey has had its fair ups and downs. These are challenges adequately tackled by the team's officials, technical bench and the tremendous input of the resilient boys.
It all started from the ashes of The Red Berets Football Club – precursor of the Police FC - which was disbanded in 2014. And since then, the resolute boys have never looked back, with their focus only on the big trophy: The National Super League.
It therefore came as no surprise when the boys netted their first goal against their opponents. Their lives simply depended on it. The final whistle sealed the fate of Vihiga FC as a rupture of celebration took forte. It was bitter-sweet win after an inordinate waiting time.
In light of this development, it is time for the boys to settle and get down to work as there is no time to waste. There is a fixture already lined up this weekend that should be won. It is therefore literally a scramble time to push our envelop further to remain on course for the ultimate prize.
From the National Police Service (NPS), we approach our policing mandate from different perspectives, though all aligned and self-reinforcing. Our ultimate mission is to serve citizens in a responsible, responsive and democratic manner.
We cherish any available opportunity to improve our ties with the communities that we serve. Simply put, we are the people, and the people are us.
And this is where Police FC comes into this critical equation. The team offers us an excellent opportunity to access the elusive public space loved by millions but hard to penetrate. Sports bring all to the table, irrespective of affiliation, beliefs or even biases.
Over a cup of coffee, a meal or in stadiums, strangers – including nemeses - hug over a good game of soccer. Only love drives soccer, and only soccer has the potential of making peace. It is this abundant love NPS wants to tab into to make a difference in its service offering.
This is well-captured by Police FC mantra: "Tucheze Tujuane."
Our soccer club, just as other sporting activities we engage in, is for the good of the public. We want the public to own the team through partnerships.
We would also love to motivate the youth as we equally give them an opportunity for personal growth through sports. And above all, we intend to participate in community activities wherever and whenever the team is playing.
Therefore, as we embark on this momentous FKF Premier League's journey, let us purpose to be one, united for the love of sports on one hand and security and safety of the citizens on the other.
"Tucheze Tujuane!"