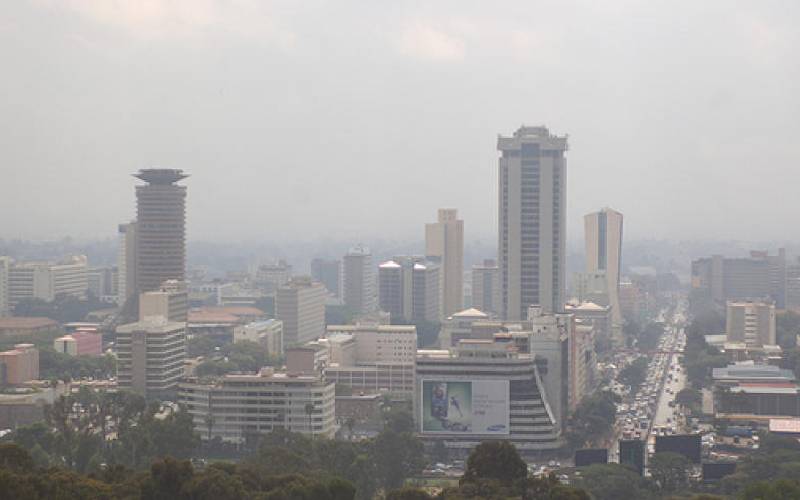 Air is life. Humans, plants, and animals need clean air to survive. The quest for clean air is impossible in big cities like Nairobi, characterised by heavy industrial production and continuous developments. The atmosphere from Ngara to Thika town manifests a smoke-like layer, an indication of suspended particles in the air. You need no microscope to see.
Inhaling this kind of air burdens the lungs. Polluted air has health implications, mainly respiratory problems such as asthma and chronic bronchitis. Exposure to high levels of pollutants increases the risk of heart failure and cancer, according to World Health Organisation.
Another bad practice causing air pollution in Nairobi is the open burning of waste in some residential areas. The smell of plastics alone is a constant reminder that someone close is openly burning waste. When plastics are burnt, they release toxic chemicals such as dioxins, butane, and hydrogen chloride into the atmosphere, impacting human and environmental health.
Increased developments such as roads, commercial and residential buildings emit dust particles into the air. Some of the dust is highly poisonous. For example, the construction of the expressway linking Mombasa Road, Uhuru Highway, and Waiyaki way is a significant activity that involves the use of a lot of chemicals that find their way into the atmosphere.
Some of the ways to minimise air pollution in Nairobi include prohibiting the open combustion of waste. The county government should compel landlords/ladies to ensure they engage waste pickers to collect household waste and dispose it in designated areas. Ensuring the waste collectors dump the waste in the right places avoids irresponsible disposal such, especially by the roadside.
Tightening road safety rules, including weeding out unroadworthy vehicles, is necessary to minimise harmful emissions from incomplete combustion of fuel. This means the National Transport and Safety Authority needs to go back to inspecting vehicles and making sure car owners regularly service their cars. It is time to think of electric cars or motorbikes, or upgrade the transport system.
Regular monitoring of the air quality within the city and its environs and sharing the data with the public is a good way to motivate the citizens to be cautious of their activities and their individual carbon footprint contributing to air pollutants. Policy enforcement on waste management, collection, and disposal is crucial. Regulations exist; the only problem is the implementation.
All said and done, most of the population has limited knowledge on air pollution, the causes, and ways of curbing it. It is prudent to avail information to the public, such as the dangers of their activities to the same air they breathe. They need to be informed that openly burning waste is an unhealthy habit that can hurt their lungs and that their young children are at a higher risk of contracting diseases as a result.
Therefore, public awareness of air pollution, policy implementation, cleaner production, and hybrid or fully electric vehicles will significantly reduce air pollution in the city.
Ms Kibii is an Environmental Scientist and Researcher Consultant. [email protected]