Time for action beyond Twitter hashtags as poor rains threaten food production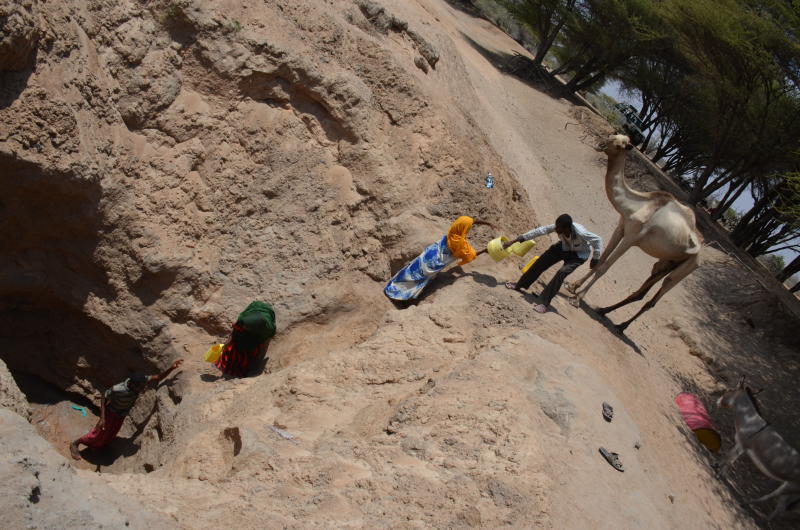 For two years now, scrolling through Twitter has become an unnerving experience. It takes me back to June 2019 when Twitter was flooded with heartbreaking images of Kenyans in dire conditions – pregnant women who hadn't eaten for days and children struggling to find water for their families.
Under the hashtags #WeCannotIgnore and #TurkanaDroughts, many of us could only express our frustration and solidarity with fellow citizens bedevilled by drought in several counties.
These tragedies are not unique to Kenya. The entire Horn of Africa, including 13 million people, is affected by droughts. These effects are recurring also across the Sahel and the entire continent. Africa faces the second-highest cost of degradation at USD 65 billion each year. Globally, as of 2018, 170 countries were affected by desertification, land degradation and/or drought. It is reported that 92.9 million people in the U.S. are affected by droughts.
Falling crop yields
If we do not change course, in three decades, crop yields are estimated to fall by 12 per cent and food prices go up by an estimated 30 per cent. Cumulatively, the global economy is losing up to USD 10.6 trillion annually because of land degradation. It is projected to reach USD 23 trillion by 2050, affecting agricultural production, public water supply, energy production, transportation, tourism, human health, biodiversity and poverty rates.
Sadly, these tragedies are often a result of our own actions, including climate change and the destruction of ecosystems. Growing demand for goods from our soils, such as food, water and minerals, combined with expanding cities and infrastructure, is draining nature's capacity to support us. If we choose to destroy nature, nature will destroy us. The way we produce and consume resources is rapidly depleting the earth's finite stocks, leading to worse droughts. A recent UNEP-FAO report underscored this fact, noting that humanity is already overdrawing on ecosystems at an alarming rate.
Furthermore, as parts of East Africa experience another surge of Covid-19 infections, we should realise that wild spaces serve as a buffer to animal-borne (zoonotic) diseases – like Covid-19, Ebola, SARS and others – that could be deadlier. While degrading our ecosystems increases climate change and biodiversity loss, restoring them makes cities and rural areas more resilient to extreme climate events such as floods, storms or extreme heat.
Solutions to drought
Changing course should go beyond righteous outrage. A new UN Special Report on Droughts calls for shifting from reactive approaches to addressing the root drivers of drought. As UN Secretary-General António Guterres says, "land can be our greatest ally", though currently, it's "suffering." Restorative action yields a fortune. Every one dollar invested in restoration creates up to USD 30 in economic benefits.
In 2020, Kenya announced a programme to repossess land illegally taken by private developers in parks, green places and forests. Programmes to naturally regenerate the land have increased tree cover in arid countries like Niger by up to 20 times over three decades, helping double farmers' incomes and improving grain yields by 10 per cent.
Ambition must go beyond local programmes and projects as well. So far, far too little global spending on post-pandemic recovery is likely to build a better more resilient economy. Yet African Ministers of the Environment have committed to support a green Covid-19 recovery plan, which can both repair broken ecosystems, as well as create many green jobs. We know this from diverse investments already made in Ghana, Pakistan and the US.
Involving everyone in fighting drought
However, governments can't act alone. Making peace with nature is for everyone. Restoring degraded ecosystems can mean planting a tree or harnessing better agricultural methods that do not degrade our lands such as organic farming. Individual efforts such as those by young Kenyan environmentalist Elizabeth Wathuti are inspiring a new generation.
After marking International Day to Combat Desertification and Drought on June 17, we can choose to join a group devoted to environmental protection. We can advocate for the recognition of customary rights of Indigenous People and local communities, whose lands are being eroded by rogue entrepreneurs and land grabbers. We may plant a forest in our locality. We may raise awareness of why ecosystems matter through art, song and dance.
With collective action, we can become #GenerationRestoration. After all, both the impact and the pleasure of working together with minds and hands is always greater than going alone.
Our own actions may also propel politicians to live up to their global commitments to restore one billion hectares. As President Obama once said, political leaders will only take risks if the people push them.
Joyce Msuya is the Deputy Executive Director of the UN Environment Programme (UNEP).