Do prayers work? We must confront problems together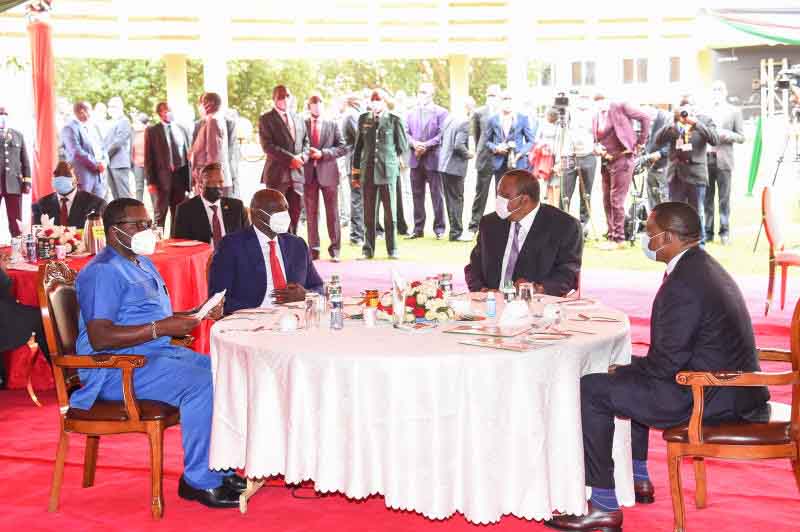 In what has now become a national tradition, leaders from various sectors of society gathered last Thursday to look up to God in prayer.
Coming amid the Covid-19 pandemic, the 2021 National Prayer Breakfast was unique in its setting at the Senate Grounds and with a smaller crowd.
But two key factors caused a buzz in various quarters: the joint presence of President Uhuru Kenyatta and his Deputy William Ruto; and the pointed message by lawyer Peter Waiyaki, the guest speaker.
There is a sense in which both were almost prophetic in their significance. The former spoke of the power of prayer, while the latter underscored our desperate need for prayers.
From a spiritual perspective, the presence of the President and his Deputy, not only at a joint function, but also sharing a table, was a symbolic demonstration of the power of prayer – its ability to draw us together.
It has been said, and it is true, that a family that prays together stays together.
Other than for those who regard prayer as a mere formality, or others who hypocritically frequent the place of prayer, it is difficult for family members to sincerely gather at the throne of God yet remain diametrically opposed to one another.
That is why the gathering of our leaders at the place of prayer bears great significance, especially when they lay aside their differences and in united faith, invoke God's divine benevolence upon the land.
In times past, we have seen great acts of God derive from such pleadings.
The second significant factor was the speech by Peter Waiyaki. Whereas some have described it as a pointed truth to leadership, it was an expose of our desperate situation – a litany of the symptoms of our wretchedness.
It underscored our total and utter need for prayers. When approached with sincerity, prayer has a way of opening our hearts to the searching light of God.
None of us can, with any sincerity, cast the first stone upon those we perceive to have been caught in the very act. Men and women who fear God therefore approach the place of prayer with a certain measure of fear and awe.
Furthermore, a genuine prayer – of whatever kind – is an expression of our surrender to God.
It is an acknowledgement that He is greater than we are, and rules sovereign.
That is why almost every posture of prayer portrays an act of honour and surrender – kneeling, bowing, lifting hands, hands together, or prostration.
These reflect a spirit of humility. No wonder, the proud and the arrogant find it most difficult to pray – constrained by the enormity of their egos, they cannot acknowledge their wrong.
But the question that many have often asked is whether prayers actually work, and whether our leaders should continue to shut down the nation to engage in an exercise in futility.
Truth be told, no scientific study can conclusively prove the efficacy of prayers. However, some scientific studies have, for example, shown patients with various kinds of sicknesses to have improved or totally recovered after administration of targeted prayers.
In 1979, as a young boy in high school, my heart was greatly troubled by the suffering of Ugandans at the hand of President Idi Amin. Though I had little understanding of the events in Uganda, one day my heart was moved to pray for Uganda.
In perhaps the most fervent prayer I have ever made for any country, I went into a closet and prayed for hours for the deliverance of Uganda. Within a few weeks, Amin provoked President Nyerere of Tanzania, who swiftly mobilised troops into Uganda and threw out Idi Amin.
Whether my feeble prayers played any role in the move, or it was a mere coincidence, I may never know. All I know is that people have experienced many similar coincidences of prayer for families, communities, and nations. We must therefore not take our own prayers for granted. Let us partner with God in amending our ways, and the Lord will honour our cries and heal our land.