Widows out to inherit political seats must work
Sometime around 2014, former Zimbabwean First Lady Grace Mugabe started strategising on how to rise to the helm of the country's leadership. She began her machinations within ZANU-PF party by fighting Vice-President Joyce Mujulu.
She succeeded. Joyce Mujulu became an outcast and was taken out of the race to succeed Mugabe. However, as she rose in prominence, her critics also increased in number. She wielded so much power that in a fit of anger, one retired colonel uttered words that were later to define her downfall; 'Leadership is not sexually transmitted'.
In the year 2021 alone, we have had three by-elections in which widows of the fallen MPs threw their hat in the ring to succeed their husbands. They were all rejected. The first one was Christabel Murunga widow to former Matungu MP, Justus Murunga. She vied as an Independent candidate and lost. The second duo was rejected on the same day.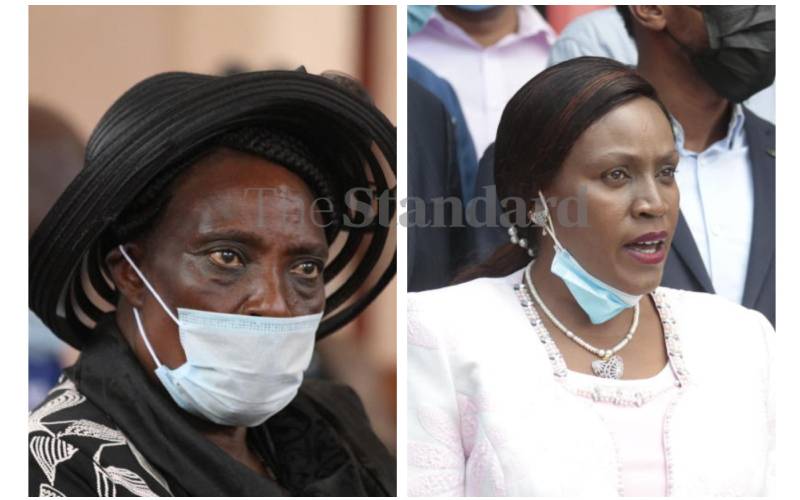 In Bonchari, former MP John Oroo Oyioka's wife Teresa Oyioka started campaigning for the seat on the day her husband was being buried. She tried appealing to ODM boss, Raila Odinga before without success. She vied on an UDA ticket and despite her appeal to the voters to help her mourn her husband through a win, she lost.
In Juja, her counterpart, Susan Waititu was more hopeful, she was vying on what she assumed to be the region's most popular party - Jubilee. She also lost. What went wrong? It seems, just like in Zimbabwe, voters adopted the mantra that 'Leadership is not sexually transmitted. This does not mean that widows have not been elected before to succeed their husbands, but it has never been a smooth ride. Naivasha MP Jayne Kihara succeeded her husband Paul Kihara in 2003.
However, it is also worthy to note, she actually campaigned vigorously for her husband who had been hospitalised in South Africa. When he died one month after the win, it was easy for her. Beatrice Kones succeeded her departed husband in Bomet. She vied on ODM party ticket which was the most popular party at the time.
Seemingly, widows seeking to succeed their husbands must be politicians in their own right or at least must have made effort to campaign with their husbands and learn the ropes. The other option is for stronger candidates to opt out of the race like in the case of Lucy Chomba who won the Huruma Ward seat easily, following the death of her husband Peter Chomba. Deputy President William Ruto opted not to front a candidate for the seat.
-The writer is senior reporter/anchor at Radio Maisha