Emerging alliances are not issue based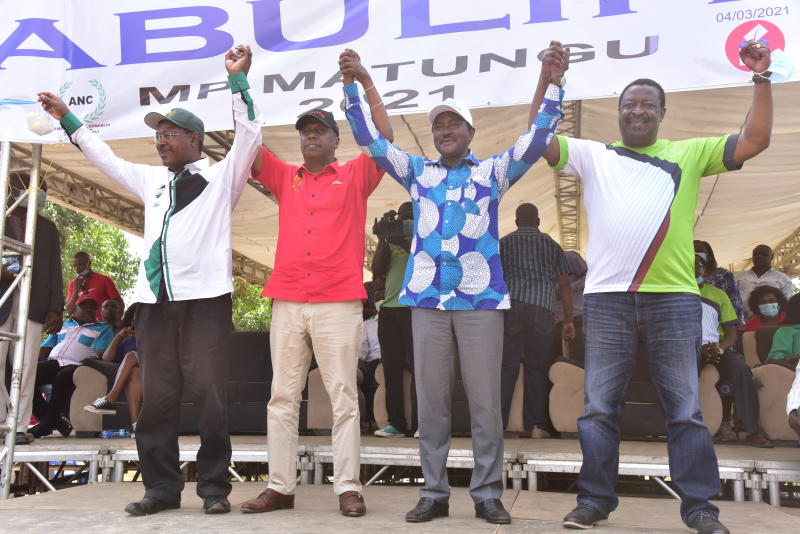 Help parties to come up with good agenda
Let us say it again. The emerging political alliances are not built on any development agenda other than finding a winning formula to State House.
Political strategists with their political party bosses, candidates to various elective offices and the financiers are hooked to formula baking. Interestingly, the one that is most dreaded were it to come to fruition is a Raila-Ruto ticket. As it were, any other formula will be an underdog to this match. Of course, and most arguably, it is one thing to have the numbers on the ground and completely another to have a clear non-contested outcome.
It is this scare of which formula will form the next government that is creating a lot of anxiety among voters like myself. We want peace come 2022. We want peace beyond 2022. Deontologically we, as Kenyans, are obliged to not just promote, but also ensure that peace prevails at all times within our borders.
Elections in this country put to test all that we stand for as peaceful people. The political alliances we are witnessing being formed do not, or at least as of yet, give any indication that come 2022, we shall vote without the usual nightmares of possible degrees of violence. The reason is simple.
The outgoing regime neither created a strong imprint on what it means to be issue-based in developing the country nor did the opposition – when it existed – sell a strong agenda based on which the voters will desire as a civic moral duty to vote come next year. Instead, what we have at the moment are election candidates already spewing hate speech all over. Candidates are mounting their campaigns on the basis of whom they hate. Hollow slogans that lack the vitality of a development agenda have gripped some of the voters.
An issue-based agenda will be something like "Turning Kenya into a 24-hour economy" that the Wiper Party trained some time back but never got floating. "Bindu bichenjanga" (things change) is one of my best catchy phrases as it carries deep meaning for everyday life.
But, without breaking it into some solid development agenda it remains just a beautiful slogan. The trendy Hustler Movement is yet to unpack what hustling means in terms of a development agenda. Arousing grassroots emotions is good, but it is better to attach a single most important agenda to this movement so that voters can take it to task should it come to power but fail to honour its raison d'etre. The One Kenya Alliance is at the infancy stage so it is difficult to say what it intends to stand for.
The Jubilee pacifying slogan – or was it meant to be a leadership philosophy? – Tuko Pamoja says very little of what its agenda is other than hanging together. Almost 10 years down the lane, the most visible success agenda has been road construction. Give it to Jubilee.
This is quite a remarkable achievement as a development agenda. Our roads were some of the worst in the world. But there is real transformation happening on this platform. Other than that, tuko pamoja is an abstract statement that you can't pin the Jubilee government down to take responsibility for or measure its performance under this call.
Development, Pope Paul VI says, is another name for peace. The 2022 agenda cannot be left in a skeleton of the campaign for political power. This will endanger our development, our peace. Political power must have an object – a tangible development agenda.
General election
It is our responsibility as voters together with the media as part of the civil society to generate an agenda for candidates to elective positions to start thinking about. If we fail to do this, the candidates will generate manifestos that reflect their own motives that, from experience, may not necessarily reflect the general will of voters.
For instance, I do not remember the Big Four agenda for the post-2017 General Election being part of the Jubilee campaign in any explicit manner.
A priority agenda must stand out in the 2022 General Election campaigns if we have to get the right formula for who takes over power from President Uhuru Kenyatta.
It will be interesting to have a strong alliance that stands on the platform of fighting corruption as its reason of being. Alternatively, it will excite the jobless youth if a political alliance emerges to focus most of its resources on creating jobs. We know that the government must function in all ministries, but a priority agenda is crosscutting. Any of these two will be crosscutting.
We need an agenda to drive the 2022 General Election campaigns.
15 people die in bus smash-up
15 people die in crash involving a bus and minibus at Kizingo on Mombasa-Malindi Highway, Coast Traffic police boss Peter Maina confirms.