Why my love for Raila Odinga has dwindled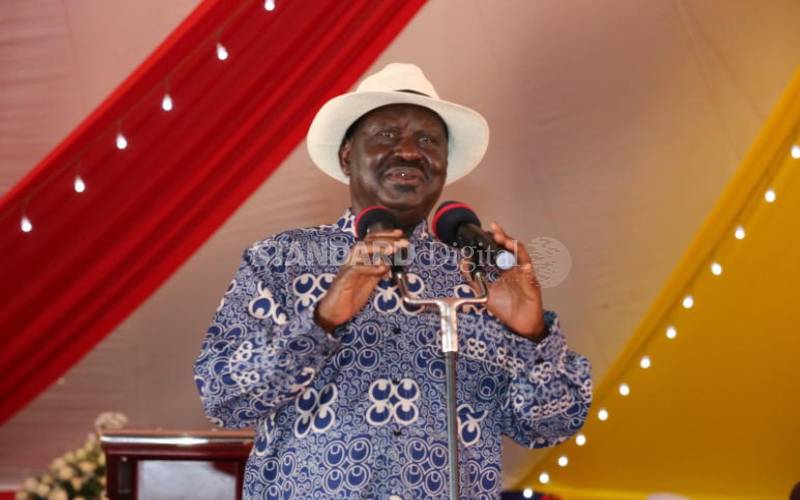 I used to love Raila Odinga. My bleeding heart worshipped the man. He was a freedom fighter. An ideologue. A voice for the voiceless. A man of the people. He was my hero. Fast forward to the present day and I have had a change of heart. Unsurprisingly.
It's hard to believe that the Raila of the 2017 boycotts, the man who successfully challenged an election, and then went on to swear himself in as the people's president, is the same person who stood on the steps of Harambee House and shook hands with Uhuru Kenyatta.
Of all the things we common folk thought would never happen, that was first on the list. Up until that point, Raila had painted Uhuru as the bad guy. So, it isn't farfetched to view his handshake with Uhuru as a deal with the morning star. But that's water under the bridge. And perhaps my image of Raila, pre-handshake, was romanticised. I mean, anyone who swallows political rhetoric without chewing on it should rightly be described as hopelessly – and I mean hopelessly – naïve.
Anyway, I live to be swayed another day. In the meantime, let's turn our attention to the campaign train that's keeping constitutional change on the tracks. Seems like we're hurtling full speed from a "nation of blood ties" to a "nation of ideals" if the BBI report is to be believed. But what exactly is the BBI ideology?
I wonder if it can be summed up in a paragraph with a definitive title? We hear a lot from the 'super seven' and others who are pushing the BBI agenda, but I'm hard pressed to find a definitive answer to that question, from the rhetoric at least. The report is a labyrinth of its own.
Income status
When our leaders speak they say the initiative will liberate Kenyans from the yoke of poverty, disease and ignorance. That if we amend the Constitution, Kenya will fully embrace its middle income status. Others are selling it as a vehicle for peace, love and unity.
And the means by which resources can reach the grassroots. Others still are touting BBI as a way to include marginalised communities in the structure of leadership. To spread the wealth and share the prosperity. Which is all well and good.
These are great objectives, all of which have been part of the national plan since 1963. So why are we at ground zero? Why have we been walking around the mountain for 58 years? I'll tell you why. Greed. Greed that manifests in divisive elections cycle after cycle. This is the real mischief the BBI seeks to cure. It's the manual for our political 'Hunger Games'. Were it not for the divisive elections of 2017, we would not be in this Constitution-amending space. Not now, at least.
Systemic problem
The way I see it, this problem is not a people problem; it's a crisis of leadership. Two leaders went to the polls in 2017 and two leaders disagreed on the outcome. Now, it could be argued that one leader won and the other refused to concede, but that's a systemic problem for another day. Both those leaders had followers, and those followers swallowed their rhetoric without thorough chewing.
And now that the two leaders are on the same side, there is widespread cognitive dissonance. Thankfully, that dissonance has led to reflection. As a result, a good number of followers have come face-to-face with their naiveté. These are people that will never follow again.
Take a quick survey and help us improve our website
Take a survey
As I say, I used to love Raila Odinga and his social democracy ideology. I still have mad respect for who he might have been and who I thought he was; but I'm not a follower. I'm not a supporter. I'm not a believer. Not of Raila, nor of anyone else. When it comes to Kenyan politics, I am an observer. I reserve the right to choose how to align, and so should you. These political types are strategic with their choices, and voters should be as well.
See, political rhetoric serves one purpose and one purpose only, and that is to gain power and control. The rest is detail. Today, we find ourselves dealing with a big detail in the BBI; at the most basic level, it is a mechanism to rearrange powerful positions so that those communities that have felt left out can feel included.
It remains to be seen whether the words that have been spoken, reports that have been written, and ultimately the laws to be amended, will lead to action 'kwa ground' – and critically, whether that action will have any impact.
-Ms Masiga is Peace and Security Editor, The Conversation