This is what 2022 poll results could look like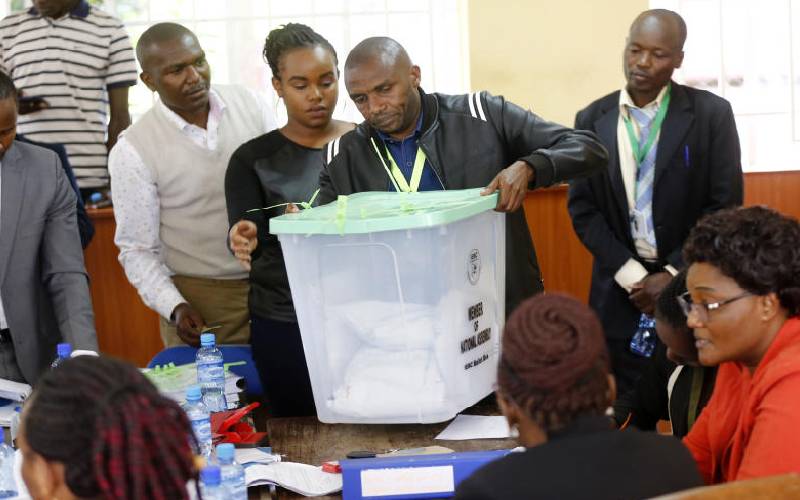 The last two presidential election results offer very useful insights into an emerging pattern among voters across the country.
The 2013 General Election was the first to be held under the new Constitution. This was a transitional election as President Mwai Kibaki was ineligible to contest, having completed two consecutive terms.
According to the Independent Electoral and Boundaries Commission (IEBC), there were 14.3 million registered voters then.
There were eight candidates validly nominated by the IEBC to contest in the presidential election, and there were two main coalitions: Jubilee and CORD.
The total number of valid votes cast for the presidential candidates were 12,221,053 distributed as follows: Uhuru Kenyatta 6,173,433 (50.51 per cent), Raila Odinga 5,340,546 (43.70 per cent), Musalia Mudavadi 483,981 (3.96 per cent), Peter Kenneth 72,786, Mohamed Dida 52,848, Martha Karua 43,881, James Ole Kiyiapi 40,998 and Paul Muite 12,580.
Going by these figures, the two top candidates had a combined tally of 11,513,979 votes or 94.21 per cent of the total votes cast!
Under one million
The rest of the votes were shared among the remaining six candidates. Their tally was less than one million votes - specifically 707,074 votes (6.79 per cent).
However, Mudavadi had a vote tally of 483,981 (3.96 per cent), which was more than the other five candidates' total votes - 223,093 (2.83 per cent) - combined.
The 2013 election outcome showed voters have an inclination to vote for candidates whom they believe have high chances of winning, hence the concentration of votes among the top two. The running mates of the two top candidates were William Ruto and Kalonzo Musyoka, respectively.
Besides his Mount Kenya bastion, Uhuru captured the Rift Valley and North Eastern, while outside of Nyanza, Raila bagged Western, lower Eastern and Coast regions.
The 2017 presidential election was almost a replica of 2013. There were two top contenders and six other candidates.
The 2017 election was akin to that of 2007 - at the time, the then incumbent President Mwai Kibaki's Party of National Unity (PNU) was facing off with Raila Odinga, then of the Orange Democratic Party (ODM).
The 2017 election was highly contested, with the incumbent Uhuru of Jubilee Party facing off with Raila of ODM under The National Super Alliance (NASA).
According to IEBC, there were 15,114,622 valid votes for the eight presidential candidates.
IEBC declared the following results: Uhuru Kenyatta (Jubilee Party) 8,203,290, Raila Odinga (ODM) 6,762,224, Joseph William Nthiga Nyagah (Independent) 42,259, Mohamed Abduba Dida (Alliance For Real Change) 38,093, John Ekuru Longoggy Aukot (Thirdway Alliance Kenya) 27,311, Japheth Kavinga Kaluyu (Independent) 16,482, Michael Wainaina Mwaura (Independent) 13,257 and Shakhalaga Khwa Jirongo (United Democratic Party) 11,705.
The 2013 presidential election results were replicated in 2017. Suffice it to say that Uhuru increased his tally from 50.51 per cent to 54.27 per cent of valid votes cast.
Raila, on the other hand, increased his tally of valid votes cast from 43.70 per cent to 44.74 per cent.
This was an indication that the two ring-fenced their respective strongholds.
Based on the results, the top two leading candidates in 2017 had a combined tally of 99.11 per cent of the total votes. The other six candidates shared between them less than 1 per cent (precisely 0.89 per cent) of the valid votes cast.
In terms of regional voter pattern, the 2017 contest was a replica of 2013. The election outcome again proved that Kenyans prefer to vote for candidates whom they believe to have higher chances of success. In this election, just as in 2013, the running mates of the two top candidates - Ruto and Kalonzo - again skewed the votes heavily in their respective tickets' favour.
Notably, the presidential election results of 2017 were annulled by the Supreme Court of Kenya for not complying with the Constitution and the law.
The repeat presidential election does not offer useful insight on voter patterns after Raila, the run-up candidate, pulled out of the fresh election. This left the incumbent, Uhuru, to run almost against himself, and he consequently bagged 7,483,895 votes (98.26 per cent), according to IEBC data.
With 2022 beckoning, there is likelihood that voter patterns identified here will be solidified. But there is a problem. There is a likelihood that the vote-rich Mount Kenya region might not field a presidential candidate.
Head start
The 2022 presidential election will be similar to the 2013 transitional poll. Based on public pronouncements and media reports, the following potential candidates have expressed interest in the top seat: ODM's Raila (this would be his fifth stab at the presidency), ANC's Musalia Mudavadi (a second attempt) and Wiper's Kalonzo (a second attempt).
The first-time candidates eyeing the ticked include Deputy President Ruto, Senator Gideon Moi, Senator Moses Wetangula, governors Ambestsa Oparanya (Kakamega), Mwangi wa Iria (Murang'a), Kivutha Kibwana (Makueni), Alfred Mutua (Machakos), Hassan Joho (Mombasa) and Jeffah Kingi (Kilifi), as well as former CS Mwangi Kiunjuri and former UNCTAD boss Mukhisa Kituyi.
As with all previous contests, the above candidates shall be relying heavily on their respective backyards before reaching out to other regions. The candidates who have participated in previous contests may have a head start, but time will tell.
Dr Njau is an educator who also practices as a governance, policy and strategy advisor. [email protected]