Prepare well for hearing of Kenya-Somalia border case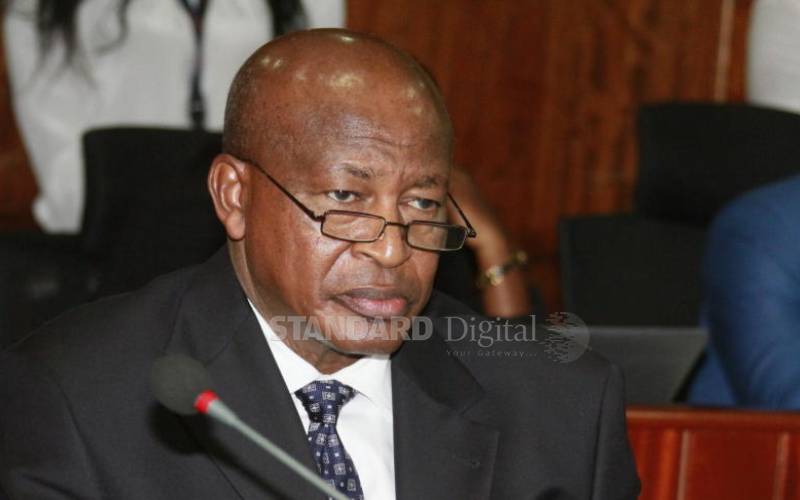 The International Court of Justice (ICJ) has turned down Kenya's request to postpone the hearing of the maritime border dispute between Kenya and Somalia.
Kenya had pleaded that the hearing be postponed because of Covid-19 restrictions and a map that has reportedly gone missing. Nairobi had called for the postponement arguing that it would be unable to defend itself well if the hearing was done via a video link.
But the ICJ last weekend ruled that the hearing would go on as planned from March 15. Somalia had protested Kenya's bid to have the hearing postponed for the fourth time.
Last year, the Attorney-General (AG) Kihara Kariuki (pictured) had asked for 12 months to prepare. ICJ instead gave him until March this year to come up with a new legal team.
Last month, the AG again asked that the court postpone the case in order to allow for a physical hearing, but the court has insisted the hearing will proceed virtually. This now means that the government has no option but to do what it must do: get its act together and assemble the best arsenal to defend our territory at The Hague-based court. It should line-up the best legal minds and evidence to prove that the contested territory indeed belongs to Kenya.
There is no time to waste.
But even as the hearing goes on in court, alternative dispute resolution methods proposed by the African Union (AU) should not be ignored. The AU had urged Kenya and the Horn of Africa to consider negotiating the boundary dispute instead of battling it out in court.
Take a quick survey and help us improve our website!
Take a survey
AU's Peace and Security Council invited both countries to give their side of the story. However, Somalia rejected the offer and failed to appear during the first meeting, saying it would not discuss a matter that was in court.
However, the country sent sent its Minister for Foreign Affairs Abdulkadir Ahmed-Kheir Abdi to the second meeting which did not bear fruit. If a solution can be found out of court, the better for the two countries.
Meanwhile, as we wait for the hearing to start at the ICJ, it is important for the court to demand that the 'missing map', which Kenya's says is critical to its case, be produced. It would be unfair for the case to proceed without such an important document.
At the end of the day, one side will win and the other will lose. It is important that all evidence available be tabled by both sides and considered so that justice is not only done but is also seen to have been done.