Kenya Power denying us power to grow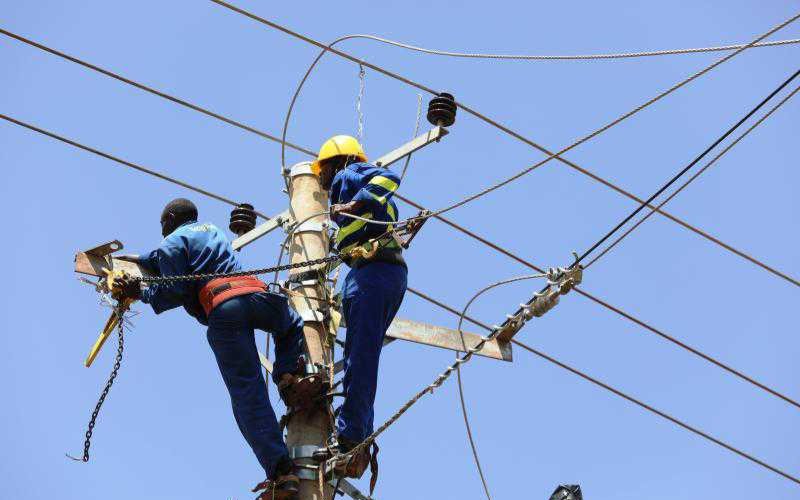 Kenya is walking towards powerlessness in terms of erratic electricity generation, transmission and distribution from the Kenya Power Company, Kenya Electricity Generating Company (KenGen) and the Kenya Electricity Transmission Company (Ketraco). Although these firms have done commendable work, objectively there is still a lot of room for improvement.
Electricity powers industrialisation, powers electrical appliances and lights up homes, among other priceless uses. Unfortunately, millions of Kenyans still either can't access this power or harbour a painful story about the power received due to mind-boggling inefficiencies by the Kenya Power. Kenya's installed electricity generation capacity of 2,763 MW is insufficient for powering our economy and meeting the energy needs of 50 million Kenyans. Unfortunately, about 25 per cent of this power is lost during transportation.
Even though plans are underway to double this to 4,270 MW by 2025, good planning must be employed to avoid the mistakes made such as the much-publicised yet ill-advised '5000 plus MW project' where electricity investors are embarrassingly languishing in losses and Power Purchase Agreements (PPA) that may not make sense. For comparison, South Africa has an installed capacity of 58,095 MW!
People who live in urban centres like Nairobi and Mombasa may imagine that their fellow Kenyans across the country can also switch on electrical bulbs in their homes. But that is not the case. Despite tremendous efforts by the government, only 7 million Kenyans are connected to the national grid. This means most of the country doesn't have access to electricity.
This mirrors the situation in Africa, where at least 600 million people do not have access to electricity. For as long as 70 per cent of KPLCs revenue goes to power providers and the fact that they are struggling to pay for the same, we may not expect much change unless we take a clinical approach to dissect and deal with issues pragmatically.
I recently had a disturbing conversation with a renowned academician who is also a farmer. He told me about receiving a sudden highly inflated electricity bill. When he complained to KPLC he was informed to pay first and lodge the complaint later. Thousands of Kenyans suffer such for reasons that do not make customer sense. If KPLC had competition, I doubt they would employ such uncouth tactics. What has gone wrong with our power? We should not just accept business as usual. A country whose power only reaches minority of its people deprives its population of the power to create jobs and grow businesses. Critically, we should produce more power and distribute it to millions more people at well thought out tariff plans.
Electrification drives industrialisation. However, electrification is not a silver bullet that will magically boost businesses and create jobs. A study by an organisation known as Energy for Growth revealed that in Indonesia, electrification powered industrial development more in areas that already had good infrastructure and consequent easy access to markets. In this regard, we need to ensure electrification takes place alongside other aspects of infrastructure development in particular and sustainable development as a whole.
On the legislative front, we have made commendable progress. The Energy Act of 2019 created the Energy and Petroleum Regulatory Authority and mandated it to referee the energy market. This task entails enhancing competition and efficiency in the sector.
In this regard, retired Justice Jackton Ojwang, the Authority's Chairman, has his work cut out. His team should undertake its constitutional responsibility without fear or favour. This is particularly vital against the backdrop of alleged cartels, which siphon funds from KPLC, thus stifle the sector's productivity. If such cartels actually exist, they should understand that they are brutalising the welfare of millions of Kenyans and jeopardising our nation's future. If there are political godfathers behind the cartels then they should remember Dr Martin Luther King, Jr.'s powerful message that, 'The arc of the moral universe is long, but it bends toward justice.'
In a country where powerful people sometimes seem to live above the law, we must appeal to their conscience and remind them of the equalising principles of morality. Next year, KPLC will turn 100 years. After a century of existence, this Kenyan public company should not be crawling in inefficiencies. Rather, it should be a model outfit supplying abundant power.
Efficiency requires we produce energy at the lowest possible cost and distribute to as many Kenyans as possible in consistent fashion. Anything less than this, will be an injustice that will rob us a bright future. Think green, act green!
-The writer is founder Green Africa Foundation.