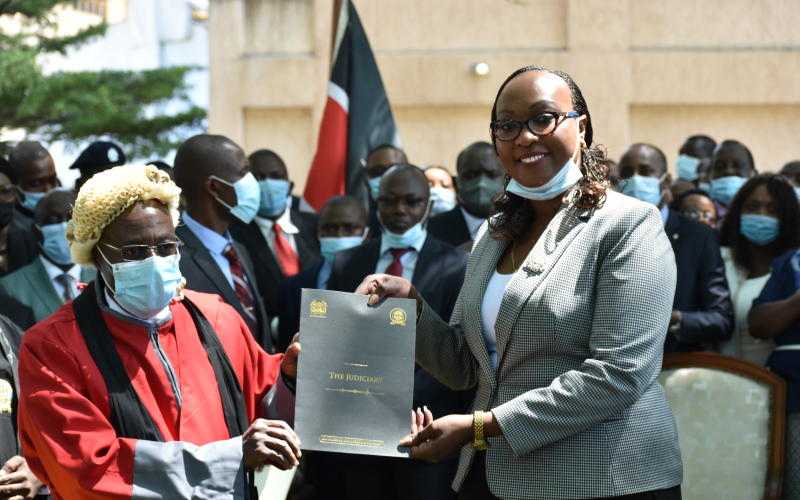 Nairobians are still absorbing the shock of Friday events that saw Anne Kananu Mwenda sworn in as Deputy Governor.
Some legal minds have pointed to her swearing in as an illegality, with Lawyer Ahmednassir Abdulahi asking on twitter, 'Ok… Ms Anne Kananu has been installed as Deputy Governor of Nairobi thanks to Justice Mrima. How will she become governor of Nairobi?'
One of his followers Amos Olaimeri retorted, 'when former Governor Ferdinand Waititu was impeached his deputy James Nyoro took over as governor'.
However, as discourse on the legality of Friday's swearing in continues, attention has already turned to who may possibly be Ms Kananu's deputy, should she be sworn in as Governor.
With the handshake recently trading off various seats in by-elections, it is believed that Nairobi will be no exception and ODM is likely to be handed the deputy governor's seat.
Read More
A keen look at individuals seen as likely beneficiaries include some of Raila Odinga's loyalists.
Reuben Ndolo
The former Makadara MP is believed to be a possible beneficiary due to his understanding of the Nairobi political terrain and strong political background.
Ndolo has had a number of run-ins with the law, most recently being arrested by Flying Squad officers for causing disturbance and threatening to kill someone at Bustani Gardens in August 2019.
His tough headedness is seen as an embodiment of city politics. Ndolo defected from ODM to Jubilee in the run up to 2017 elections and could be looking to tap into his friendship across aisles to secure the seat.
David Osiany
Osiany served as an advisor in Office of the Prime Minister and was an effective NASA policy and political debater before and after 2017 elections. He is remembered as having been the first student to become SONU president in second year.
In 2017, Osiany floored legendary Dalmas Otieno in a contest for Rongo Constituency seat, but would not make it to Parliament after what he termed shambolic nominations.
His youthfulness is seen as an asset in galvanising Nairobi's exuberant youth constituency.
His consideration could be expected to add effectiveness of ODM politicians in the city and help Raila expand his Nairobi base ahead of 2022.
Osiany currently runs a strategic communication company and could help Ms Kananu for the remainder of the term.
Fred Rabongo
The little-known wealthy businessman is thought to be a possible beneficiary because of his proximity to Raila Odinga as well.
He attempted to run in Homa Bay County as Senator after the death of Otieno Kajwang without much success. An astute businessman with interests in Kenya and United Kingdom, he may be propped up to help manage business interests in the city.
At one point, Rabongo was appointed CEO of the behemoth NSSF, but his appointment was later nullified after Raila and President Mwai Kibaki did not seem to agree on him as the best candidate.
Rabongo enjoys fairly good political connections and is well-oiled, making others believe he could find an easy landing.
Norman Magaya
The former CEO of NASA is also believed to be a probable beneficiary of the Deputy Governor Seat having worked for the coalition.
Currently, serving as a member of the board of the Ezekiel Mutua-led Kenya Film and Classification Board, Magaya recently attacked his party bosses for neglecting him after working for them. The lawyer from Kakamega County is believed to be a strategist whose skills may be valuable in the city.
-The writer is a political commentator