We're messing up virus fight by favouring elite
OPINION
By Mark Oloo | Jul 22nd 2020 | 4 min read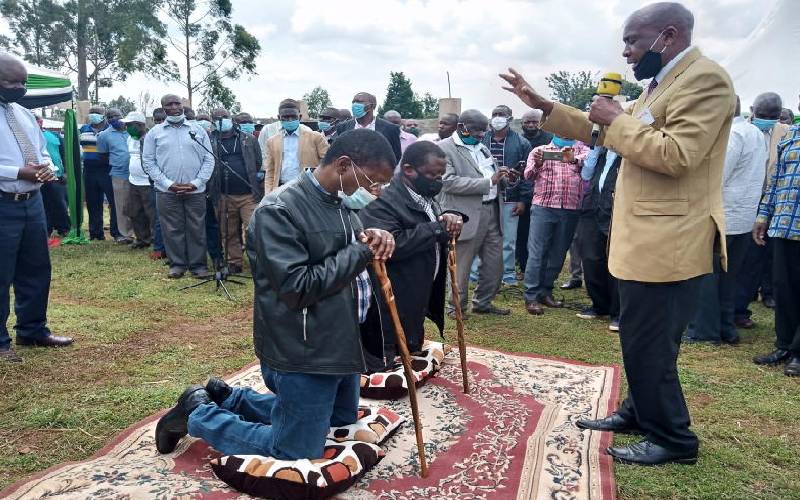 Senator Johnson Sakaja's weekend infractions capture the irony of preaching water and drinking wine. By his own admission, he was outside his home on Saturday night with some friends. In the best of times, such a mundane outing would have hardly been worthy of mention. But these are no ordinary times and Mr Sakaja is certainly no ordinary person.
The entire world is in the grip of a pandemic. Kenya is now beginning to experience the brunt of it. A nationwide curfew is in place that runs from 9pm to 4am. Sakaja has served as chairman of the Senate Committee on Covid-19. One, therefore, expects that he ought to know better than to thumb his nose at measures taken to mitigate the spread of Covid-19. Clearly not.
While Sakaja has publicly apologised and in his words, "taken full responsibility for his actions", the incident exposes the sense of entitlement the ruling elite exhibit. It lays bare the notion that as long as one is in government, they can wave a 'get-out-of-jail card' and get away with egregious misdemeanours.
The way politicians carry themselves seems to suggest as much; that there are two sets of rules, for those in power and for those on the outside looking in.
Take, for instance, the Covid-19 regulations that forbid public gatherings for political purposes. Government leaders from Western Kenya have on several occasions been in the news, addressing huge gatherings with scant regard for social distancing rules. They have not been censured.
In contrast, some opposition leaders from the same region have been forcibly restrained from accessing their own homes, ostensibly because they will meet with their supporters. Boni Khalwale, a politician on the 'wrong' side of the divide, was recently caught in an unseemly confrontation with the police. Others like Senator Moses Wetang'ula have had to endure episodes of teargassing for merely wanting to ingress their rural homes.
This duplicity cascades further down to ordinary citizens. Many have been clubbed, maimed and shot to death for the mere offence of not wearing a face mask. The luckier ones have been held against their will in isolation centres, forced to take Covid-19 tests and quarantined for weeks on end at their own expense.
President Uhuru Kenyatta, urging Kenyan youth to observe government rules, gave an example of how his own son was given a dressing down for being outside beyond curfew hours. Instructively, he was not quarantined at a government facility, nor was he subjected to the humiliating physical abuse or the verbal degradation that would have been the predictable fate of youth from Mathare or Kawangware.
If the government wonders why its edicts appear to have little sway over citizen behaviour, it should look no further than its exclusionist tendencies that appear to assign privilege to the ruling elite. When Cabinet Secretary Mutahi Kagwe, in his well-intentioned briefings, jabs a warning finger and thunders "you people", the unintended subliminal cue is that he represents those excluded from the admonition. To his credit, the CS has personally observed all Covid-19 protocol, including the wearing of face masks in public and maintaining social distancing.
Crossed counties
But he has not publicly censured errant leaders drunk with the power of being on the right side of government. He did not speak out when, during the cessation of movement between counties, national figures repeatedly crossed counties and trooped to the home of a leading trade unionist for political purposes. Nor did he utter a word when tens of thousands of Kenyans were evicted from their homes in the middle of a lockdown.
Yet, a government that neither provides adequate personal protective gear to frontline health workers, nor free testing to suspected patients, expects citizens to bear personal responsibility in the fight against the pandemic.
It expects that they should eat right, maintain social distancing and now, resort to home-based care for those afflicted by Covid-19. Clearly, it is removed from the plight of those in Kibera or Korogosho. The measures it proposes are elitist and achievable only to a select few.
Johnson Sakaja's reprehensible behaviour speaks to those who have imbibed power and heady with its effects, are inured to the plight of the vast majority. For many of these, their approach to the pandemic may be described in the words of UN Secretary General Antonio Guterres, when he says, "we are all floating on the same sea, but some are in super yachts and others clinging to debris".
- The writer is a public policy analyst