Virus: Why rebuilding has to start right now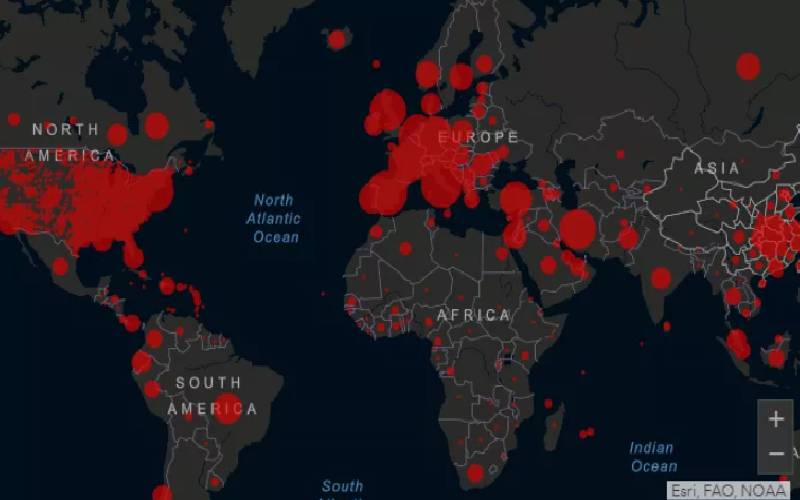 Covid-19 has spread to almost every country around the world. Global cases have reached more than 13 million and the pandemic has killed over 600,000 people.
Following the first confirmed case in Kenya on March 13, the government moved swiftly to curb the spread of the pandemic through a number of containment measures.
Three months after the detection of first case, the economic impact of the pandemic is already being felt. The National Treasury lowered its 2020 growth forecast from 6.2 per cent to 2.5 per cent.
Among the key sectors most strongly affected are aviation, hospitality, tourism and horticulture. Generally, the export sector has been adversely affected. The livelihoods of roughly 14.3 million vulnerable Kenyans have been affected by Covid-19. Some 83.6 per cent of Kenyans are employed in the informal sector and movement restrictions have affected their income generation, which has reduced their ability to meet basic needs.
Many went into the crisis without significant savings or liquid assets and have few personal assets to fall back on. The 36.1 per cent of Kenyans that live below the poverty line are disproportionately affected by decreases in income, more so for women.
The closure of borders has affected trade, including disruptions to the steady supply of staple foods from Uganda and Tanzania.
The effects of the pandemic have strained an agriculture sector that was already suffering from a locust invasion, raising concerns of food shortages, particularly maize, which is Kenya's staple food. Girls' and boys' education will be impacted by the virus, more so for the poor. School curricula were adapted for distance learning, although underprivileged children have likely had their education disrupted, which will affect both boys and girls.
Fiscal stimulus response measures have been outlined to protect incomes and cushion the economy.
The government initially earmarked Sh40 billion (0.4 per cent of GDP) in funds for additional health expenditure, including enhanced surveillance, laboratory services, isolation units, equipment, supplies and communication, social protection and cash transfers, food relief and funds for expediting payments of existing obligations to maintain cash flow for businesses during the crisis.
The government put forward for inclusion in the 2020-21 financial year budget an additional Sh53.7 billion economic stimulus package that includes a new youth employment scheme, provision of credit guarantees, fast-tracking payment of VAT refunds and other government obligations, increased funding for cash transfers, and several other initiatives.
A package of tax measures has been adopted, including full income tax relief for persons earning below the equivalent of Sh24,000 per month, reduction of the top pay-as-you-earn rate from 30 per cent to 25 per cent, reduction of the base corporate income tax rate from 30 per cent to 25 per cent, reduction of the turnover tax rate on small businesses from 3 per cent to 1 per cent, and a reduction of the standard VAT rate from 16 per cent to 14 per cent.
The pandemic reminds everyone, in the starkest way possible, of the price to pay for weaknesses in health systems, social protection programmes, public services and economic growth that is not inclusive enough and fails to eradicate poverty quickly enough. The pandemic reminds the world of the risks to humankind created by its own reckless exploitation of natural resources, including wildlife.
The pandemic is laying bare the way in which the formal economy has been sustained on the back of an informal economy, and invisible and unpaid care labour.
As Kenya responds to the spread and impact of Covid-19, it has the choice to rapidly go back to the old economy and societal model or to chart a path towards building forward better. Building forward better would embrace a fair and sustainable transition to a new social contract capable of avoiding, mitigating, withstanding and recovering from such extreme crises in the future.
Building a better post-pandemic future will require environmental, social and economic interventions that lead to greater resilience; recovery efforts that will accelerate rather than undermine decarbonisation and protection of the country's natural capital.
They will address gender inequality, social inequality and social exclusion. They will promote the realisation of human rights for everyone, including vulnerable groups like people residing in informal urban settlements, migrant workers, people with disabilities and those facing stigma and marginalisation.
And they will sustain strong and capable state and county governments, better empowered community based institutions, macroeconomic and fiscal policies that emphasise greater investments in public services, and other measures that curb inequalities and place peoples' rights at the centre of development.
A clear focus on a building forward better recovery path that recognises the role that environmental and natural capital will play, as will peace, good governance, gender equality and empowerment and the protection and promotion of human rights for all, is critical so that everyone in Kenya can be whatever they aspire to become.
– Dhliwayo is a UNDP economics advisor in Kenya and Chokerah is a development co-ordination officer in the UN Resident Coordinators' Office, Kenya.