Leverage on sports as a factor of unity factor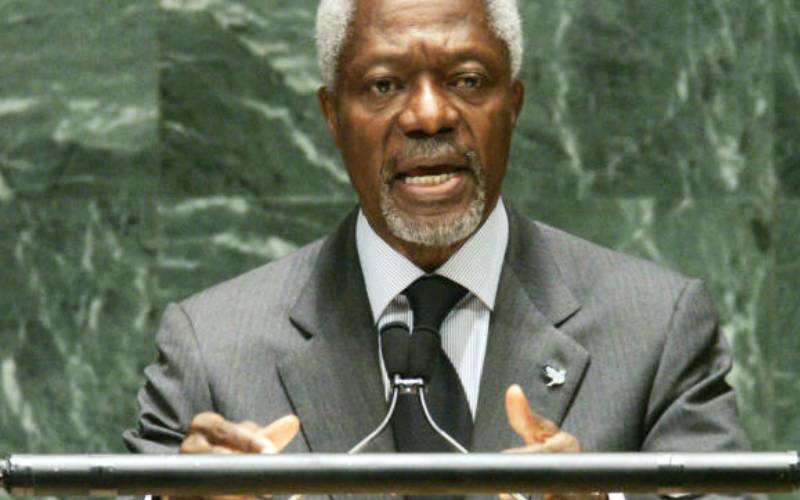 Former UN Secretary General Kofi Annan (pictured) once described sport as a universal language. In his estimation, sports can bring people together, no matter their origin, background, religious beliefs or economic status. It brings all people – players, teams, coaches, volunteers and spectators – together in a way useful to the stability and development of a nation.
In last week's Beyond Zero half marathon, we saw this unique power when athletes from all tribes and social stratification, showed up for a worthy cause and to make a difference in the lives of others.
The race, which compliments First Lady Margaret Kenyatta's Beyond Zero coincided with the International Women's Day. The day celebrates women and their major contributions to society.
As the government works towards achieving Universal Health Care, it is only fitting that this development goal places extra focus on female-related health issues. As givers of life, many Kenyan women face disproportionate health risks.
And Kenya being home to many sporting activities including athletics, there is no better way to raise awareness about these pertinent health issues than through a race. The Beyond Zero half marathon, which included half marathon, ten kilometre, five kilometre and 2.6 kilometre segments, gave participants opportunity to run for different causes they feel passionately about.
They included ending FGM, eradicating obstretic fistulae, improving maternal and neonatal healthcare services, promoting quality nutrition for children as well as social inclusion of children living with disabilities, increasing and improving delivery of health and education services, and eliminating mother-to-child HIV transmission.
The event gave the First Lady an opportunity to call more attention to women-specific health issues. Raising awareness is the first step to finding tenable solutions, and runners each choose an issue to support when signing up for the race. According to the First Lady, funds raised by the Beyond Zero 2020 half marathon will help step up women's health initiatives. "This marathon will help us elevate our contribution towards ending preventable deaths. It will enable us to reach out to many more marginalised and vulnerable communities through four more medical safaris."
The First Lady will continue to work hand in hand with State House to deliver better health services, especially in areas home to vulnerable populations. It's time we tapped into more sporting activities in solving many our challenges, including ethnic tensions, marginalisation and political exclusion.
Sports all over the world is seen as a great equaliser and a way for people from diverse backgrounds to come together in support of a common goal. They also have the added benefit of inspiring the youth to get active and fill their free time with positive, wholesome activities. The fact that the government has in recent years made athletics one of our country's top priorities is easy to forget when we are so focused on job creation and 2022 politicking. But there is a great deal of value in it, and we should not discredit the importance of promoting sports.
Africa is also not usually seen as a top destination for athletics competitions and championships although we are home to some of the world's top athletes. But with Kenya taking the lead, this perception is quickly changing. It is a national trend that we can be very positive about, and proudly take part in.
President Kenyatta recognises that sports can establish a shared bond between peoples. His involvement in the Beyond Zero race should be an inspiration to all of us to pay attention to our health, eat well, exercise frequently, and go for regular medical check-ups. On the same weekend, Uhuru addressed the AFC Leopards Football Club at the State House. He spoke about how inspirational Kenyan sportsmen and women can be for our youth and said the key thing for these sports figures is to be role models for the youth.
Local sportsmen should use their talents to improve livelihoods and lend a hand to harmony and peace-building. The government should support spots more. It can solve many of our problems for posterity.
- The writer is an athlete