Western community gives little attention to religious persecutio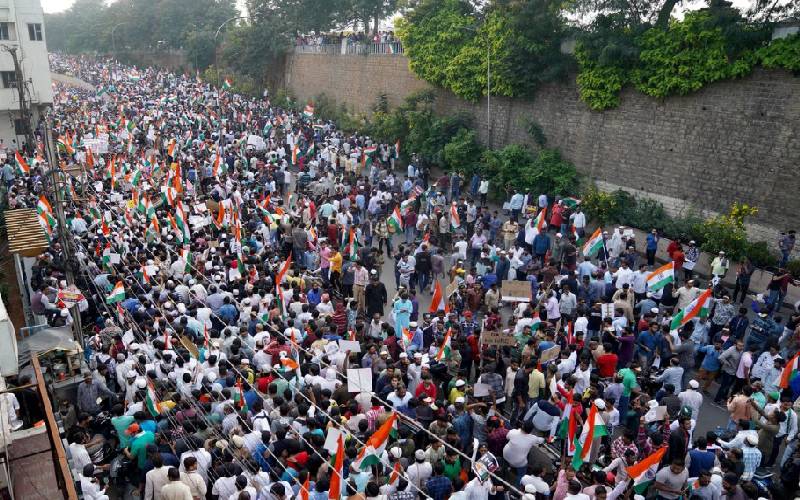 India is in a crisis of its own making. Plans to amend the nation's citizenship laws have led to widespread protests, violence and destruction of property. Prime Minister Narendra Modi, who has propagated the pro-nationalist Hindu BJP agenda for a decade, now seeks to secure his legacy by enacting discriminatory citizenship laws. The proposed amendments seek to offer citizenship to those of every faith - except Islam - that have experienced persecution in neighbouring countries.
This ill-advised proposal has understandably incensed the nation's 200 million Muslims and put the very identity of the world's largest democracy into question. The founding fathers – Gandhi and Nehru – drafted a constitution that ensured India would become a secular, democratic state. But if Modi's proposals are enacted then that constitution would end in tatters. Opposition to the proposals have not just come from Muslims but from many faiths and quarters. There are also plans to vet all citizens and since there are millions of undocumented people this is viewed as another scheme to punish and deport Muslims while advancing towards a Hindu nationalist state.
Muslims, of course, are not just experiencing discrimination and persecution in India but in China and Myanmar. It may have taken several years to uncover but now the world is becoming aware of Chinese indoctrination programmes and work camps for the one million Uighur Muslims in the remote North West Xinjiang Province. Forced assimilation and religious intolerance are the guiding factors in the latest Chinese experiment at maintaining its dominance in the global market.
In Burma the Muslim Rohingya of Rakhie state have been forced to flee in their thousands to neighbouring Bangladesh after state terror unleashed on them for purported claims of insurrection. Their suffering is well documented and is subject to an ongoing case at the International Court of Justice in The Hague. So, it is not an easy time to be a Muslim especially when you are a minority in any given state. But, Christians too have become victims of persecution and discrimination in many parts of the world.
In a recent report issued by Aid to the Church in Need (ACN) it was revealed that 300 million Christians are currently experiencing persecution and violence all over the globe. Participating in religious services, displaying religious symbols and or just professing one's faith can jeopardise one's faith and life. The ACN report entitled, 'Persecuted and Forgotten?' lists crimes of persecution as any of the following: discrimination, extortion, kidnappings and forced conversions. Christians are particularly an endangered entity in the Middle East countries of Syria and Iraq.
Asia too has suffered at the hands of religious extremists with violent attacks on Christian Churches in Sri Lanka at Easter last while over 100 churches had to be closed in India after undergoing vicious assaults. Egypt is notorious for its ill-treatment of the Orthodox Church and let us not forget Pakistan where Asia Bibi had to secretly leave the country after being sentenced to death for blasphemy. Nearer home, the ACN shows that 3,731 Christians in Nigeria were slaughtered by Boko Haram during the past two years.
These figures together illustrate how the right to freedom of religion is violated all over the globe, especially when particular faiths live as a minority. But it is not only fundamentalists and fanatics that are responsible for the persecution and violence. The global trend of authoritarianism, populism and nationalism is just as much at fault. Slogans like, 'Make America Great, Again' are furtively sending the message that it is the outsider, the foreigner, the one that is different in religion and skin colour that are obstacles towards economic growth.
The shame, of course, is that the western world gives little attention to religious persecution. They are more likely to cry foul over LGBT and abortion rights than the right to practise your faith. This is hardly any wonder since populist thinking is more likely to advocate for freedom from religion than freedom of religion. Yet, religion requires international legal protection if we are to live in harmony and learn to respect and cherish the diversity of others beliefs and values.
- [email protected] @GabrielDolan1