Ghai inspires hope for the rule of law, basic rights and democracy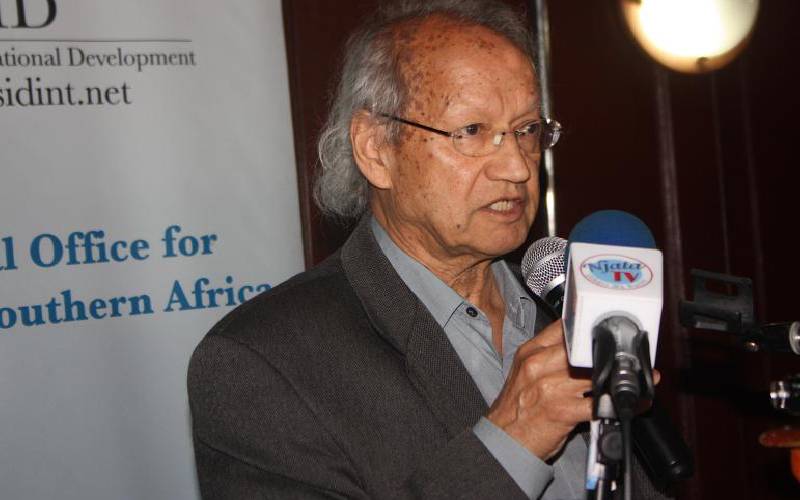 This past Wednesday, pro-democracy and human rights activists and defenders gathered in Nairobi to celebrate and honour the venerable Yash Pal Ghai for a lifetime of service to human rights, rule of law and democracy. At 81, that is a lifetime of work, and it was thought better to honour him now when he can hear our collective respect.
The tribute was long overdue, and I was sad I could not make it. Because Yash is the gold standard for anyone involved in working for real change in Kenya. And unlike no one else in his generation, Yash has been consistent, predictable, persistent and focused. Human though he is, Yash has never been found on the wrong side of progressive change, even at great personal cost. That is something few can ever claim.
Like every lawyer trained during the better days of the University of Nairobi (before PhDs were issued like candy to people who could not have had the time to complete them), we first came across Yash as co-author, with Patrick McAuslan, of the famous 1970 book "Public Law and Political Change in Kenya." It was a formidable book, that was required reading well into the 1990s.
His academic achievements are legendary, and he has taught law in virtually all the continents. But beyond the academy, Yash he has been the consummate activist-intellectual, bringing his principles to life beyond books and the classroom. He has worked the world of human rights and progressive causes from the inside as a writer and maker of constitutions in many countries, as Special Rapporteur for the United Nations, and as an NGO activist. In my work and travels in Asia, the one Kenyan I was invariably asked after was Yash, whose fame and respect has resonated there for decades.
With so many achievements, one may expect Yash to be a person who does not suffer fools gladly--which he does not if the fools wield power. But there are few self-effacing people as Yash, always ready to lend an ear, a shoulder and advice to those who suffer from the bad decisions of poor leaders. A person who has dined with Prime Ministers and Presidents, Yash is totally comfortable in Mathare and Kibra walking and interacting with locals and always listening with empathy.
In a way, Yash Pal Ghai is our "north star" when it comes to progressive politics and democracy. He is our Desmond Tutu who lives his life as he demands for all Kenyans, enjoying art, and promoting it by having a reasonable collection, and always seeking to make Kenya better. Even with all his travels and deep contributions to other countries, Yash remains a Kenyan first, determined, positive and hopeful that the incredible human talents that we have will surely succeed in making Kenya better for all.
Armed to the teeth
And he is brave. He has never shirked from using his freedom of assembly to march when called on, and one of my most abiding memories is from the famous Boniface Mwangi organised "MPigs" march in May 2013. Yash and his wife Jill were part of the march from Freedom Corner to Parliament, where we met a battalion of fierce-looking police officers, armed to the teeth, and including police horses, which only added to the tensions. The pigs were released at the gate of Parliament, adding to the drama. But it was all peaceful, until the police unleashed their customary violence on the crowds, shooting teargas, and chasing protesters on horseback.
Yash and Jill did not move from their position even as most people, including bystanders, fled the teargas and police violence. Some of the police noticed Yash and Jill and run towards them, batons ready to smash them as they did the JKUAT students recently. At which point, some of the younger protesters rushed to shield and protect Yash and Jill, braving the police batons and beatings.
I have seen this sort of heroic response once before when a youthful Kepta Ombati shielded Timothy Njoya in 1997 as presidential escort security descended on the good reverend inside the All Saints Cathedral determined to teach him a lesson. (Kepta and Rev Njoya were later hospitalised for weeks.)
There are not many role models for people wanting to contribute to change in Kenya and Yash's consistency is partly why those in power are seldom comfortable with and around him. His very presence serves as a conscious against all the evil, greed and malice that they do against Kenyans every day. And it is for this reason that despite a hefty, deep and incalculable contribution, Yash has not been honoured by the Kenyan state yet. And perhaps this is just as well, given that this state honors dubious bloggers, crooks serving as ministers and senior civil servants, and even people who line up for elections eating githeri.
For those of us mere mortals who are inspired by Yash, our obligation is to emulate Yash as best we can and in the areas of our focus. We must remain determined and real, for that is the best way to honor our mentor.
- The writer is former KNCHR chair. [email protected]