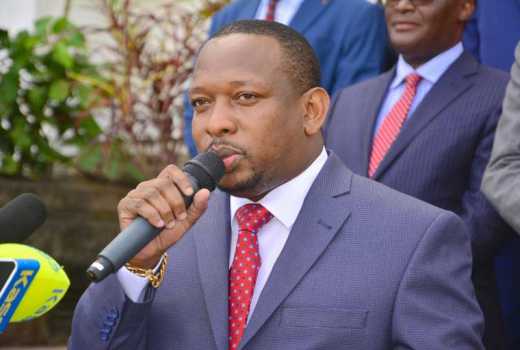 Mike Sonko Mbuvi the Nairobi Governor and Donal Trump the US President only differ in two perspectives; one is black and the other is white and one is young and the other is geriatric. That my friends is where the differences end and the similarities begin.
First, they both love gold or more accurately gold-plated things. Sonko's cars and office furniture prove this point quite well, as does his now famous gold covered, painted, or sealed (I am unsure of the proper adjective) car.
They also have a penchant for social media choosing to use social media as a way of reaching their audience to varied effect. They both flounder in their use of English and they both were unlikely candidates to wield executive power.
Chequered past
Donald Trump like Sonko, has a chequered past, full of would be cons and close brushes with the law. Trump University is a famous example of a past Trump would rather hide than highlight. Similarly, and if tweets from certain lawyers are to believed, Sonko has a history with Shimo la Tewa to which none of us is quite sure what happened.
Like Sonko, Trump considers it his duty to undo all the work his predecessor did. He has repealed nearly a dozen Obama era reforms and even pulled the United States out of the Iran deal for such flimsy reasons that Europe has outrightly refused to follow suit.
Trump also blames the problems he faces on Obama and Hillary continuously while here in Kenya, Sonko has +twinned cartels and Kidero into one. Sonko does not hesitate to claim that his woes at city hall are as a result of Kidero's errors and as such he is not to be blamed.
Similarly they both have made tax reforms. Trump to enrich the rich and Sonko to enrich city hall by raising county collections by the billions. This is to be commended of Sonko, but I fear that is where the commendations end.
Sonko has held back payments to suppliers who supplied the Kidero government for months now. Entire companies have shut down waiting on funds that do now seem forthcoming from city hall. Further his radical approach to leadership has earned him criticism he can hardly contain.
Sonko and Trump have seen wide and varied changes in the structure of their inner team, with Sonko losing his deputy governor, Trump has lost nearly every advisor he started with other than his own children.
Always in campaign mode
These two are both populist in their approach to power and seem to want to maintain a campaign mode approach to the executive duties. They take every opportunity to make a PR stunt of their doings in office. From telling off county officials while filming, to procuring jembes directly from a supermarket Sonko has made Facebook Live his platform of choice.
Yet still the criticism mounts with both politicians facing possible impeachment. Granted, Trump's impeachment seems entirely logical and legal but let us remember many governors were impeached in their first term here in Kenya as well.
Therefore one needs to consider what options Sonko has. In naming one Miguna Miguna as his deputy, Sonko hopes that those who want to get rid of him will fear the possibility of a Miguna governor more. It is a master stroke. Secondly his appointment of Miguna MIguna gives him an ample excuse for not having a deputy: he nominated one that was rejected. Of course it is laughable to think that Miguna could deputise Sonko, but let us not count it out.
Miguna as deputy?
We may be treated to high drama daily as the two bullish characters attempt to run Nairobi County. I can imagine the insults and the abrasive manner of handling issues that both seem to espouse being the norm at city hall. It would be a nightmare to live in, but a comedy to behold. What's worse is if Miguna's nomination goes through then Sonko can't fire him and that would be a case of "I am not boarding" for four years in Nairobi.
It must be concluded that the route Sonko has taken will not work, if I were him, I would run back to State House and Jubilee Party, strike a deal to be helped and act as if Nairobi County is an extension of the central government. Indeed the law is clear the county government of Nairobi and State House must have an agreement, this law then is Sonko's saving grace. To survive, he may have to hide behind State House's ambit. This agreement will be good for Sonko and good for Kenya. As for Trump, the Americans should go ahead and impeach the peach.
Mr Bichachi is a communication consultant. [email protected]