Opinion: Why Munyua Waiyaki is our top diplomat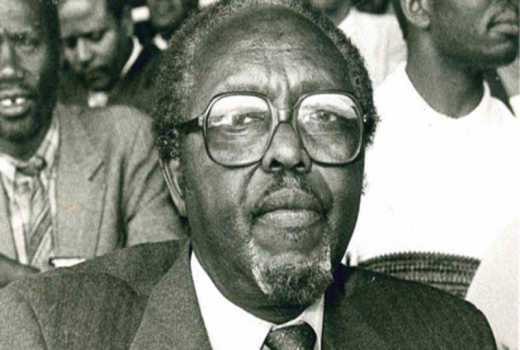 Occasionally, people who have import beyond their villages die and the loss is felt in far off places because their activities could not be confined to the village.
Munyua Waiyaki was such a person who, a year after his death on April 25 last year, still evokes admiration. Although clansman George Kamau Muhoho buried him as Muceera, he was one of Kenya's short giants, short in body size but a giant in brain works.
He, along with Njoroge Mungai and Julius Gikonyo Kiano, products of Alliance in the 1940s, formed an intellectual triumvirate that distinguished itself in politics in the late 1950s and early 1960s.
All three departed the earth without writing their memoirs although each had desire to see something written. While Mungai and Kiano talked of the possibility of working with "professor", Munyua made it part of his unofficial "last will and testament" that "professor" will write. His daughters insisted that he wanted that.
He had two traits, strong principles without dogmatism, and could be mischievous in relating tantalizing stories.
In South Africa, he and Mungai played "clan elders" when a randy Kenyan increased population unauthorized.
He never forgot the pleas of an old man in South Africa for independent Kenya not to forget them. He studied medicine at Andrews and spent lots of time in London listening to Mbiu Koinange teaching anti-colonial politics to African students.
He returned to Kenya in 1958 and plunged into anti-colonial politics and remembered how, in 1960, a colonial official advised African politicians to avoid reviving KAU by sticking an "N" between "A" and "U" to refer to "national" and thus gave birth to KANU. He was also in the medical team that examined Jomo Kenyatta's state of mind early in 1961.
Kenyatta liked Munyua, trusting him with sensitive assignments. In the Congo peace talks in Nairobi, Munyua could narrate, Kenyatta made sure that Moishe Tshombe was well supplied with Tusker while unwittingly waiting for "rebels" to arrive.
Tshombe took off on seeing his Congolese counterparts. The pinnacle of Munyua's dabbling in diplomacy was as Minister for Foreign Affairs. If Munyua could treat sick people, Kenyatta had quipped, he could also handle countries for there was no substantial difference between people and states.
Kenyatta and Munyua also treated global stars to African cultural diplomacy. US Secretary of State Henry Kissinger received the treatment in Nakuru, Munyua remembered with humour, when Kenyatta gave Kissinger one set of spear and shield, took another set, and then told Kissinger to dance.
Kissinger left Nakuru baffled only for the message to click in Washington after Munyua explained Kenya's need for fighter jets and training simulator. Kissinger agreed to fighter jets and burst out laughing when Munyua claimed that Kenyatta would cane him if he did not get the simulator. They compromised on the US training Kenyan pilots who would then fly the jets to Nairobi.
Munyua's antics with Kissinger, however, pale when compared to his performance in the Organization of African Unity, OAU, and encounters with Charles Njonjo. Within the OAU, he developed an air of expectation that Kenya would provide "dynamic compromise" to thorny continental issues that threatened to paralyze OAU operations.
Not tolerating a Njonjo suggestion that Kenya recognize apartheid South Africa, Munyua had retorted, "Over my dead body." Since Munyua did not die, Kenya did not recognize the apartheid regime. As a result, Munyua's global stoke rose so high that, remembered Phoebe Asiyo, African diplomats would stand whenever he entered a room.
Foreign Affairs had been Munyua's dance floor, danced like no other person, and then exited for others to take over. Reflecting deeply about politics and foreign affairs and concluded that the Minister for Foreign Affairs should not be an elected politician.
Such minister, given the nature of international dealings, has little time for political constituencies and politically suffers due to prolonged absences from voters.
He had firsthand experience as minister and MP for Mathare, cheered abroad and politically castigated at the constituency level. As private citizen, Munyua was engaging and present when it counted. That greatness lingers beyond.