Why we should spare nothing in saving our dying ecological system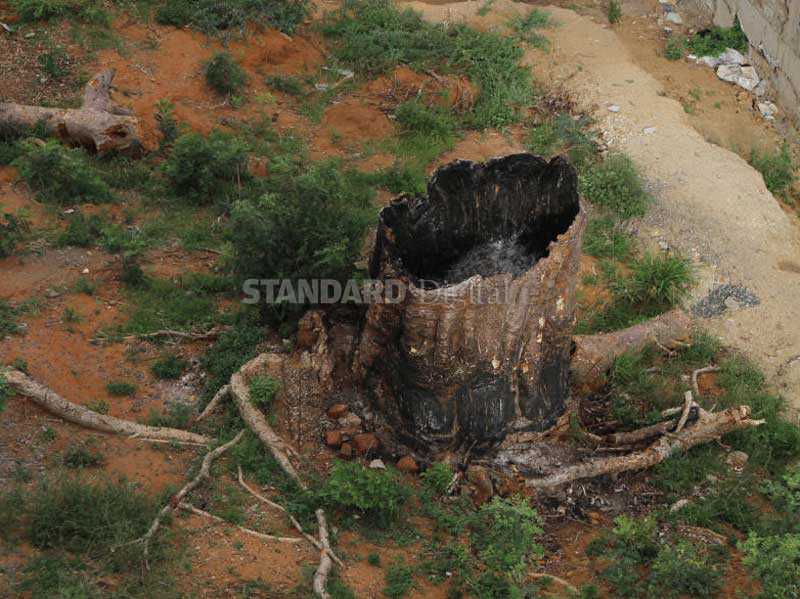 Towards the end of the 1990s, the Government's response to Prof Wangari Maathai's environmental conservation efforts and calls for greater democratic space reflected its contempt for both issues. After her demise in 2011, environmental degradation peaked, and only now are the scars beginning to manifest.
In 1989, Maathai stood her ground and forced the Government to back out of plans to build the Kenya Times Complex at the 'Freedom Corner', Uhuru Park. When six elderly women, supported by Maathai, pitched camp at Freedom Corner in 1992 to demand the release of political detainees, an uncaring Government sent baton-wielding police officers to beat and drive them away, but not before the women stripped naked and cursed the Government. Curses transcend generations, and there is no doubt that Jubilee is labouring under a legion of demons from that curse.
Not a single monument exists in honour of Maathai in Kenya, not even after she became the first black African woman to be awarded the coveted Nobel Peace Prize in 2004 for her environmental conservation efforts. The argument that a prophet is never respected at home became glaring after St Benedictine College in the US erected a statue in the honour of Maathai. Stephen Minnis, President of the college said: "To have a statue of Wangari on our campus has been a dream for a while, and it is appropriate it is here in St Scolastica plaza where our students will see it and aspire to be like her." If the Kenyan (government) dream has not been the exact opposite, I stand corrected.
Figures
Statistical data shows that 42 per cent of the more than 44 million Kenyans live below the poverty line. That means close to 19 million Kenyans survive on less than one dollar a day, yet one dollar cannot even buy a kilogramme of sugar. A 2014 World Bank report states that four out of every 10 Kenyans live below the poverty line. In counties like Turkana, Mandera and Wajir, data from the National Bureau of Statics shows eight out of every 10 people live below the poverty line. Environmental degradation has a bearing on these poverty levels. Poor land use, deforestation, exponential population growth, demand for extensive housing, air and river pollution among other factors have not only resulted in depressed crop harvests, they have also led to water scarcity and the spread of diseases.
Unbelievably, Kakamega County, despite its fertile soil, rivers, favourable climatic conditions, forests and roads, is lumped together with Lamu, Mandera, Turkana, Nairobi and Bungoma as the biggest contributors to national poverty. By itself, this attests to incompetence in the management of natural resources; most of it plundered for selfish gain.
The section of forest that runs from Kapsasur in Nandi County to Kaimosi in Vihiga County has receded by several kilometres from the edge where it stood only two decades ago. This invasion was facilitated by politicians who thrive on impunity. Similarly, the Karura forest invasion and destruction offers some insights into wilful destruction by the political elite. Not less than 2,000 acres of Karura forest were appropriated by politicians before Maathai raised the alarm.
Legislation
When squatters invade forests in a country where only a handful own thousands of acres of idle land, there is need for legislation on the maximum acreage an individual should own. Over subdivision of limited land owned by peasant families and the constructions thereon hamper agricultural production. Our contribution to environmental degradation and global warming start from there.
A lot about water conservation remains theoretical, yet water shortages continue to bite, leading to the closure of schools in hard hit areas. The Government should make it mandatory for each building being erected in urban areas to have an underground storage facility for harvesting rain water. It is also possible for both tiers of government to build underground rain water harvesting tanks strategically positioned around major cities. We should learn from Japan that is said to have the world's largest underground water tank, which also serves as a flood diversion facility, and the Netherlands. The latter has invested heavily in water harvesting methods.
To check growing demand for land and housing that result in environmental destruction, controlling population growth is an imperative, both for the individual and government. One of the good things we can borrow from our new-found friend - China - is the 'two-child' policy it adopted in 2016. And as much as infrastructural developments like the SGR are desirable, their negative effects on the environment and their role in forcing human wildlife conflicts cannot be ignored. Concentrating on short term gains, purely from a political perspective bodes ill for this country.