They take advantage of any opportunity and have no qualms about shortchanging followers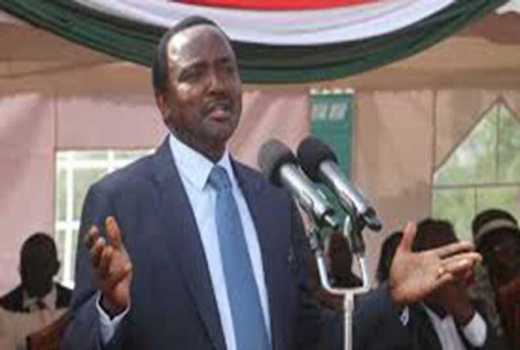 For days and weeks, some Kenyan politicians captured imagination with their dare devil pronouncements of how they did not recognize the government and how they would constitute their own. They even vowed to make the country ungovernable. These forces revolve around ODM leader Raila Odinga and WIPER leader Kalonzo Musyoka.
They take advantage of any opportunity that arises and have no qualms about shortchanging their supposed followers. Raila, for instance, stamped his authority to ensure that only his ODM choices received leadership slots in parliament. In the process, he ignored grumblings from WIPER, ANC, FORD-Kenya.
When in 2017 he nominated his elder brother, Oburu Odinga, to go and represent Kenya at EALA, his followers grumbled at the open nepotism but that did not stop him collaborating with Jubilee legislators to ensure that Oburu received the EALA position.
Similarly, Kalonzo showed his skills in ignoring political grandstanding when it came to handling personal issues. First his long absence from the country due to family health complications attracted sympathy.
Top leaders seemingly put their political differences aside to ease Kalonzo's financial discomfort. Second, like Raila, he had a close relative that he wanted appointed to EALA. The grumbling of WIPER members was irrelevant to Kalonzo's determination to send his blood to Arusha. He thus worked hard to ensure that Jubilee legislators approved son Kennedy to be an EALA member.
COLLUSION
With the Jubilee legislators taking care of those personal details, Raila and Kalonzo were ready for "revolution". Of the two, Kalonzo appeared hesitant in pushing his luck. Less endowed in terms of rubble rousing credibility than his boss Raila, Kalonzo seemed to compete with himself to sound "revolutionary." He also has to fend off would be challengers for Ukambani leadership coming from Kitui Governor Charity Ngilu and Machakos Governor Alfred Mutua. The two have made it clear that they are not beholden to Kalonzo.
He kept demanding "dialogue" with Uhuru in order to avert an imaginary crisis that would be occasioned by Kalonzo joining Raila in taking "The Bible". Other than saying he would take the "oath" with Raila, Kalonzo's tough language included hopes of turning Kenya into another Somalia. This was a defensive rearguard action of a desperate man trying to create of a toughness image that would be very different from his watermelon fame.
Initially, Kalonzo's statements sounded strange coming from a man of establishment as groomed by Daniel arap Moi at first through Kamba kingpin Mulu Mutisya.
A 1980s and 1990s Moi die-hard and fixer, he was very prominent in the 1988 mlolongo fiasco, served as deputy speaker, and as cabinet minister. He was symbol of counter-revolutionaries in Moi's camp and there were no signs that he could develop into revolutionary.
TAKING OVER
He was among the young men who wanted to inherit KANU as a political vehicle once Moi was out of the picture. Others included Raila Odinga, Musalia Mudavadi, and Katana Ngala, sons of who was who then. Angry that Moi anointed Uhuru as his successor in KANU, Kalonzo joined Raila's anti-Uhuru rebellion but struggled to have a separate identity.
That struggle for a separate political identity often comes short because he repeatedly appears to be in somebody's shadow. For a while, in the 2016-2017 political period, Johnstone Muthama appeared to be the owner of that shadow as he reportedly financed Kalonzo's activities.
Muthama had wanted to be the Ukambani kingmaker by containing Mutua's independence. Currently, that shadow belongs to Raila. Kalonzo suffers from his inability to extricate himself from Raila's shadow and still remain "revolutionary" relevant.
Despite lots of chest-thumping, Kalonzo, along with Musalia Mudavadi and Moses Wetangula, did not attend the circus of Raila's swearing in. On his part, Raila was careful not to swear as "President of the Republic of Kenya" but as Peoples' President.
The two, the absence and the oath, left several people confused and accusations of cowardice and betrayal filled the air. While Makueni Governor Kivutha Kibwana claimed that ODM shortchanged WIPER and that Raila refused to turn up for a planned NASA pre-swearing meeting, others simply dismissed Kalonzo as a coward. His explanation that the Jubilee government had withdrawn his "security" details sounded odd for a "revolutionary". His seeming indecisiveness and lack of 'msimamo' managed to send potential voters to the Mutua camp. Kalonzo should, the ODM people asserted, forget 2022.