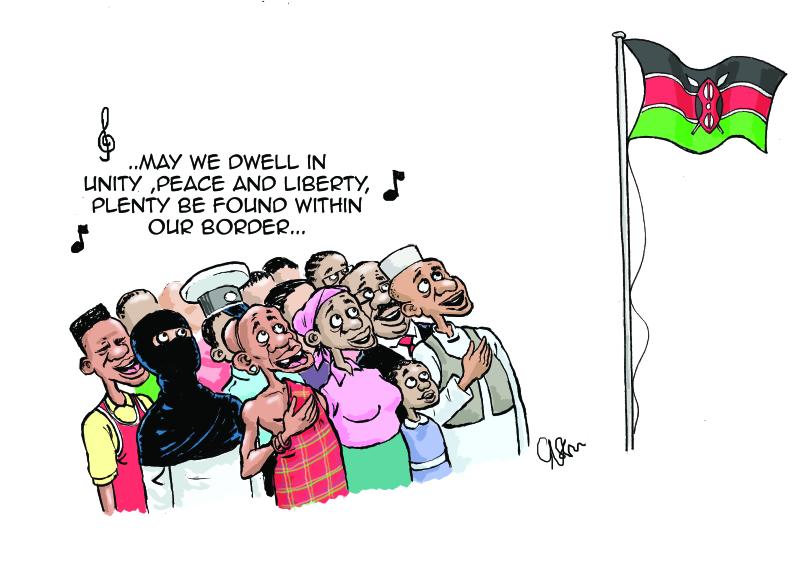 As we enter the holiday season, we consider many things: peace, love and goodwill to all people. However, there is another vitally important characteristic that is sometimes overlooked in our Bible: Unity. There are dozens of scriptures that deal with the subject of unity and it is clear that this ideal is very close to God's heart and in many places is specifically a character trait that we as Christians must adopt for the return of the Messiah. In the Book of Corinthians (1:10), it reads: "I appeal to you, brothers and sisters, in the name of our Lord Jesus Christ, that all of you agree with one another in what you say and that there be no divisions among you, but that you be perfectly united in mind and thought."
SEE ALSO: Community health workers' role in fight against pandemic
Togetherness
While the wording is clear, I believe that we don't all need to be in absolute synchronization on all the issues of the day and there is certainly room for disagreement and dissension, however, we must act as one people and not be unnecessarily undivided. This is a vital message and lesson for Kenyans ahead of Christmas. We have had a very difficult year in Kenya, rocked, but not beaten, by our complicated but youthful democratic and electoral processes. It is my firm belief that our disagreements are part of our strength and are demonstrated most during our elections.
SEE ALSO: No more communal grazing among the Maasai
God blessed us all with a mind and a brain to arrive at our own conclusions, our free will is one of the greatest gifts bestowed on mankind. Our robust internal debates are to be welcomed and are certainly holy in the eyes of God. However, it is also clear that unity is a goal and we should keep this foremost in our minds when we act and talk to each other. Kenya is a beautiful patchwork of tribes, ethnicities and religions and while our differing backgrounds can be a source of tension, they should in fact be a source of cohesion where we bring our varied customs, traditions and worldviews to make our nation stronger.
Strength
SEE ALSO: Covid-19 silences the coastal beats as cultural rites abandoned
Perhaps this is what the composers of our anthem; Ee Mungu Nguvu Yetu had in mind when they wrote: "Natujenge taifa letu. Ee, ndio wajibu wetu. Kenya istahili heshima. (Let all and one accord. In common bond united. Build this our nation together". There are those who still wish to divide us, whether on a tribal, religious or a geographic basis. There are those who hold grudges over their losses in the recent elections. There are those who try and focus on our divisions and use them against each other, far too frequently at the cost of shedding the blood of their fellow man, a grave sin. To some, this becomes the goal or the mission. The more division and discord the better their chances at gaining attention and attaining power. Rather, we should follow and stand behind those who try and bind us together rather than seek our division, and use the divine language of unity. At the recent Jamhuri Day celebrations, President Uhuru Kenyatta said: "Unity is paramount to the realisation of a peaceful and prosperous nation. Every Kenyan must understand its value and how our individual choices, particularly in the politics we support, play into building or destroying it. The unity of our nation is the shield against the dangers that have shattered other countries; it protects us against any enemy by frustrating attempts to divide and, therefore, weaken us. Unity allows us to forge forward, together, in building families, communities, counties, and a nation that knows what it wants and where it is going. Every day, we see evidence of how much stronger and well-off united families are. It is, indeed, the same with a nation." Alongside unity, we know that forgiveness is one of the most important Christian traits and when we look around at our families, communities and country, we understand that we need to begin a journey of compassion, tolerance and forgiveness. When we achieve this we know that not only will Kenya be on the path to recovery, but our souls will only benefit.
Bible verse
As it says in Colossians 3:13-14 "Bear with each other and forgive one another if any of you has a grievance against someone. Forgive as the Lord forgave you. And over all these virtues put on love, which binds them all together in perfect unity." The Bible is our map and our blueprint for individual and particularly national salvation, and especially around Christmas, we should study and follow its guidance carefully.
Ms Lesuuda is the MP for Samburu West