Amina's mistake was failing to manage the men in her life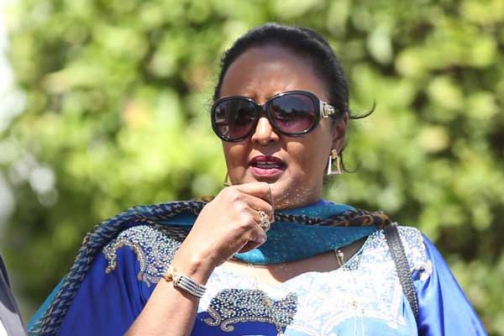 Whatsapp has become the greatest platform for circulating news — real and fake. This week, I came across some rather interesting pictures of some women running for elective office.
Based on the attire and the pose, I was a bit confused about whether the women are running for Parliament or for a slot in the Playboy mansion. I do agree that the current political scene calls for one to push the envelope but that only needs to happen if it will yield results. I applaud my sisters taking the bold step of running for office but they might do so much better if they learn some lessons from the recent loss of Cabinet Secretary Amina Mohamed.
The most important thing for any woman running for political office is to manage the men in her life. No matter how much we try to run away from this fact, if you want to succeed in politics you must find a way of having a political male sponsor, male advisor or a male accessory. Make sure this male energy becomes the wind beneath your wings instead of being the wave that crashes your political career.
CS Amina was fortunate enough to have not one but several of Kenya's top men backing her.
In both word and deed, they let it be known that they wanted her to win and get the top slot — but they also became her greatest Achilles heel by hogging her limelight.
Naïve flower girl
Maybe I do not know all the nuances of diplomacy but on most occasions (brought to us by publicity photos), she appeared like a naïve flower girl or debutante brought in to sprinkle some femininity into the scene.
Women who want to play and succeed in the boys' league have to become ballsy and manage the men in their world so that they do not crush their dreams — especially the men who claim to support them.
Look at Hilary Clinton, her success in the second presidential round was mainly because she told good-old lecherous Bill to take a back seat for a change — and this helped her campaign. She also learnt when to bring in the right kind of male energy when she turned to her former adversary Barack Obama to help her win — and as we know even that was not enough.
One of the greatest failings of Amina's campaign was the constant need to preen and update the whole world of every single campaign step and misstep. We were constantly updated on every capital that Amina and her entourage had visited and on who was the latest addition to the Amina chorus. Last time I checked, knew or heard — diplomacy is like sex — best when it happens in darkness, between two people and in silence (though some will differ with this view).
And just like sex, the minute you defy these rules and play to the gallery someone is likely to get hurt or injured. Perhaps the jet fuel engines had created some level of intoxication that led the team to keep us constantly updated with what in my view was information that the other team must have used to work for them. In the same vein, female candidates in this season must avoid the temptation of sharing with the whole world every single element of your campaign. Only share what will help you win, the rest keep to yourself.
This is the time to avoid the temptation to count your chickens before they hatch. Very early in your campaign, you must decide what the ultimate win is, what your finish line is. You must avoid any form of celebration before you achieve this milestone. Avoid any attempts by your chama girlfriends, your family and your church to 'celebrate' you before you get to the finish line. Any social event during your campaign season should only be to garner votes and not to get likes and retweets.
Whatever you do, do not borrow from the CS Amina script where she allowed some women to host her for some much-publicised event. I am sure they harboured some good intentions – but what an own goal that lunch turned out to be. The lunch gave the impression that the win was a done deal and made the loss feel a bit more painful.
Finally, remember what CS Amina said — appearances are deceiving. Most people who claim to support you will be out to finish you and you will soon learn the politics brings out the worst in all people. So wear the right appearance to deceive the right people —mainly the votes — and have your antennae on to avoid deception.